The surfaces of Ben Brandt's sculptures are covered in gray. The objects look like they're a thousand years old, as if they'd just been pulled from some long-ago construction site, waiting to be carefully brushed off and examined. His process of covering things with cement mixture, or in the case of his Co-Lab show that opens tonight, with gray cellulose insulation, makes ordinary things–a hammock, a portrait bust, a used paper cup–seem strange and otherworldly; a fluffy haze of dust.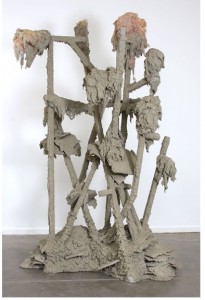 Brandt moves beyond the finite object in this show entitled All_Over as the entire interior of Co-Lab is blanketed in a thick layer of loose insulation. Objects emerge from the all-over treatment, pushing and pulling between abstraction and figuration, a world of undifferentiated gray and dumb things found in the world. Brandt told me that he was thinking about grotto's while he was working on this project and specifically cites the Buontalenti Grotto in Boboli Garden, a space filled with classical sculptures and artificial geological formations. A site both romantic and nostalgic crusted over with man made material.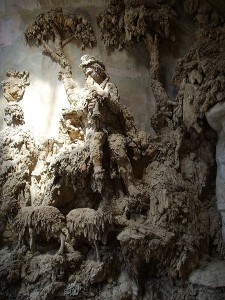 Brandt's site-specific installation recalls the netherworld of structure and insulation, or what he calls the "overlooked grotto-like domestic spaces of the attic and basement crawlspaces." In one spot, a plaid work shirt emerges, a pattern amidst the gray fuzz, a flag-like banner of construction. The show opens tonight at Co-Lab.