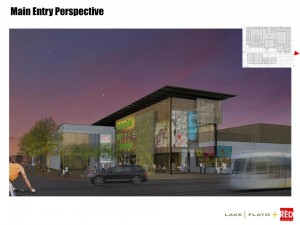 Since my last "glass box" rant, Lake Flato/ Studio Red Architects have posted new, more comprehensive renderings of the current design for Houston's Independent Arts Collaborative building on Facebook, with a call for comments: "As we wrap up the schematic design phase of the project there is much to share and discuss. While many elements are still in flux – elements presented here may not make it into the final design while other elements might be added. With that said, things are becoming solidified enough to have a conversation, so let's have one."
The new 59,000 square foot building is now actually two buildings, with an enormous breezeway/lobby between them, a city-block sized complex containing a multiplicity of uses: four dedicated theater spaces, two rehearsal spaces/classrooms and several gallery spaces along with back-of-house, support and office space. In terms of style, the architects justify cheap industrial materials as expressing avant-garde edginess: "The exposed steel structure and perforated metal panels of the breezeway lobby are visible along with exposed tilt-up concrete panels of the theater boxes and the corrugated metal panel of the back-of-house and office/rehearsal buildings. In addition to being inexpensive, these materials give the facility a rough, industrial edge appropriate to the groups who will call this facility home." Ironically, it is the roughness of repurposed industrial spaces like Diverseworks and Barnevelder that the IAC is designed to help performance groups escape!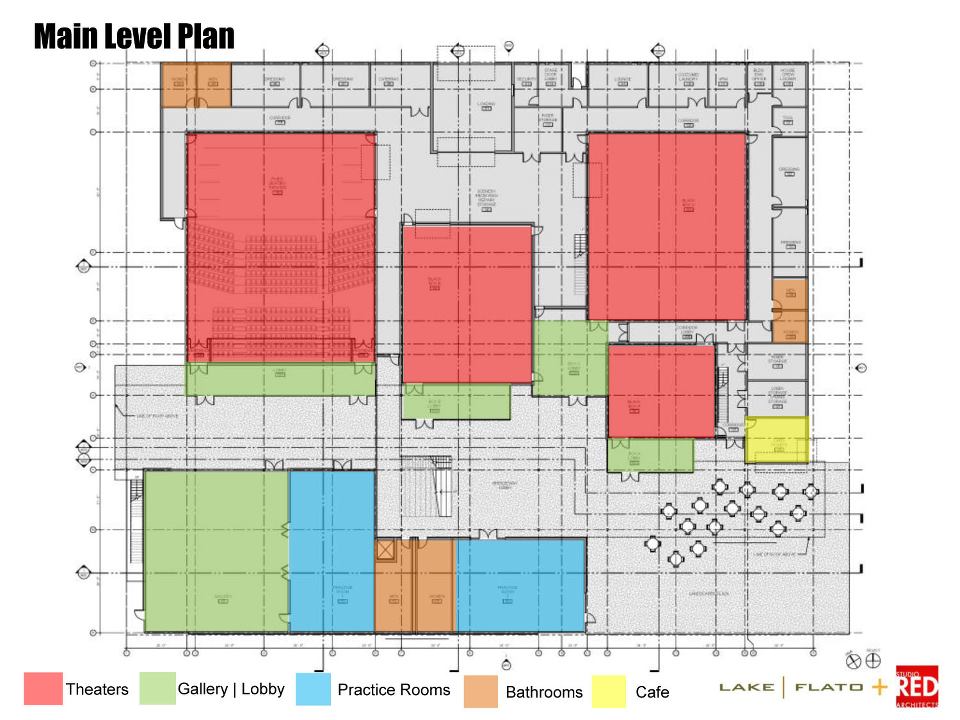 The ten drawings haven't elicited many comments yet, but Elizabeth Cencini puts her finger on one shortcoming from the visual arts point of view: "Is the space catering more to the theater arts and dance or will you share it with visual arts and how?" she asks,  to which Seán Patrick Judge, in another comment replies, "The green color represents the gallery spaces, four of which also act as entries for the theaters." The idea is that glass-fronted "gallery lobbies act as welcoming lanterns during evening performances." The fifth, and largest gallery space is an entryway to the practice rooms.
At least there will be no attempt to air-condition the breezeway, the major space for gallery openings, intermissions and socializing. Make a note to hold all events after dark during the Summer.