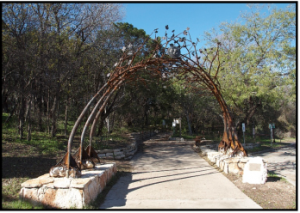 The City of Austin Parks and Recreation Department is unveiling a new public sculpture at the Austin Nature & Science Center, a 15-acre campus located just west of Zilker Park. Arboreal Passage by artist Colin McIntyre was commissioned by the City of Austin's Art in Public Places Program as a pedestrian entryway to the park. A dedication for the new artwork will be held Friday, April 20, from 3:30 – 4:30pm
In other Austin public art news, the AIPP is looking for donations of stones collected from every Asian nation to include in a mosaic by artists Sunyong Chung and Philippe Klinefelter at the Asian American Resource Center to be located at 8401 Cameron Road.
For this project, Asia is defined as the expanse of countries from the area west of the Ural Mountains to Japan in the east, including:
Afghanistan, Armenia, Azerbaijan, Bahrain, Bangladesh, Bhutan, Brunei, Cambodia, China, Georgia, Hong Kong, India, Indonesia, Iran, Iraq, Israel, Japan, Jordan, Kazakhstan, North Korea, South Korea, Kuwait,  Kyrgyzstan, Laos, Lebanon, Macau, Maldives, Malaysia, Maldives, Mongolia, Myanmar, Nepal, Oman, Pakistan, Palestine, Philippines, Qatar, Russia, Saudi Arabia, Singapore, Sri Lanka, Syria, Taiwan, Tajikistan, Timor-Leste, Turkey, Turkmenistan, United Arab Emirates, Uzbekistan, Vietnam, Yemen.
If you've got rocks from those places, and wish to donate them, email Terra Goolsby, Art in Public Places Program Specialist, with any questions: terra.goolsby@austintexas.gov, or (512) 974-6456.