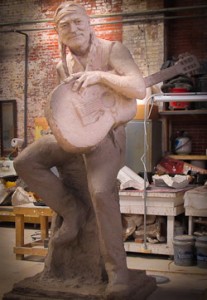 Capital Area Statues (CAST), yet another nonprofit dedicated to funding figurative bronze sculpture in Austin, has announced the April 20th unveiling of a monument to Willie Nelson. The eight foot tall musician by Philadelphia artist Clete Shields will stand in a public plaza along Willie Nelson Boulevard at the intersection of Lavaca. Nelson is expected to attend the 4pm unveiling in the flesh, making it a media circus: street closures are planned for Willie Nelson Boulevard/Second Street between Colorado and Lavaca, and Lavaca will be reduced to a single northbound lane to accommodate anticipated crowds.
"Creating a sculpture of such an icon while he is still living presents its challenges," Shields said, "For many, the Willie they connect with is the Outlaw Willie of the 1970s, or the influential advocate for Farm Aid in the '80s, while others — especially a younger generation — grew fond of him during his more mature years. The sculpture needed to appeal to a broad audience and conjure up the fond memories of so many different people."
Austin Mayor Lee Leffingwell and members of the Austin City Council will publicly accept the gift of the statue on behalf of the City. A fan of Nelson, Leffingwell championed the honorary renaming of a portion of Second Street to Willie Nelson Boulevard. "Willie Nelson has arguably done more to cement Austin's reputation as the Live Music Capital of the World than anyone, so it seemed only fitting to rename the street in honor of Willie," Leffingwell said.
The Nelson monument is the third donation to the city by CAST, whose board includes Pulitzer Prize-winning author Lawrence Wright, screenwriter Bill Wittliff, motion picture producer Elizabeth Avellán, musician Marcia Ball, author Stephen Harrigan, attorney Amon Burton, and communication strategist Vincent Salas. Philosophers' Rock, sculpted by Glenna Goodacre, which features renowned Austin writers J. Frank Dobie, Roy Bedichek, and Walter Prescott Webb, was installed in 1994 at the entrance to Barton Springs Pool Zilker Park. Angelina Eberly, the legendary cannon lady, by cartoonist Pat Oliphant sits on the sidewalk of historic Congress Avenue blocks from the State Capitol.