Choreography a collaboration by Jim Nolan and Linda Post. Documentation of opening night performance featuring: Daniel Adame, Shanon Adams, Tina Shariffskul and Prudence Sun. Documentation by Lillie Monstrum.
For their exhibition at Lawndale Art Center, Jim Nolan and Linda Post have gathered institutional props, mellow sounds, and documentation of the exhibition's installation as their primary media. Spare and poetic, their exhibition is an accumulation of gestures– wax being smeared in circles on the large front window, mirrors cracked from heavy steps at the front of the room, a ramp to walk on, and a doorway to walk through. While each site for movement might be mundane in and of itself, together they imply an abstraction of action and cultivate a reflective self-consciousness as one becomes very aware of one's body moving through the space.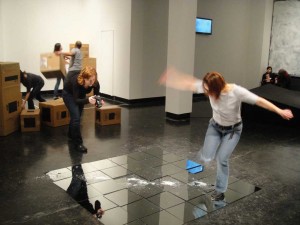 The exhibition is part of Fotofest and suggests a very different take on photography, one that does not freeze a moment in time, as in a traditional snapshot, but rather marks light and movement in an evolving, responsive way that changes with each new person who walks through the gallery. The looping videos show the artists and dancers they choreographed moving around the room interacting with the objects. Anyone can piece together what they are doing in their own way and then determine their own movements as they move around the gallery.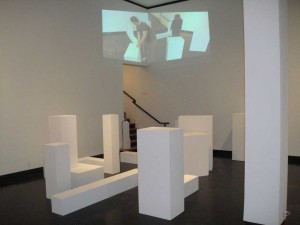 Both artists had solo exhibitions at Art Palace last year. At Lawndale, their practices have merged with Nolan's humor infusing Post's rituals and Post's clean aesthetic opening space between Nolan's vulnerable arrangements. It was a privilege to see them develop this exhibition over the last year as I was their liaison to the programming committee at Lawndale. Their exhibition will be my last as a full time member of the committee as my four-year term expires in a few months. Working on exciting exhibitions like LOW IMPACT (RESISTANCE TO FLOW / THISISBOBDYLANTOME) SUBJECT TO CHANGE is exactly why I support Lawndale. They are the center for experimental exhibitions such as this one, which asks us to reconsider the ordinary and contemplate the beauty of simple actions and objects.