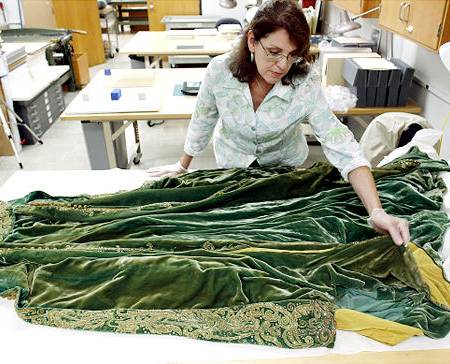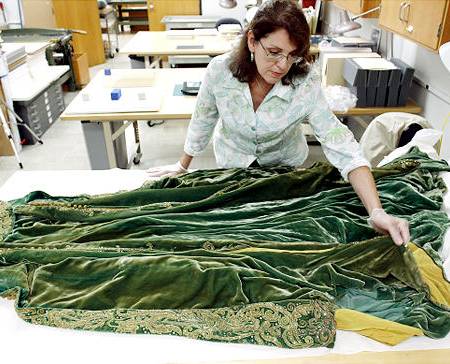 The famous Green Curtain Dress worn by Vivian Leigh in the movie Gone With the Wind, now residing at UT's Harry Ransom Center in Austin, is undergoing conservation work, along with other costumes from the film. The dresses came to the Ransom Center in the early 1980s as part of the enormous archive of Hollywood producer David O. Selznick; the costumes needed special care, and a 2010 appeal to fans raised $30,000 in three weeks to fund the work, which the Ransom Center has used to make a sort of case study in textile conservation. Unlike painting conservation, where techniques are typically shrouded in secrecy, the work on the Ransom center's dresses is discussed in detail in public, making a fascinating read.
Cara Varnell, an independent art conservator who specializes in textiles, historic clothing and performance costumes, is the key conservator, and, using a microscopic Fiber Image Analysis System (FIAS) developed by UT professor Dr. Bugao Xu plans to analyze the Green Dress to discover the cause of mysterious fading.
There's much, much, more in the Ransom Center's network of web pages devoted to the details and progress of the dresses' conservation . . .