Sometimes the activities one assumes are just pleasant diversions
from the real substance of life produce almost sacred experiences. Such
is the case with the free "
Bounce
" workshop, led by "
Big Freedia, the
queen diva, dick-eater, and late night creeper
," that I attended on
Friday, October 1, 2010 as part of Pittsburgh's first
VIA Fest
of music
and new media. I was there to learn to shake my azz like lightning, not be struck by it.
"Bounce music is characterized by call and response style party
and Mardi Gras Indian chants and dance call-outs that are frequently
hypersexual" (Wikipedia). Big Freedia performs a derivative of bounce
known as "sissy bounce" for self-proclaimed "Sissies" (a New Orleans' colloquialism for biological men with "varied and ambiguous sexual identities").
The axis of bounce dancing is what's known as "p-poppin," a move that
requires bending over and wagging your southern parts as fast as jello
exiting a rubber mold. The more jiggly, the better, so big ass people
have a strategic advantage. I knew that my flat bottom wasn't Olympic
material, and a three decade old spinal fusion would make moving my
hips like trying to mentally levitate a mahogany bookcase. But what-ev.
Big Freedia (pronounced Free-da) is New Orleans' reigning queen
diva of sissy bounce, performing six nights a week in NOLA and
beyond, while running her own party decorating business. With her
exceptional time management skils, I knew Freedia could teach me to
shake my flat azz in short order.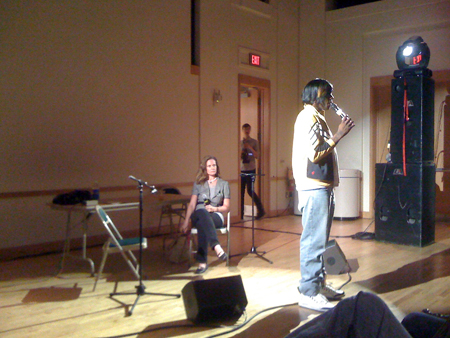 The crowd of 50-60 male and female would be p-poppers waited
excitedly for their lesson to begin at Carnegie Mellon University's
Rangos Hall. Big Freedia, the tall and self-possesed, gender-bending
diva arrived on stage and took a seat (in talk show form) opposite her
dancer, "Altercation." Altercation was no-book-to-be-read-by-her-cover; she was wearing a grey power-blazer with pearls, no make-up and
definitely no bra. To our surprise, Altercation led off a 30-40 minute
group discussion on race, class, gender, and sexuality, with her voice
oscillating between NOLA street cadence and Midwestern anchor woman.
Who knew that postmodern politics would be a pre-req for bounce dancing? Not
I, but it was the perfect lead-in and would have made Bell Hooks proud.
Freedia chimed in about how to protect yourself from unwanted dance
floor advances, and how to teach your kids to be proud of who they are.
I was already in love with this duo.
After a warm up of circular hip rotations and toe-touching, "Rusty
Lazer," Big Freedia's foxy DJ and ex-Houstonian formerly known as Jay
Pennington, started playing the beats. We each grabbed a chair for
support like a geriatric yoga class, and began our first attempts at
p-poppin. The trick (we were told) is to bend your knees and push your
hips up and down, while isolating your upper body from your lower body.
I couldn't do any of this, but I know it works. Once I recovered from
my back-envy of the shapely co-ed in front of me, I managed to pull it
off "slow and sexy," just as Altercation instructed me when she noticed
my lack of mobility. When you really get your "azz [going] everywhere," other dancers clap faster and faster over your bottom for encouragment.
No
contest: Big Freedia was the best party starter I have ever witnessed
at work. Her gentle nature, yet commanding presence gave me the confidence
to shake my azz with pride and dignity. I was once again convinced
that New Orleans, Louisiana is the locus of the most generative art,
music and culture. If you have a chance to bounce with Big Freedia,
Rusty Lazer, Altercation, and the other dancers, don't think twice.
(Thanks to Mister Lama for talking me into this and documenting the experience.)