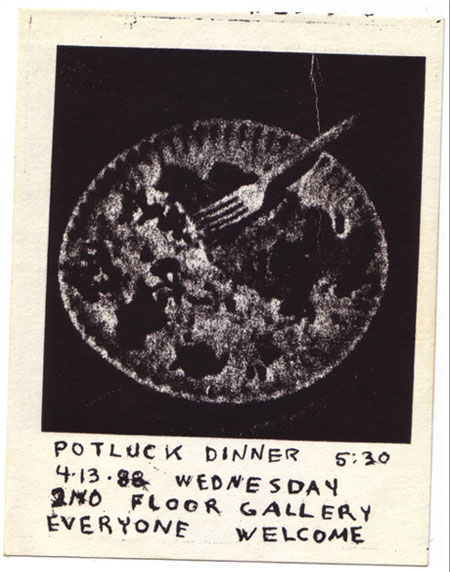 Retrospectives are more often than not reserved for famous artists. Like the recent Luc Tuymans exhibition at the Dallas Museum of Art, these exhibitions are usually organized for large institutions by professional curators with the goal of giving viewers the opportunity to see well-known works in a broader context. 88, an exhibition at Domy Books and Okay Mountain in Austin takes another approach. Organized by the artist Andy Coolquitt, 88 looks at the Austin art scene in two snapshots—one from 1988, on view at Domy Books, and the other from 2010 at Okay Mountain.
Coolquitt doesn't profess the kind of objectivity that an institution might, but rather looks at his own personal community of fellow students, professors and friends and follows them through to the current day. What we get are two exhibitions—each with its own energy and sensibility—that combine to give us a picture of what it takes to construct a vibrant and energetic art community.
The Domy Books installation is a raucous, salon-style gathering that includes photographs, videos, drawings, paintings, posters for bands and art exhibitions and other ephemera. Following the punk sensibility of the '80s East Village, or the communal attitudes of '80s collectives like Group Material, there is no checklist that might clearly tell us who made what. The objects combine into a whole that is greater than its constituent parts—erasing the authorship of each artist, as theoreticians of the time might say. It also includes two vitrines filled with copies of the journal October and Art in America as well as folded-over copies of course packs with essays like Douglas Crimp's "Pictures." These are combined with snapshots of young people drinking, eating and hanging out.
Combined with posters for bands like the Butthole Surfers and Sonic Youth, this ephemera reminds us of these heady days when both the theoretical gravitas of October and the experimentation of noise bands cut across the grain of what was easy or pleasurable. Both the bands and the publication turned away from highly produced glossy full-color images and instead opted for something low tech and direct. You can even see the influence of German Expressionism, another art movement that elevated clumsy and raw gestures, in the linocut prints that served as posters to advertise shows at Austin's Cannibal Club.
Of course there are also signs of more mainstream success in this exhibition, like a card for an exhibition by Bogdan Perzynski at Shoshana Wayne Gallery in Los Angeles or a poster for a three-person show at Trans Avant Garde Gallery including Christopher Wool. Two beautiful photographs by Teresa Hubbard are a harbinger of future success. Hung as a diptych, they depict close-ups of a hand and foot bound by rubber bands and immersed in water-filled plastic bags.
Teresa Hubbard is one of the standouts in the transition from 1988 to 2010. As a BFA student at The University of Texas she was part of Coolquitt's circle of friends and compatriots. She then went on to Yale and NSCAD where she received an MFA and began a long and productive collaboration with Alexander Birchler. After over a decade in Basel and Berlin she has since returned to UT as an Associate Professor of Art.
The Hubbard and Birchler video Night Shift (2006), displayed on a large flat screen monitor with high end headphones at the Okay Mountain show, was originally commissioned by Art 21 and involves four short vignettes, each involving a conversation between two cops in a parked car. One cop, an older man, is the same in each scene—waiting for his partner to return with a cup of coffee. But as each scene plays out in a similar way we notice that the second cop is always different, played by a white woman, an African American man, a white man and an African American woman. Despite their differences, each arrives with not only a cup of coffee but also a similar monologue about dreams and the edge between the virtual and the real—an idea that seems heightened by the late night hours that their characters keep.
The complexity and professionalism that this video exemplifies builds on the photographs that we see at Domy, but takes their formal and enigmatic qualities to another level. This is what one might hope for with such an exhibition—an artist withstanding the test of time. Coolquitt himself has also developed as an artist with exhibitions at Jack Hanley Gallery in San Francisco and Lisa Cooley Gallery in New York.
One sad shift from one exhibition to the other is the inclusion of some beautifully rendered prints by
Bob Anderson
at Domy and his absence in the group of current artists at Okay Mountain. Anderson, who was also a professor at UT, died suddenly last summer. But he left behind some
gemlike works of art
that seem to compress details from Hieronymus Bosch or Pieter Breugel into undulating textures of organic form.
Another stand out at the Okay Mountain exhibition is a film installation by Luke Savisky. His Transition (2010) includes three doctored 16MM film projectors that face a wall to create three concentric vertical rectangles that seem to breathe, change colors and make your eyes buzz.
It's important that Coolquitt chose two grassroots organizations for the setting of this show. Okay Mountain, an artist-run gallery that has been operating on the east side of Austin for the past few years, has added tremendous energy to the city. It also has contributed to the rise in real estate values in the area that will soon push them out of their current space.
Gentrification in Austin
and the role that the supposed "creative class" plays in such a process is a huge can of worms I'd rather not open just now, but it's interesting to see the longevity of grassroots organizations in the city. Hopefully another generation of artists will see this set of possibilities and start new projects to keep the energy of experimentation and collaboration alive.
1988 was a moment when the art world was at the peak of an unprecedented bubble and it was about to burst, similar to our most recent boom-to-bust story. But in each instance there were artists who made work that resisted big, flashy, highly produced art objects that were sold for exorbitant prices. This resistance carried through both the boom and bust. With less reliance on the tides of the market, alternative practices and DIY cultures have allowed artists to pursue their interests and construct a discourse that seems vital and necessary regardless of institutional approval. Yes, many artists in this exhibition, including the Okay Mountain collective, have shown at Chelsea galleries and in museums and art fairs across the country. But this success, as great as it may be, is secondary to the long slog through the world of art and ideas and to the achievements of a small group of people in a small city with something to say.




Noah Simblist is an artist and writer based in Dallas and Austin