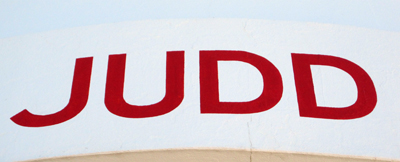 No single person has left as indelible a mark on Marfa as
Donald Judd
. The Judd logo (see above) is plastered all over downtown. Take a stroll along Highland Avenue, Marfa's main drag, and you'll spot the brilliant red, sans-serif letters of the
Judd Foundation
logo on at least four storefronts.
Stop inside the
Hotel Paisano
gift shop, and you can pick up a screen-printed Judd shirt or tote.
You can imagine my surprise when I traveled to
101 Spring Street
to volunteer for the de-installation and saw this:
Need a closer look?
In New York, the Judd logo is lost amidst the hustle and bustle of the SoHo retail district.
Here's a bonus New York/Marfa comparison: