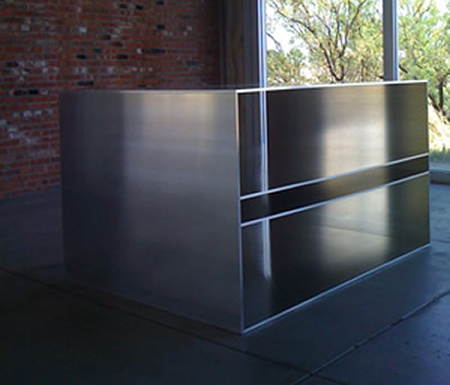 In an attempt to convey the stunningly wide editorial berth Glasstire has given me regarding subject matter for this blog, I decided to go with the standard Hollywood naming convention for films they take seriously enough to produce, but not seriously enough to creatively title. Hence, "Verbing Noun." (A quick scan of imdb.com or any list of Oscar-nominated and/or –winning films will quickly reveal the pattern.)
"FUDGE KNIVES SWIMWEAR LEATHER" is the casually minimalist and exquisitely American signage on a souvenir store in Pigeon Forge, TN. This town ("Squirrel Biscuit Hollow," as I've come to call it) is the somewhat terrifying anteroom to the breathtakingly beautiful Smokey Mountains National Park. It is also the home of Dollywood. And your home for FUDGE KNIVES SWIMWEAR LEATHER.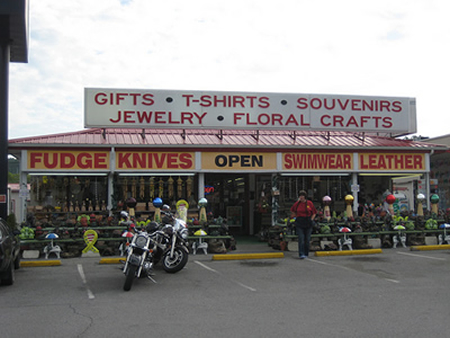 This past May we visited the Chinati Foundation in Marfa and were captivated by the Spartan elegance of Donald Judd's 100 untitled works in mill aluminum. Oddly enough, the installation and the remaining WWII-era signage, written in German for prisoners of war held there, shuttled me right back to Pigeon Forge and the elegant FKSL signage. It was like some kind of art wormhole.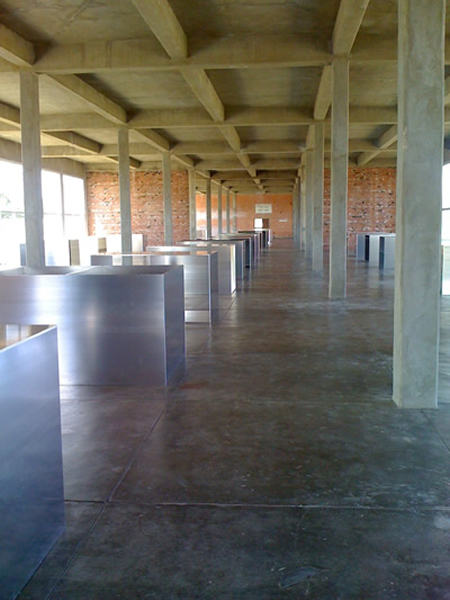 War-era signage at Chinati, in German:
"DEN KOPF BEUNTZEN IST BESSER ALS IHN VERLIEREN" (Loosely translated: "It's better to use your head than to lose it.")
"ZUTRITT FUER UNBEFUGTE VERBOTEN"   (Loosely translated: "Access for Unauthorized Personnel Prohibited")
Vacation-era signage in Pigeon Forge:
"FUDGE KNIVES SWIMWEAR LEATHER" (Loosely translated: "Everything you need in Pigeon Forge"or "God Bless 'MERca")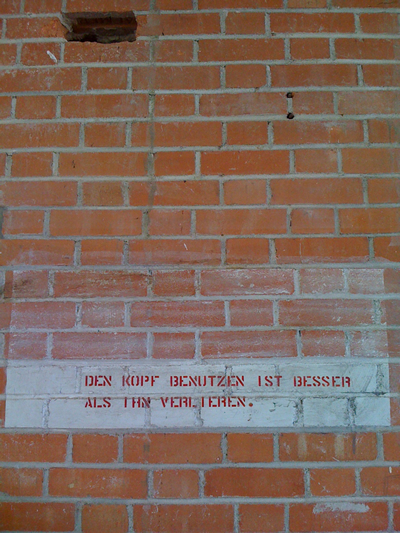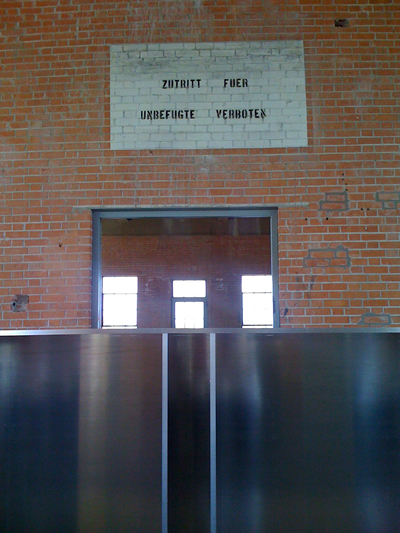 Art is where you find it, whether you like that or not, and whether you recognize it as such at the time.
Moreover, it can also read completely differently as a memory than it did in person. Interestingly, when having this Tennessee flashback in Marfa, I clearly remembered the FKSL signage as being huge, black, block lettering on a square, white building. That's how distilled their value proposition and marketing message was for me. But after going back to photos of the area, I see that my recollection was inaccurate, though that synapse fired by the austere vibe and succinct signage at Chinati made as solid a connection as could be made.
And for the record, hot as it was in Marfa at the time, we opted out of the portion of the Chinati tour that includes the installation featuring 15 pieces in concrete strewn over a quarter mile of merciless desert scrub brush, which I would have named "crucible for the pigmentless." While I'm sure it warrants a thorough inspection, and an important place in the canon of visual art, we simply weren't willing to "go there" for art's sake at 105 degrees. (So suck it.)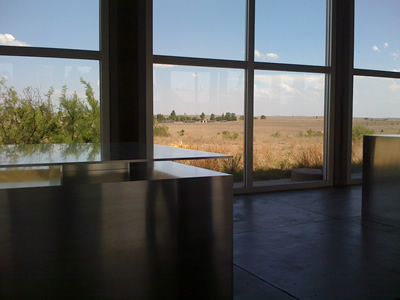 Anyway, of all the galleries, Judd totem sites, and art to see in Marfa, some of the best pieces I saw were sort of tucked away in the back room of Galleri Urbane, done by a self-taught artist named Andrea Zuill.  Apparently based upon the color scheme of old Valentine's cards, the paintings struck me like some combination of those old cards (except with subjects whose eyes are even creepier than that girl-woman in that insipid film Orphan), and a sort of non-Baroque Angela Fraleigh.  
And incidentally, we did make the obligatory short, late-night drive out to the Tx-DoT viewing stand to look for the fabled Marfa Lights. My wife stayed in the car and napped while I went to take a look for myself. I didn't see anything. The only mysterious orb I encountered was an enormous report of intestinal gas from someone among a small group of desert hippies "camping" a few yards out.
In any case, I'm always surprised by what happens when I go somewhere intending, or expecting, to see good art. I usually find it, but sometimes I don't. Sometimes I like it, but sometimes I don't. Sometimes I'm not sure. What is consistent, however, is that visual art can be found basically anywhere – perhaps in the form of a temple to minimalism in the desert of West Texas, perhaps in that of a surreal souvenir shop in the Smokey Mountains.  Even perhaps in that of a surreptitiously photographed, overweight, fanny-packed American simultaneously smoking and eating a funnel cake.