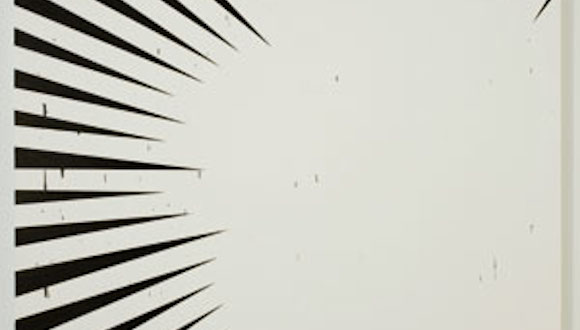 Years ago, I officed in a building with a pair of psychologists. One Saturday, around the same time a client of theirs had finally worked up the courage to come in for counseling, a man in a house two blocks away was taking hostages at gunpoint. So when our now-reassured, agoraphobic visitor finished her session and stepped out of the building, she found herself inside a perimeter cordoned off by the police S.W.A.T. team.
Norwegian artist Gardar Eide Einarsson could relate. Relocating from Oslo, of the safest cities in the world, to New York on September 10, 2001, he would within hours begin his own anxiety-ridden nightmare of military occupation. He has said that, looking back, the art he made at the time was a simple cataloguing of all the repressive imagery and his personal experience of good old American shock and awe at first seemed only to manifest itself in a general sense of paranoia and vaguely impending disaster.
However, he now sees 9/11 has had a much more direct and lasting impact on his work. And he means that in a good way. He's become known for quoting the vernacular of what he calls our "cowboy individualism." He also, by inference, takes to their ultimate conclusion those American self-destructive self-indulgences that might, to out-of-towners at least, appear to be rampant.
Hey, we resemble that remark. But, considering it's coming from a thirty-something who grew up in the safe-but-sterile, hyper-solidarity of Scandinavia, it could be just so much lutefisk, or yet another snarky critique of the ugly America. The thing is, with Einarsson, as with many of the young who love/hate this culture from afar, you have someone who is himself no stranger to hoodies, tattoos, skateboards and mosh pits; the standard-issue accoutrements of social rebellion. And after all, he did come here on his own. Nobody put a Glock to his head.
Interviewed by curator Andrea Karnes prior to the opening of his six-work exhibition at the Modern Art Museum of Fort Worth, Focus: Gardar Eide Einarsson, the artist explained, "While some of my work, of course, deals with very tragic figures of U.S. individualism, it is important to me that the work also describes the positive, almost romantic, aspects of individualism. Other facets of my work, on the other hand, deal with the tragic and romantic aspects of communitarianism," (i.e., the "collective social responsibility" currently run amuck in his own country). So it appears his wit cuts both ways.
But more about us. Suggesting that rebellion is such an ingrained part of American culture as to have practically become an institution, the artist will often borrow text and graphics from fringe groups and recontextualize them in the minimalist vocabulary of the art gallery, translating the subculture semaphores he seems to see all around us into "a form, a shape, an outline or a shadow." In Untitled (2009) the black-lettered slogan on the Plexiglas of a lightbox reads, "YOU DON'T LIKE OUR LIFESTYLE, WE DON'T LIKE YOUR LAWS", and thus a bumper sticker for bikers takes on all the mainstream accessibility of a retail display.
Exploring this vocabulary further, one also notices the color scheme, or rather the lack thereof; his is a wonderful world of grayscale, and there's a point to it. Einarsson wants to reiterate that these are appropriated, found images he has copied, and he underscores it by reducing them to the look of a black-and-white Xerox.
In two cases, Einarsson's references appear so tenuous as to spin off into abstraction. They're from an ongoing series of paintings based on coolly geometric Albert Camus book covers, whose titles (both the paintings' and the books') seem to be the only thing they have in common with the works in the rest of the show: Resistance, Rebellion and Death and The Rebel (both 2008). While the artist claimed to have come across one of the books "quite by chance," I think I smell a last-minute, museum-deadline threatening, art-handler delaying Google search.
Einarsson acknowledges this first impression of abstraction. "My initial interest in the series was that the stark graphic covers seemed like the history of postwar abstract painting in the format of graphic design. They are almost a cartoonish review of that history. I think of my series as a satire of a satire in a way, turning the graphic design back into monumental, seemingly serious macho paintings."
But in the end, Einarsson manages to tie it all up again. "Since my paintings are depictions of found imagery, they are, in fact, figurative and not abstract." It's all there in black and white, with just a little gray.
Focus: Gardar Eide Einarsson
Modern Art Museum of Fort Worth
December 13, 2009 through February 14, 2010

James Michael Starr is an assemblage and collage artist who lives in Dallas. He is represented there by Conduit Gallery and in Houston by Hooks-Epstein Galleries.
Also by James Michael Starr:
Performance/Art at the DMA

{ Review }

Susan Rothenberg at The Modern
Foster + Partners at the Nasher
Diego Rivera: The Cubist Portraits, 1913-1917 at the Meadows Museum