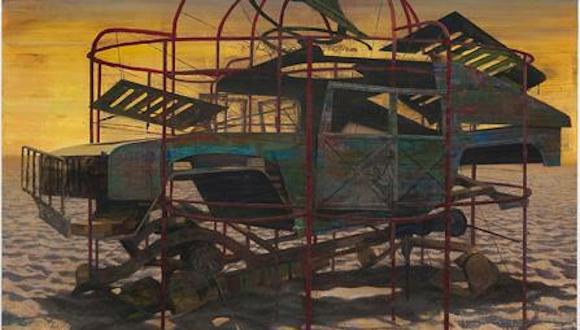 Austin native
Daniel Dove
's latest solo show at Los Angeles'
Cherry and Martin
features eight oil paintings that hint at apocalyptic aftermath, their subjects fractured, stripped down and reconstructed, giving rise to novel narratives. We get desert landscapes, playground tunnels and theatrical sets, all painted in a realistic style and all with a sense of being staged.
I just got around to seeing Kathryn Bigelow's The Hurt Locker (thumbs up), so I was immediately drawn to Dove's Exploded View and Heat Wave, two riffs on the same theme. Exploded View, the larger of the two, features crisp lines, while the view of Heat Wave is warped by the warmth of the (presumably Iraqi) desert.
The fellow at the gallery told me Dove actually bought a model kit for a Humvee to make the paintings, and that helps explain the lines emanating from the parts in the larger work, as that's a common way to
diagram a model
for ease of construction. But we're in the desert, and we're looking at a military vehicle known for being blasted by IEDs, so the term "exploded view" takes on a whole new meaning. Throw in some scaffolding reminiscent of a jungle gym, and you've got an eerie take on the quotidian horrors of war.
Most of the show is featured on Cherry and Martin's
website
, but these paintings really deserve to be seen in person. The show's only up for another week, so you Angelenos out there might want to get your butts in gear.