Clark Flood's 20 "Objects in the Mirror" essays, published in 2006-2007 on Glasstire, were widely disseminated and discussed around the web. His new book Clerk Fluid
includes all 20 "Objects" essays, photographs taken by Flood, and
finally, previously unpublished, unfinished and unedited drafts
straight out of his hard drive.
The following is one of those drafts.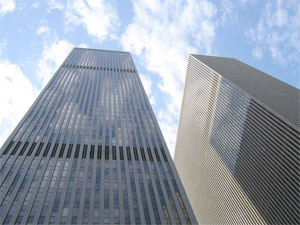 Dear Artist #3

Dear
Artist – Did you know that every time you get yet another begging
letter from yet another arts organization, that you are at a fork in
your path as an artist and as a person? One road leads to doing what
you want. The other leads to doing what we want.

Look
at the skyscrapers in the central business district. The buildings have
vast grids of windows, each identical to the next, stacked up in
endless rows. These represent the countless human lives imprisoned
inside, enslaved by corporations, crushed into their little cubicles
and their dreary routines, wasting their days and their lives
reduplicating oppressive hierarchical power structures dedicated to
destroying all human life on earth, one shred of dignity at a time.


Sometimes
people say the skyline is beautiful. In art criticism we call the
skyline of that reading, "a detached signifier". That means everything
is pretty, pretty pretty as long as you don't think too much about what
it really means.


Anyway
We're planning something very similar to those inhuman grids for our
annual fund raiser art auction shindig Hullaballyboohoohoo Smorgasbored
of Art Fantasia 2009. We call it 5×7, and were inviting artists whose
work has absolutely no integrity whatever to participate. That seems to
be just about all of them.


Each
lucky artist who participates gets a board of their very own that is 5
by 7 inches. Thats 35 square inches of total artistic freedom for them
to go just total hog-wallow wild in, like a deathcamp inmate chewing on
a piece of cardboard.

We call it Rectangle! A Fund-raising Celebration of Submissive Conformity 2009!


We're
working hard to make "art" the attached signifier for meaningless crap.
We're levelers. We don't acknowledge any difference between the works
of 8 year old children and the works of geniuses who labored their
whole lives on their project. It's all just "art"to us. So do whatever
the freedom you want, but just make sure it fits on your 5×7
"conformity rectangle."


Outhouse
Europe is asking artists who live in Texas, or have strong ties to
Texas, or who have flown over Texas, or seen a movie about Texas, or
know how to spell Texas, or are able to spell Texas with fewer than two
errors, to donate their creativity to this project!


We
will also be freezing artists' sperm and eggs for our long term
Populate Space with Art! Project. Each artists receives 2 (two) free
commemorative Dixie cups!
All
pieces should be submitted using the 5 x 7 inch format (in any media)
and signed only on the back side, so they may be displayed anonymously
– the artist's name to be revealed only after the work is purchased.
What a twist!

And
people Please! No more crucified mouse embryos on the boards! We will
not be accepting any more crucified mice embryos. Last year we were
swamped! Please! No more! We won't accept them, we won't display them,
so please don't waste everyone's time! Thanks. And if you think that's
censorship, you have some problem with that, we're just gonna live with
that, OK? Thanks!


Each
board is priced at $100, and all proceeds directly support Outhouse
Europe's exhibitions, public programs and professional dry-cleaning
service.


In
appreciation of your participation we are happy to offer you a one-year
artist membership to Kelly Barber's Exotic Pain Dungeon and Adult
Playpen. Thanks Kelly. In addition to the artists' preview party on May
18, participating artists and their guests may purchase discounted
tickets to the fund-raiser on May 19. The discount is 12%. For artists
willing to have "Outhouse" tattooed on their asses, the discount will
be 18%. Please bear in mind that said tattooed asses must be fully
visible during both the preview and the party! Chaps or jeans with the
butt cut away are recommended. Support the arts! We hope you will join
us this year for what has become a statewide Texas art tradition.


Outhouse
Europe was founded in 1492 to stimulate the genitals of a contemporary
art community throughout the state of Texas. It is the oldest, meanest,
hairiest, most lawless, most sexually adventurous statewide visual arts
organization devoted solely to this mission. Throughout its long
history, Outhouse Europe has been a powerful surrogate mother for
contemporary art and artists in Texas, as well as a prize winning
bronc-buster at local rodeos.
Thank you in advance for your generous contribution and your creative jockstrap of support for Outhouse Europe.
Sincerely,
X
Cluck Fluffed
P.S.
Don't forget to support our half-sister disorganization Creative Cornmeal:
Retarblo Gala and Silent Auction
Thursday, Oct 26, 2016- the future of "art"
Member's Preview, Purview, Oceanfront View, 6:00-7:00pm
Silent (never violent) Auction 7:00 – 9:00 pm
Admission: $3 and one soul per person
Complimentary for Yawndale Members, dismembers, cast members, penile members, and failures to remember…
The
alleged Festivities continue with a silent, Soylent auction at 7 p.m.
on October 26. The auction of retarblos, created by nearly 300, 000
(actual figures not available) self-styled artists (aka normaloids with
art hobbies), will feature contemporary misinterpretations of this
formerly traditional, formerly devotional formerly art that we are
grinding into cornmeal, the better to sprinkle it over the sweat lodge
mud of someone else's unacknowledged don't-call-it-despair. Guests will
also enjoy pretending to enjoy pretending to be previewing simu-LAC's
aptly named Day after Day after Day of the Dead exhibitions, in the
Caviar and Mezzanine Simulated Galleries which feature the works of
Houston's besieged and intoxicated school children. Complimentary
swill will be shoveled onto the art-trough.
Everybody come out and have a "real" good time!!!
CF
Clark Flood is a freelance writer living in Houston.
Also by Clark Flood:
Clark Flood hard drive dump, Pt I: Spirituality and the Arts
Clark Flood hard drive dump, Pt. II: Each in Turn
Clark Flood hard drive dump, Pt. III: At the Cinema
also by Clark Flood