Fluent-Collaborative's Testsite 09.3 – Common Sense
Sheila Pepe &
Elizabeth Dunbar
May 31st – July 5th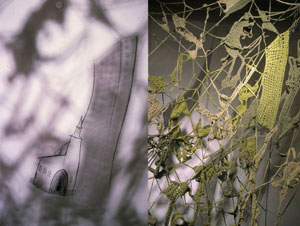 Question: Is there anything that a lifelong lover of rock and roll enjoys more in a fine art context than the rebellious spirit of a woman willing to shatter all preconceived notions of a museum-going experience?
Answer: Well…given my long-winded blues kick these days, other than a vinyl copy of The Allman Brothers' 1971 masterpiece, "At The Fillmore", turned up loud on a stereo of considerable wattage, chances are pretty damned slim.
Housed in Fluent-Collaborative's testsite space located just north of UT, Sheila Pepe's new work deconstructs the relationship between artist and patron to make a greater point about community and sustainability, and does so gleefully.
Upon entering the unassuming space located just north of the University's campus, the vibe was far more akin to the playful ruckus of a block party than the hushed earnestness of most exhibitions. The consumers of the exhibit had become participants of the work itself, as Pepe has encouraged as part of the installation from the jump. Every one in the room was either adding or subtracting to the existing crazy web of crochet, chatting amongst themselves and laughing with the children in the room. Interactivity and sustainability in fine art? What in the holy Sam Hill is going on here? A work where you are encouraged to shun the notion of spectatorship and make yourself a pair of socks, or a scarf? This is upside-down beautiful, damn it.
A joyous 'to hell with it!' here, and a fabulous sense of courage…to recognize that art can belong so wonderfully outside a world of academic inertia, to the point that pieces are literally transformed after their consumption and new works of art are created from this change.
You've got another week or so. Treat yourself to the forward thinking notion of these two women, and here's to this great unraveling…no, not the Paul Krugman diatribe …