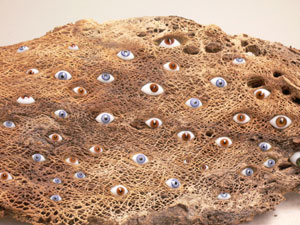 In many ways Mexico City seems as comfortable and familiar as the proverbial old shoe. With over 20 million people, it's Big City personified and as soon as I arrived, I wanted to leave – not because I don't like crowds, subways, and myriad options, but because it felt a movie I'd seen too many times. But like all great cities it proved seductive and by the end of my stay, I realized what was particularly distinctive about this one.
It keeps going regardless. The museums might have been closed, all schools cancelled, night clubs, bars and other venues shut down due to Swine flu, but art goers will never be put off from going to a great party or seeing a hot new venue.
During the first Saturday of swine flu panic, Kurimanzutto gallery was packed for a party celebrating Mexican superstar Gabriel Orozco's newest work.
Orozco, who is considered by many to be an extraordinarily important conceptual artist gained fame tearing apart man-made objects-like automobiles, for instance, and reconfiguring them into something new, as well as for his site-specific works fostering interactivity.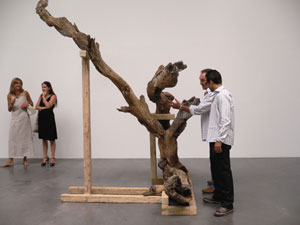 Here he does something similar with the natural. This work is inspired by his recent trip to natural reserves and biospheres in Puebla, San Potosi, Queretaro and Oaxaca. He has taken desert plants like "patas de elefante) elephant's feet, a species called Beaucarnea gracilis, which can live over a thousand years. Elephant's feet are cut and burnt in an ancient mezoamerican technique known a "roza-tumba-quema" which is designed to increase soil's fertility. These were intertwined them with gold leaf, in some cases placing what looks like little eyes set in tree formations. Orozco has always played with the friction between the natural and the artificial and here we found ourselves in a wood-filled patio surrounded by natural forms shot through with fragments of the manmade.
The gallery, in its brand new location (as of last November) has an open courtyard continuing through to a gallery space composed of light wood beams that let a lot of light to filter through. It seemed the perfect venue for this work.
Kurimanzutto, is run by Jose Kuri and Monica Manzutto, who was leaving the next day to have her baby. It was definitely the place to be, the patio was crowded with collectors, some of whom had just flown in. Everyone was embracing in an act of either real defiance or flagrant disregard, given the current medical instructions which had demanded people keep their distance.
I found the forms beautiful and interesting, the setting perfect, but "scenes" as such no longer interest me and I was much more moved by something else which happened a few blocks away.
I had been looking for architect Luis Barragan's house, which is a World Heritage Foundation's site, but nobody seemed to know where it was or could figure out the map I showed them. By accident, I arrived at the right street and three guys who looked more accustomed to selling things which just fell off a truck, as they used to say in my neighborhood, saw me and said "Number 12? You are looking for Barragan's house, it is number 12" and pointed the way. As I had expected the flu scare had closed the house, but as I walked away a taxi driver, missing more than a few of his front teeth, stopped washing his car. "You coming from Barragan's house? Look." and he took off his t-shirt, turned it right side out and pointed to the Louis Barragan House logo.

"Right here on this street he made his first drawings-just this view you see." I said that none of the officials I had asked over by the hospital, or the medical students I had encountered, seemed to know where this house was, and his response was immediate: "They're not from here. This is our street. He lived and worked right here with us. This is his house, and over there was his studio."
Despite his international reputation, I can't imagine Barragan would ever want a better group of fans
The other thing about Mexico City, like all great cities, is the possibility of running into the truly unique. This bus, called the "Trole bus", was actually a gift from Japan to Mexico for last year's Zona Maco fair, and is currently being put to good use to showcase work by the Texas band of subversive knitters, Knitta Please.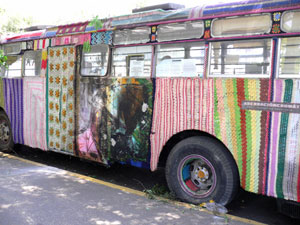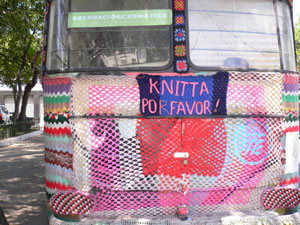 ---
David Sokolec writes the Border Art Dialogue blog.