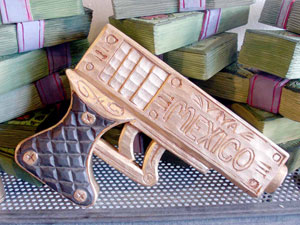 Until five years ago, my knowledge of Big Bend National Park and its neighboring and still proudly unincorporated Terlingua, Texas, amounted to a middle school memory of the former – scorching torture of a weekend field trip led by a frizzy-haired, ex-hippie science teacher with fetor ex ore shaped by Sanka and Kool (25 years later, a memory so pungent that's it recalled instantaneously) – and part of the title of a 1973 live album recorded in Luckenbach by Jerry Jeff Walker and The Lost Gonzo Band, called "Viva Terlingua!", as the latter. About that time, better-than-average honky tonk outfits got to thinking, for whatever reasons, that I could play bass and sing. So, I started to get hired for infrequent gigs at The Starlight Theatre, an 85-mile southward drop down 118 from Alpine into that eerie memory of an old mining joint nestled in a dip of the park's drawn boundary.
The geographical landscape immediately struck me like the long pans of Andalusian Spain posing as the American southwest during many an opening credit sequence of the mid-'60s spaghetti westerns…miles and miles of undisturbed land, sprawling with the soon-to-be-introduced theme of lawless opportunism. I'd muster an educated guess that this decidedly anarchistic tone was damn well present in the late 1800s as well, when appetites for riches drenched in liquid gold and the employment possibility in tow drove greater settlement numbers.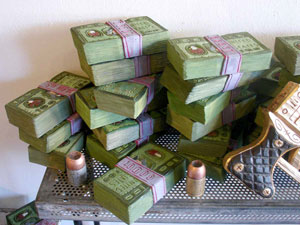 Further, I found the social landscape oddly reminiscent of the characters in this same era of cinema – quirky men and women with quips and tics aplenty, difficult to pin down as either harmlessly charming or unpredictably menacing (Eli Wallach's Tuco in "The Good, The Bad and The Ugly" comes to the cranial fore), or characters seemingly so evil that the performance was a tightrope brilliance balance of camp genius and pure darkness (the "Bad" from the aforementioned and many others, Lee Van Cleef used to really freak me out, fyi).
And in the little time that I've spent there, Big Bend and Terlingua seem like places where everybody KNOWS everyone, and yet no one knows anything ABOUT anyone, and damn it, let's keep it that way, an unspoken, immovable law. Drug addicts, dealers and traffickers, alcoholics, war veterans, nervous illegal aliens, quietly sinister law enforcement officers, the broken-hearted, desert folk with no stomach for the modern world (on some days, I say Amen to that, brothers and sisters of the West Texas wind), entrepreneurial disasters ducking eternal creditor heat, outdoorsy searchers convinced of the whole get-lost-to-be-found principle….and the list of potential players goes on. It feels like a world where everyone has a heavy history that will never be lightened by the telling of the tale. Added drama to create blog fever? Maybe. Weighted nevertheless? Absolutely.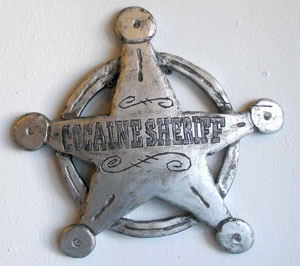 In the lengthy meantime, what I love about the spaghetti western is how it creates humor out of pathos – through snappy dialogue, the kitsch of poorly dubbed vocal tracks, and cartoonish, acrobatic violence. And if I can attempt courage through the admittance of my own cowardice (?!), it takes me closer to a world long ago that both fascinates and scares me half to death, a place where I and anyone else who grew up never wanting for jackshit probably wouldn't survive long.
For this reason in particular, I dug Brian C. Bosworth's current collection showing at The Yard Dog, entitled "Three Day Bender and Other Stories from the Big Bend". Most interested in his immediate environment, this Marfa-based artist carves wood into large-scale models that document the idle (tequila and beer bottles, old school pop tops) and the not-so idle (a law enforcement star that reads 'cocaine sheriff', stacks of cash, and lots of guns and ammunition) lifestyles of the area 100 miles south of his home. There's plenty of sitting around getting loaded, sure, but there's also big business in the name of trafficking dope and people, and just as sizable a business to look the other way. There's a primitive quality to the work that looks animated to me, not unlike some of the title sequences of the very same genre of film that I've chirped about ad nauseam for the last 650 words or so. But even with bleak subject matter, Bosworth's humorous approach let's us check things out a distance, stoking whatever ember of curiosity one might have to go visit that particular part of our peculiarly beautiful state where so much and so little happen simultaneously. It's a concise space, and a quick visit, and taking a gander into The Yard Dog whenever you're down South Congress way before the end of the month is well worth it.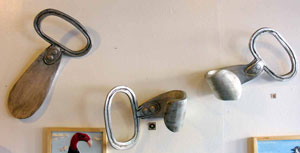 And as a few more mentionables:
www.sawdustpoet.com
– you can see a wide variety of the artist's work here far beyond the exhibit – carvings for doorframes, tables, some nice flatware, etc.
www.yarddog.com
– I first learned of this gallery many years ago, when it showed Jon Langford's work, who I'd known through his rock and roll trainwrecks, The Mekons and The Waco Brothers, while living in Chicago. I tip my hat to any place committed to showing work that isn't authenticated or legitimized by upper class patrons and/or academia, and The Yard Dog is one of 'em.
www.spaghetti-western.net – For the especially curious, after all of my a-ramblin'.