"… bodies are not really what [Francis] Bacon is interested in. … He's enjoying himself, and he's doing something really abstract." – Matthew Collings in the current Modern Painters


The above got me thinking about the Giorgio Morandi show that just closed at the Met. Everyone said it was the show to see in New York, so I saw it. It was… fine. Lovely, even. A quiet installation in that horrible hexagonal contemporary space they have. Dozens of skillfully painted, pale still lifes of the same few boxes and bottles, painted over and over in an attempt (according to the wall text) to distill the abstract form out of the everyday. A friend described it best: it was quaint.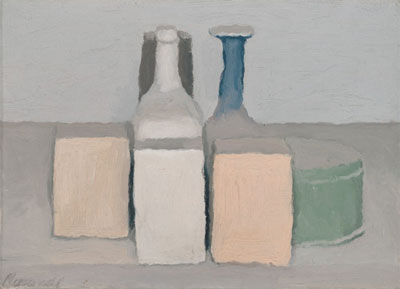 This was the best New York had to offer? In early December?
So now, as we all participate in a mass MasterCleanse about how fucked up the art scene has gotten, as the NYT's Holland Cotter and Roberta Smith observe with relief that the gravy days are over and now some real art can get made — as we recoil from the grotesquerie of Damien Hirst's Sotheby's auction this past fall — now our salvation will come from a bunch of moldy 20th century ideas about abstraction?