I visited Dallas this last weekend and had a chance to visit a lot of
galleries. I like Dallas. It feels half-deserted. Like it just woke up
from a plague that killed half its population. So much of it is
abandoned, and the rest feels so empty… And then there are the parts
that feel exactly like
Robocop
, which was actually (prophetically?)
filmed in D-town.
Maybe I was there during a particularly
strange programming confluence, but goddamn, the art in Dallas right
now is boring as hell. Granted, I didn't visit every single gallery and
my assessment might be due mostly to poor choices on my part (wouldn't
be the first time) but I was terribly underwhelmed. Here's an especially catty run down
of what I saw: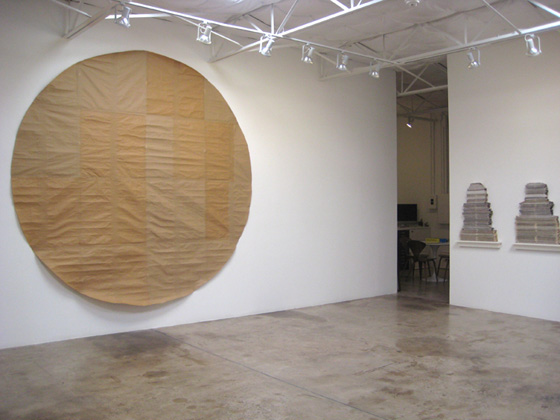 –
Annette Lawrence
and
Joseph Havel
at
Dunn and Brown
: This was a big dud. I'd read
a review of the show
by
Alison Hearst. I liked some of
Lawrence's work, specifically, the piles of paper strips precariously
stacked in "ziggurat-like forms." But both of the circles made out of
brown paper bags,
Paper Surface Circles
seemed more like
remedial high school art class than anything else. Havel was even more
of a dud for me. His cursive text sculptures just scream high school
art show to me. Nevermind the source material for the text, the
work just wasn't very interesting to me. Both shows
came off as poorly executed and solipsistic. Listen, I can get behind a
good concept in a piece, but experientially, most of these works are a
serious snoozefest. It's the kind of art that art historians love
because you can write dissertations about it, source its materials and
discuss its intertextuality and so on and so forth. But if you like
your senses, steer clear. But if you're feeling chatty, maybe you could
get the gallerist to show you some of the
Christian Schumann
paintings
they have, which are absolutely beautiful, technically impressive,
nothing if not colorful and alive. Also they remind me of
Ren and Stimpy
a little, which I like.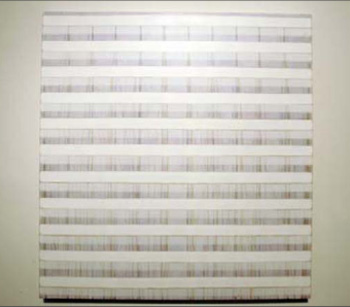 –
Brent Ozaeta
at
The Public Trust
looks like it was art-designed for a
Jonas Brothers
TV special. Maybe it's not that bad, but it looks like an
art show, if you know what I mean (expression borrowed from
Barry
Stone
). It looks faxed-in. It's also pretty devoid of color, a
condition that was quickly becoming the thorn on my side in Dallas.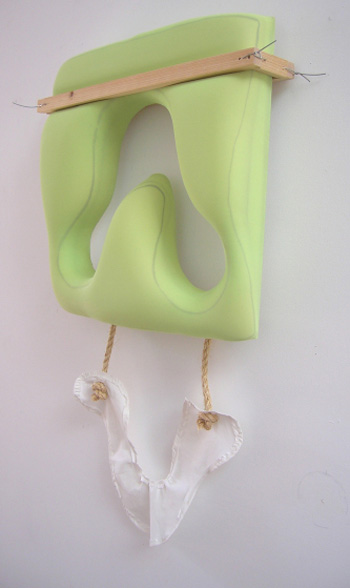 –
Lily Hanson
at
and/or
was pretty good. Hanson creates some nice
objects that are very tactile and seem abstracted from something,
though it's hard to tell from what. Hanson's work reminded me somewhat
of
Jade Walker
's sculptures. I was looking forward to seeing some new
media work at and/or, so that was a bit of a bummer. Still, a very nice
show.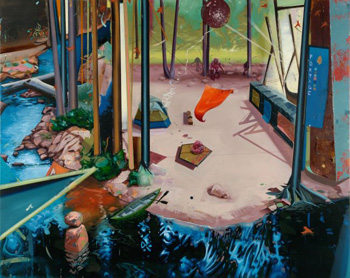 –
More Than This
at
CADD Art Lab
was my absolute favorite gallery
show.
Scott Anderson
's large paintings look like 1950's sci-fi pulp novel covers at some points, and some weird deconstructed architecture or interdimensional rift in others while
Jackie Tileston
imposes brightly colorful line patterns onto more somber scenes that are somewhat reminiscent of
JMW Turner
.
Kevin
Bewersdorf
's
GIF Mandala
is spellbinding and technically impressive,
and
Lizzy Wetzel
's installation is magical (and smells like burnt
hair).
–Vicious Pink at Central Track is a show that "pushes pink from the subversive to the hyperreal. Artists enlist pink
materials to the hilt while straddling the line between high art and
camp. Vicious Pink
hopes to assert that high art and camp can
co-exist." Great, another monochromatic show. That much pink gave me a
headache. Also camp is pretty much by definition never high art
(further reading: Camp Grounds: Style and Homosexuality edited by David
Bergman). Also, making things hot pink doesn't make them hyperreal, it makes them loud.