Clark Flood's 20 "Objects in the Mirror" essays, published in 2006-2007 on Glasstire, were widely disseminated and discussed around the web. His new book Clerk Fluid (which is available for sale at our shop) includes all 20 "Objects" essays, photographs taken by Flood, and finally, previously unpublished, unfinished and unedited drafts straight out of his hard drive.
The following is one of those drafts.
SPIRITUALITY AND THE ARTS
PICANTE ART CENTER – I was in the audience of a panel discussion the other day. Established nobodies. Painters with work in art gagazines, and professorships in not-too-embarrassing universities
Only an idiot would mess up a gig like that by saying something interesting and unfortunately they weren't idiots.
Discreet silence is the artworld's professional mode. Its not professional to have a strong opinion, or even acknowledge there's anything to have an opinion about. Not publicly. Not on the record. Art's good. Everything's good. We're good. The programming's good. The school's good. The staff is good. The board and all our benefactors are very good. But not as good as our corporate sponsors. They're so good we don't care what they do.
I guess when you reach the golden rungs on your ladder to the misty top o' the art world, Panels 'R' Us contacts you. I wonder if the panelists do it because it looks good on the ol' resume. Or maybe the honoraria are fat. Publicity? All of the above. Maybe they're coerced Mafioso style. You will get out there and talk about your work or your loved one will have an accident…
So they talked, prodded along by a "moderator." I guess she was there in case anybody on the panel might want to fight a duel over their differing art theories.
They talked but they said little. They were like a team of tightrope walkers gingerly tiptoeing down the thin wire of the audiences' attention span, with a yawning chasm of career suicide all around. Mostly they reluctantly answered the pointless questions lobbed at them by the moderator. Do you like pudding? What's your cat's name? How many fingers?
They warmed up a little when they got to talk about themselves. They exhibited the usual character defects associated with their occupation – self absorption, hyper-trophic arrogance, an ironic appreciation of pop culture. Nothing remarkable.
The only thing weirder than these lumpy robots on-stage was the audience hanging on their every mumbled monosyllable, eager to applaud any complete sentence like it was Caruso's greatest solo. I feel like I'm fairly jaded about these things but I felt an icy chill creep up my spine at the spectacle of these soul-less zombies. Why were they here?. How did they get this way? What have we done to them? Or did they do it to themselves?
It's amazing how much the art community expects you to surrender for the right to participate in their dreary rituals. Only your soul, Clark, only your soul.
I think most of us have killed a hamster or two by loving it too much, hugging it too tightly. That's sort of what the non-prof art-orgs have done to the artworld. And when you killed yours didn't you need to pretend it was still alive, didn't you keep playing with it, pushing it thru its cedar chips, scooting it around the furniture, cradling it, even rolling its dumpy dead body around inside the little hamster wheel????
That's what this panel was like.
These organizations that administer our art gulag need to demonstrate that their prisoners are not only alive but flourishing. Everybody still vaguely remembers what art used to be like, before they killed it. Didn't it involve ideas, the exchange of ideas, people talking about art? So they set up these gruesome panels.
It reminds me of those cargo cults that sprang up in the Pacific Islands after WW2. The natives remembered with admiration the cool airplanes that used to land there. After all the soldiers were gone, built their own airplanes out of mud and bamboo. But they couldn't make 'em fly.
Its OK, if you don't mind going to the Eiffel Tower at Vegas. It's like Disneyland, familiar, comforting, better than reality. Better administered, free of controversy
Controversy. Actually, ArtPanels'R'Us does stock that flavor in about a dozen categories. Take a brave stand against AIDS or violence or racism or sexism or child abuse. Go way way out on a nice, safe officially sanctioned heroic limb, one that might've been shaky 10-20-30-40 years ago.
But nobody on this panel went anywhere.
As weird as it got was when one of the panelists indirectly implied he had once smoked pot, many years earlier.. You could feel the tension in the audience.
It's not like the art world isn't full of loudmouths eager to talk and argue. If you served alcohol you could have art riot on tap. But all these organizations want is to go through the motions.
It's like a thanksgiving dinner table. Everyone is gathered and everyone is too polite and non-controversial because this is the day we pretend were a happy functional family. You talk about the weather.
So, big yawns for everybody. And of course what always goes with the big yawn is everybody talking about how entertaining and insightful it all was.
Anyway, they were asking the flock of sheep who were sleepily observing the proceedings for reasons as difficult to understand as they are are painful to imagine, if anyone had any questions. Its kinda like when you're strapped in at the dentists, with a drill rumbling in the background, and they loom in their big balloony hali-toxic head and say Are you comfortable? So I was trying to think of a question that would be disruptive while at the same time time appear reasonably polite. And I raised my hand.
Given the long history of art intertwining with religion, I'd like to know if any of the panelists consider that there is a spiritual dimension to their work..?
Ouch! That's why these big deal professionals hate to tour the sticks. That's where you run into bible-thumping, snake-handling, poison-drinking, hillbilly Pentecostals who ask these unbelievably awkward, inappropriate questions that engage audiences and sabotage careers. Ugh! And you wish they were speaking in tongues because then you wouldn't have to acknowledge that YOU UNDERSTOOD THEIR TERRIBLE QUESTION.
A visible shudder ran through the panelists and there were even some audible groans from sympathetic professionals in the audience. The listless burnout moderating this adventure in tedium gave me the look of barely contained contempt you get from waitresses when you walk in a restaurant five minutes before it closes. But what could they do? I laughed inside, being a demonic connoisseur of social discomfort, as fond of the long silences in group therapy sessions as I am of endless incoherently drunken toasts at weddings. On the outside I maintained a shell, an appearance of happy, peppy art panel enthusiast, eager to receive any pearls of wisdom these gosh-darn real pros might have to drop in response to my heartfelt query.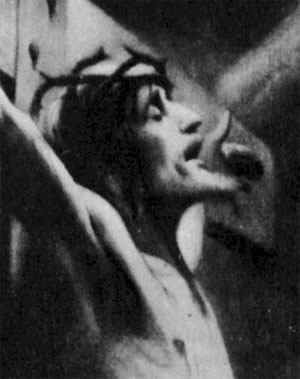 The lead rat turned to her fellow cornered rats and asked them in secret art-pro code if any of them had a way out of this dreadful situation. To the untrained ear it sounded like "Would anyone like to address this?" 3 out of the 4 dove for cover. They just denied it, one after the other. No, there's no spiritual dimension to my work. They were embarrassed and shaky. This was a real test of their art mettle. Like Peter they were gonna have to deny their God because they were scared of something worse than his wrath – professional embarrassment. One of these was flustered, visibly wrestling with his conscience before he stammered out his No, looking like some tortured POW dragged into a propaganda broadcast to dis his country. It was a level of entertainment no one could reasonably expect to encounter at this carefully neutered art event.
One panelist rose to the occasion in a manner that garnered my admiration.. He said No as well but you could tell he actually meant it. He was Californian, determinedly gay and worked for a U that never had any qualms about expressing the depth of its commitment to the forces of evil, so maybe he'd been over this ground before. He had the words. My art is secular, he said, made for a secular audience. I'm an atheist. Theres no spiritual dimension to my art. Unlike the others he had given it some thought. He still sounded a little bit like an arrogant three year old announcing he was running away from home, but.
The others were in the closet with their beliefs. Atheism is a rare calling so, just statistically, one knows they were lying. Hell, one of them was a woman, and I've never met a woman who didn't think she was personally hooked up to the mystical powers that govern the universe, and eager to tell ya if asked right. Men are having parallel Pantheistic feelings, beer-drenched, urine-spattered communions with Nature, going through the motions of huntin' and fishin' trips while they desperately review their place in the city of effaced patriarchal functions. There's a whole lotta closet spirituality going on in the determinedly atheistic a-world, and we're just right next door to the big mega-pop thats still goes thru the motions of participating in religion.
So my call is most of the panelists were lying. They have some mystical communion, maybe drug-related. Not superficially related to their creative life, probably right at the very center of it. Maybe twenty -thirty years ago, maybe over their last killer buzz. Artists have this mystical thing. It tells em what to do or maybe just inspires, but it's there. They feed it, to keep it happy, just like some cultures feed dead virgins to the sky.
So why is it such a big fucking secret? Why is it embarrassing? Most of all, why is it so unprofessional?
CF
Clark Flood is a freelance writer living in Houston.
also by Clark Flood