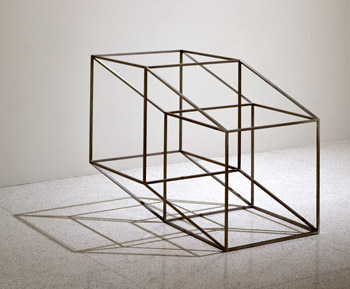 The Blanton
continues in its apparent path of rediscovery of under appreciated artists in
Park Place: Reimagining Space
. Similarly to
The Geometry of Hope
, their Latin American abstract art show, or even Michael Smith's
Mike's
World
,
this show unearths some real gems that somehow fell between the cracks.
The installation of the show, is expectedly pristine and near perfect.
Hopefully the young bucks at UT's
Museum Studies
program take lots of
notes because installation that looks this good should really be used
pedagogically.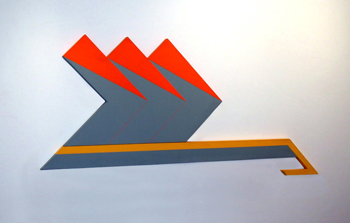 The work in Park Place is very beautiful and elegant. The colors are
really bright and the shapes really geometrical. In writing, it sounds
like kind of a bore but it's a really rewarding show. Spending time in
their perfectly lit gallery and walking around the gorgeous sculptures
from
Peter Forakis
,
Mark Di Suvero
,
Forrest Myers
and the rest of the
gang is a ridiculously refreshing meditative and soothing experience.
There's something about these shapes that is really calming to me.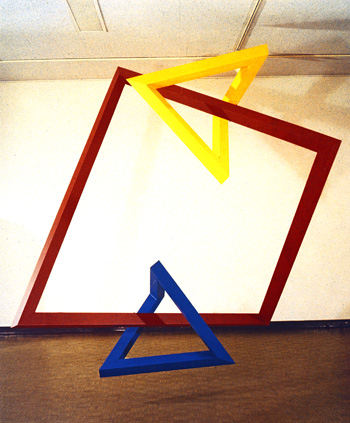 From the Blanton
website
:
"Park Place artists were united by their multifaceted explorations of
space. Their abstract paintings and sculptures, with dynamic geometric
forms and color palettes, created optical tension, and were partially
inspired by the architecture and energy of urban New York. The group
regularly discussed the visionary theories of Buckminster Fuller, Space
Age technologies, science fiction, and the psychology of expanded
perception, and these ideas become essential to their work."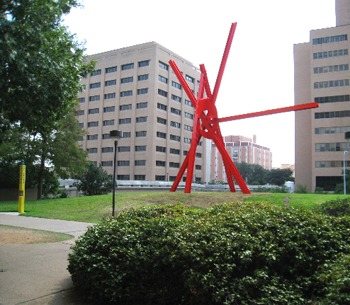 And while Mark Di Suvero's name is still in your brain, I highly recommend driving down Dean Keeton, finding a good parking spot (give yourself a half hour for this) and walking around Di Suvero's amazing
Clock Knot
, part of UT's
Landmarks
public art program.
Here's a report
byJeanne Claire van Ryzin from the Statesman's
Seeing Things
blog about the dedication.
*Images of Park Place courtesy of the Blanton, and image of Clock Knot borrowed from Seeing Things.