So one of the most interesting things to me reading this "End of Art" discussion of Duchamp was simply seeing that famous picture of him playing chess with the nude woman again, at the Walter Hopps-curated retrospective in Pasadena that effectively solidified Duchamp's place in the art firmament. Kuspit was using it to illustrate Duchamp's chauvinsim, real or imagined. But I frankly found myself wondering "who the heck is the faceless chick with huge Yuskavage-esque bazoombas really, and how'd she end up in this picture?" and with the wonders of the internet I quickly was able to find out.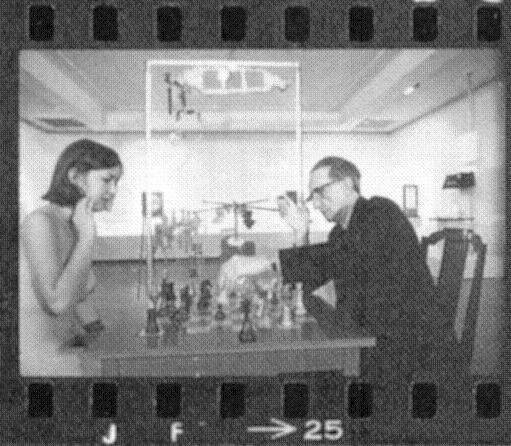 Her name is Eve Babitz. She's an LA native, and writes novels now. She was twenty at the time of the photo, and this interview with her provides a fascinating snap-shot of the LA art scene at the time of the Duchamp retrospective, with her name dropping a number of its luminaries.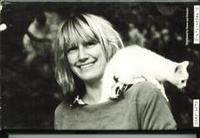 She also explains that her breasts were almost "other" to her due to the enlarging effects of birth control pills; she says she wanted to document them before getting off the stuff.
Babitz was apparently sleeping with Hopps, and agreed to be the model or more properly (as she sees it) co-performer for the photo partly as revenge (Hopps' wife had come back into town, and Babitz had been banned from attending the opening.) Oh yeah, juicy.
The richness of the story is more than you could hope for, and yet again "fleshes out" the vivid background of an interesting individual and mis-en-scene behind the representation. She was Stravinsky's god-daughter, her mother was an artist, and she'd met Georgia O'Keefe. She and Marcel played three matches, by the way, which must have gone quickly. She didn't really play the game, and was trounced, "queened" each time she curiously specifies.
I was particularly fascinated that the photographer was a friend of Eve's, whom she had gone to for naked pictures of herself before, to see how she looked and "to give to guys" she said, something many of her friends were doing.
MS. BABITZ: Everybody who went to Beverly Hills High went to Julian.

MR. KARLSTROM: Did you go there?

MS. BABITZ: No, my friend Marva did and she told me about him. That's how I met him, from Marva.

MR. KARLSTROM: And so you wanted to have naked pictures of yourself to show guys?

MS. BABITZ: Gorgeous ones.

MR. KARLSTROM: Yeah, gorgeous, right.

MS. BABITZ: Yes. That's right. Gorgeous-

MR. KARLSTROM: Because you were proud of your body.

MS. BABITZ: Right.
This tale has shades of post-feminism, on the cusp of the apex of American feminism proper. And later, in the 70's she'd write for Ms. Magazine. She is more in the driver's seat, involved the contexts of her presentation, than might be gleaned from the Duchamp image alone. And bra-burning wasn't her style. After all, even after the pill, she still wore a 36 DD (her breasts are discussed at length in the interview.) Seems to me some support would be helpful.
Turns out there is even an English indie band called All About Eve Babitz. How hip is that? Sorry to say it's downhill from there, though…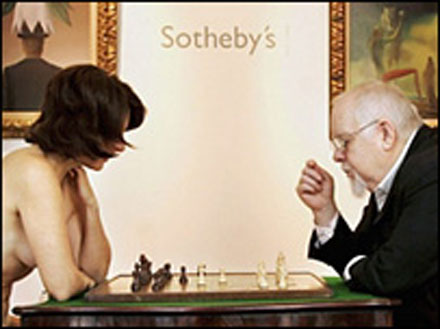 (artist Peter Blake in homage.)