First, a preview to the preview:
Sam Taylor-Wood
Contemporary Arts Museum, Houston
through October 5, 2008
This show doesn't technically count as a preview, as it's been open since early August. Taylor-Wood is a mixed bag, and is too heavy on the starfucking for our taste: her shadow-and-gravity-defying photographs are OK; while her portraits of male movie stars crying are asinine… BUT her best videos are very good, and they don't go on forever, and there are several notable ones in this show, including The Last Century and Prelude in Air. Hop on over to the CAM to check them out.
And now for the real thing:
GLASSTIRE'S FALL PREVIEW 2008
Caveat, caveat, caveat… here we go!
Jesse Amado
Sala Diaz
September 5 – October 5, 2008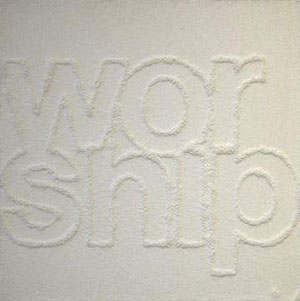 Original 95.1 Artpace resident Jesse Amado has been a steady, consistent presence on the San Antonio art scene for nearly two decades. He's made smart, elegant sculptures, text-based monochromatic drawings, playful works on paper and more. This is, surprisingly, his first foray into the cozy, converted house that is Sala Diaz. It will be interesting to see what he comes up with. -RK
RESET/PLAY
Arthouse at the Jones Center
September 6 – November 2, 2008

The
corner of 10th and congress will become a 21st Century Dada arcade when
RESET/PLAY
, Arthouse at the Jones Center's exhibition of video-game
inspired work opens on September 5. Guest curated by
Spirit
Surfers
Marcin Ramocki
(of Brooklyn's
vertexList
) and
Paul Slocum
(of
Dallas'
And/Or Gallery
), this show's roster includes some real heavy-hitters in
the new media world:
Cory Arcangel
,
Kristin Lucas
,
JODI
and
Michael Bell
Smith
. UT Austin's own
Mike Smith
(no Bell here) will probably show
all the young whippersnappers that he was doing this shit back in the
80s and once again remind us what a criminally under-appreciated artist
he still remains. If Ramocki and Slocum weren't attached to this
exhibition, I'd be very concerned about the installation, but with them
on board, it will probably show Austin how video/new media is done. NOT
TO BE MISSED.
-IL
Paul Kittelson: Modern Conveniences
NauHaus
September 6-28, 2008

This time it's an inside job. No life-sized dinosaurs or latex
spaghetti, no feather-weight staircases or giant potato chips. No
stainless steel jellyfish, plaster lollipops, or cement rugs. This time
Houston's maestro of monstrosities focuses on images, not objects. He's
has created trompe'l'oeil collages in his favorite wood-grained plastic
veneers that depict satirical slices of American life. It's even
claimed that they'll be in rectangular frames.
-BD

The Dead Weight of a Quarrel Hangs: Selections from The Atlas Group Archive
Glassell School of Art
September 12 – November 23, 2008

Ever get nostalgic for the glory days of deconstuction? Working as the
imaginary
Atlas Group
, provocative Lebanese-American artist Walid
Raad spent fifteen years either collecting or producing a
documentary-style archive of the Lebanese Civil Wars of 1975-1990.
Through the exhibition of the contrived foundation's archive, Raad
confounded commentary and reportage, raising questions about
authorship, authenticity, and how we interpret more purportedly factual
representations of current and historical events. The upcoming show at
Glassell, part of the CORE exhibition series, presents two sets of
photographs and two video installations that play on fact, memoir and
reportage.
-BD

Damaged Romanticism
Blaffer Gallery, University of Houston
September 13–November 15, 2008

The pathetic aesthetic returns? Former Blaffer director Terrie Sultan,
critic
David Pagel
and critical theorist
Colin Gardner
use the work of
fifteen contemporary artists to illustrate "an aftermath aesthetic" and
the "recognition that virgin births are fantasies, that blank slates
are not found but actually involve lots of often violent erasing, and
that starting fresh is more like starting over." With a global spread
of artists Including
Richard Billingham
,
Berlinde De Bruyckere
,
Edward
Burtynsky
,
Sophie Calle
,
Petah Coyne
,
Angelo Filomeno
,
Jesper Just
,
Florian Maier-Aichen
,
Mary McCleary
,
Wangechi Mutu
,
Anneè Olofsson
,
Julia Oschatz
,
David Schnell
and
Ryan Taber/Cheyenne Weaver
, it
promises to be an eclectic mishmash of styles and media, filtered
through a thick critical sieve.
-BD

Susie Rosmarin: New Work
Texas Gallery
September 16 – October 18, 2008

In an exciting addition to her eye-zapping grid paintings,
Susie
Rosmarin
sublimates her secret passion for lansdcape with
never-before-seen photographs of cloudscapes and sunsets, a snapshot of
a dicey transition she herself describes as "full of surprises." The
connection has something to do with atmospheric color: like many a
ninteenth-century painter, Rosmarin (not to be confused, now, with
Atlanta commercial photographer
Susan Rosmarin
) enjoyed the "hudson
river light" on the New York skyline that she saw from the top of her
Brooklyn studio, and between with typical intensity of purpose
documented it in over 12,000 photographs between 1999-2006.
-BD
Scott Anderson: Rendezvous Point
Light & Sie
September 18 – November 1, 2008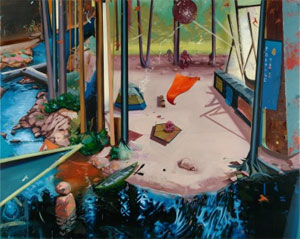 Light & Sie keeps mining the deep artist ranks in Chicago. Painter Scott
Anderson was included in a group show last year at Road Agent, but he's given L
& S's entire monster space to combat this September. Part of a new wave of
figurative painting coming out of Chi-Town (see even his compatriots at Kavi
Gupta Gallery), his ambitious pictures are strange lurid landscapes depicting a
new kind of subconscious, with colors and imagery so intense and bizarre they
resemble the fever dreams of a video-game addict, as painted by Wayne Thiebaud.
They remind me of the post-post maneuvers of a Neo Rauch or Fiona Rae, but seem
distinctly in a more American grain, without all the fussy Euro-baggáge. – TO'B
pachacuti pachacuti pachacuti
Okay Mountain
September 27 – November 1, 2008




Fresh
off his Artpace residency, Whitney
Biennialist
and former MFAH Core Resident (among other accolades) William Cordova
brings his elegant brand of involved ethnographic art and "uncanny
interpretive spirals" to Okay Mountain. A sculptural installation and a series of prints will
surely make us question a bunch of preconceived cultural "truths" we
have naturalized into our psyches and consider webs of meaning and
racial relations. Or maybe it will just be really beautiful, stark,
elegant and meditative. Probably a little of both. Skip the opening
though, it will probably feel like getting wasted at the library. – IL
Texas In My Soul: A.C. Cook and the Hock Shop Collection
Tyler Museum of Art
through October 26, 2008

San Angelo Museum of Fine Arts
November 20- January 18, 2009


A traveling exhibit of one of the storied collections of early Texas art, the
Hock Shop collection of former
pawnshop proprietor-turned-ice cream parlor magnate
A.C. "Ace" Cook
includes
major paintings by scores of early Texas artists. Highlights include Frank Reaugh's Margaret's Peak (1909), Douglas
Chandor's intimate portrait of Alfonso Harrison (1933), Dawson
Dawson-Watson's signature image of a Texas prickly pear in full bloom, Flowers of Silk (1928), and the earliest known painting of the Texas state capitol, Julius Stockfleth's State Capitol, Austin (1888). This is the first museum exhibit of the collection since the Panhandle-Plains'
1997 survey. – RK
Future Prologues: The Compression of Post-Pop Narratives into Non-Space and Pre-Time
Creative Research Laboratory
October 18 – November 8, 2008

Finally,
these damn kids with their thirft-store finds and ridiculously complex
metanarratives get a show. From their previous incarnations
Totally Wreck
to
Omnibeast
to
Neo Arcadia
,
Ben Aqua
(aka ASSACRE,
MVSCLZ),
Johnny Cisneros
(aka V C CHLDKRFT),
Mark P. Hensel
(aka Mizzard),
Mike Ruiz
(aka Mikeyawesome),
David Salinas
(aka D.A. Deseret), Eli
Wellbourne and
Lanneau White
(plus a gaggle of collaborators, probably)
take us into an unguided and probably unmanned trip into their
Omniverse of HyperCubes, tape delays, neon fabrics, cathode tubes,
wizardry and Bucky Fuller wet dreams in this quasi-historical show
chronicling an artist collective few people actually know but no one
forgets. Art people in Austin will be talking about these artists,
their work and the community they have created for themselves and their
friends over the last half a decade or so (has it been that long?) for
many years to come. Co-curated by Jade Walker and Risa Puleo, this show
will probably feel like stepping into a Tangerine Dream album color
with the saturation turned ALL THE WAY UP.
– IL
Olafur Eliasson: Take Your Time
Dallas Museum of Art
November 9, 2008 – March 15, 2009


"Take Your Time" is the single safest
bet in North Texas this season. Eliasson is probably
the most original and important artist of the new century, successfully embodying a
new paradigm of creativity and artistic practice. The Icelandic master of the elements,
and surprise, brings his retrospective to the Dallas Museum of Art after lauded
stints at MoMA and SFMoMA. Leave your art cynicism at
the door, and your exhausted hermeneutical faculties. Little interpretation is necessary –
just give in to childlike wonder at steam, ice, light and temperature.
Make the long drive if you need to. Don't miss this one.
– TO'B
Mary Lucier: The Plains of Sweet Regret
Amon Carter Museum
November 15, 2008 –February 15, 2009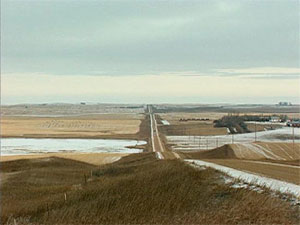 The Amon Carter gets its first-ever video show, a melancholy 5-channel ode to rapid depopulation of the Great Plains. Originally commissioned by the North Dakota Museum of Art, Sweet Regret follows the Amon Carter's tradition of examining the American West. Lucier's work has been featured as part of Creative Time's 59th Minute in Times Square. Should be extremely beautiful. -RK

Honorable Mention
Low-Fi No-Brow Folk Show
ArtStorm
September 20- October 18, 2008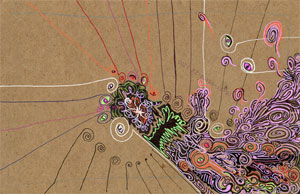 Folk art-inspired works by Houston artists Jon Read and Glen Gips. This show gets honorable mention because a) we're excited to see the new wave of Houston grassroots art; and b) we had lowish expectations for the last Artstorm show, but it was great.

The African Presence in Mexico
Museo Alameda
November 12, 2008 – February 22, 2008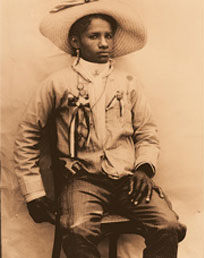 The largest and most comprehensive project ever to examine the so-called "third root" of the Mexican population. Not everyone is mestizo, as a growing Afro-Mexican movement demonstrates. This show gets honorable mention because it's probably more sociological than anything, though it will contain photography and artwork.


Contributors to this article: Bill Davenport, Rainey Knudson, Ivan Lozano and Titus O'Brien.