Something
very interesting has been happening on a quarterly basis over at the
Austin Film Society
. However, unless you are personal friends with the
artists I'll mention, or you're a devout reader of the
Austin
Chronicle
's
special screenings section
, or you happened to log on to
the
Austinist
for the day or so the posts were up, or you check AFS's
website religiously, you probably had no idea. It started on January
30, when artist/filmmaker
Scott Stark
inaugurated his brain-child of a
series,
Avant Cinema
, by presenting some of his own films and videos in
a program titled "
Going Nowhere Slow
." The second edition, "
A Dazzling
Trio
" on April 23, presented the work of three local artists,
directors
PJ Raval
and
Samantha Krukowski
, and musician
Rick Reed
. The
first two presented a few short pieces they had created, while
Reed presented a video by experimental film legend
Ken Jacobs
which he
had soundtracked (pop-up fact: the two met when
Cinematexas
asked them to collaborate for a live performance back in 2004). For the third edition, "
Ghosts of the Past, Specters
of the Future
," screened on July 23rd, Stark invited
me
to show a
selection of my own work and, in an expansion of focus in programming,
present a few videos to contextualize it.
I
have attended all three editions and have been very pleasantly
surprised to find every single edition has brought out enough bodies to
fill the tiny theater at
Austin Studios
where the screenings have taken
place. In other words, so far this year,
there has been a sustainable experimental film/video series in Austin
.
Granted, most of the work has local ties, and the theater seats about
45 when folding chairs are added to the mix, but to someone as jaded by
local audiences as myself, it's a pretty amazing feat.
Leaving
my pinko experimental-film/video-for-the-masses tendencies behind, the
best thing about this series is that I've seen some of the coolest shit
I've run into all year in that little dark room…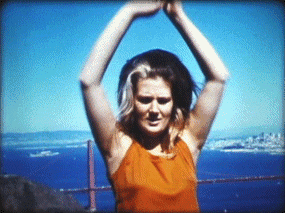 The first edition brought
with it some of Stark's greatest hits, most of which I'd already seen
and already loved, like
Angel Beach
, a gorgeous
collection of
GIFs on celluloid
that was included in the
2002 Whitney Biennial
, and
some I hadn't, like the rapturous
I'll Walk With God
, a hymnic
reassemblage of airline mysticism and probably one of the most shining
examples of the art of editing to be shown in Austin this year.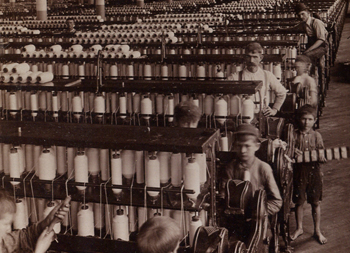 The
second edition brought with it hands down the most inspiring and
amazing video I've seen in Austin all year: Ken Jacob's
Capitalism:Child Labor
. From one single
stereoscopic
image of a Victorian textile
mill staffed by boys, Jacobs teases and manifests 14 minutes of
throbbing righteous indignation at the cruelty of a system that still
permeates every aspect of our lives, a system in which scenes like
these still happen in poorer, darker places (
this post on videoarcadia
has some
great quotes from Jacobs himself).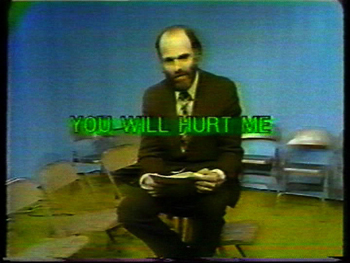 Finally for the most recent edition,
one of my all-time favorite short videos,
Recall
, by the criminally
underappreciated duo of
Torsten Zenas Burns
and
Darrin Martin
takes the
Kuleshov effect
and stretches its limits ad absurdum to
create an alternate reality training tape for some sort of
(re/de)programming therapy. The most baffling thing about
Recall
is
that it somehow makes sense and that absolutely every single element in
this video is exactly how and where Burns and Martin meant them to be.
Despite having practically memorized this particular work, each new viewing still brings fresh insight into just how
Burns and Martin have managed to create radically experimental modes and
techniques for working with audiovisual material and reminds me that
despite 100+ years of moving images, there is still so much that can be
done with the medium.