NOTE: Although I am a member of MASS Gallery, I had nothing to do
with this show other than covering some gallery hours, I certainly don't have any financial conflicts by being involved with this nonprofit noncommercial space, and furthermore,
Austin isn't big enough for me to pretend not to have conflicts of
interest with every other space. Now on with the show…
This
past Saturday was crazy. Not only did Arthouse open their New American
Talent – one of the most consistently interesting shows in town and
something I'll certainly be blogging about later – but there were
openings at Lora Reynolds and MASS Gallery and a Gary Panter book
signing at Domy. So it was madness.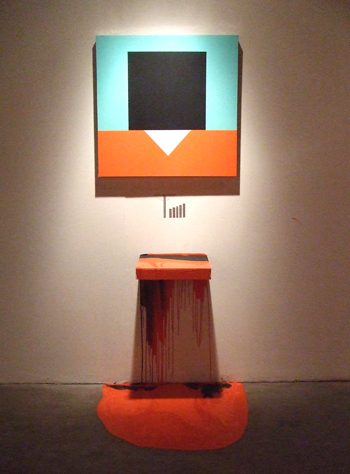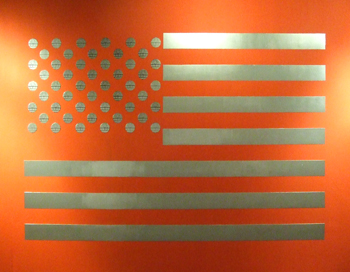 One side of the gallery a gigantic
American flag in bright orange and silver cardboard where the stars
were replaced with
Death Stars
and two stations stocked with communion
wafers and little cups with motor oil. Setting aside my dislike of the
color orange, I sort of liked these works because of how incredibly
corny they were. They remind me of a formalist version of the
Bernadette Corporation
's
Get Rid Of Yourself
. Or at least I hope a humorous commentary on anti-war
clichés was the intention…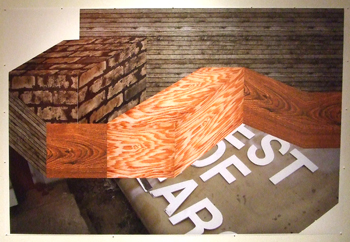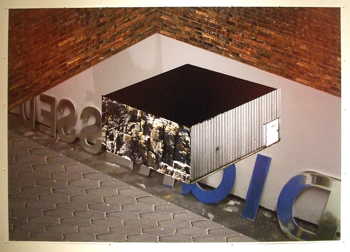 The other side of the gallery had some pieces that were quite stunning,
like Josh Rios' prints of digital trompe l'oeil collages of textures of
building materials and fragments of words or sentences. It's a pretty
drastic departure from Rios' previous illustration and text-centric
work but make sense in a conceptual sense. Instead of linguistic
investigations Rios' groupings of elements seem to create some sort of
urban semiotic
observations about the spaces, shapes, colors and
materials one is likely to ignore on an everyday basis.