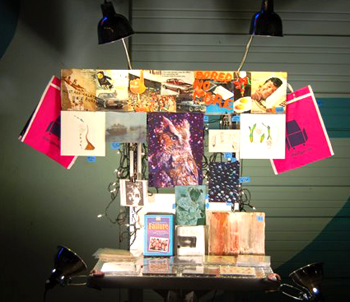 Trying to move past the "whining" and closer to finding some practical
solutions,
Sam Sanford
and Dustin Walker have come up with the (1st
Annual?)
Austin Art Mercado
, "an experimental attempt to create a new
kind of art institution – an
anarchic open market (with live music and beer) where artists and
collectors can connect directly," planned for the night of June 21st.
It's not a completely new idea, in fact Sanford and Walker jump off from
Maximo Gonzalez
's
Changarrito
project, seen/performed/enacted in Austin during this year's edition of

Fusebox
(and Sanford manned for
a couple
of nights
) and San Antonio's
Market Square
. The roots for both of these events go back even further
and souther than the Rio Grande to central Mexico and
the tianguis
.
Now you might be concerned that this will become
Fine Arts Festival/Art City Austin
2.0, but those fears are unwarranted since this is an artist run
venture to encourage collecting and direct contact with patrons and/or
potential buyers, and not a hobby project for future ladies-who-lunch hopefuls and people with a fondness for
Toulouse Lautrec posters
.
Sanford is looking for other artists to participate in this event, visit
his site
for more info (and subscribe to it!).