I just returned from another fact-finding, job/home-hunting
mission to Chicago
(happy to report SAIC took pity and gave me a teaching job.) I like Chicago, and maybe Chicago likes me. Somebody lock me up in a cage with a bratwurst and a stack of Tribunes already…
Feeling the need to go up on my own and get to work, I got up the other morning and half asleep, started
gambling on Priceline. Dangerous. The next thing you know I'm staring incredulous
at a page telling me I have $140 roundtrip, non-stop tickets to O'Hare in a
week. Shit, I thought: looks like I'm going back to Chicago.
It worked out ok though – the first night I rode some friend's
coattails to Schwa, a tiny, currently much ballyhooed avant-cuisine BYOB in
Wickerpark. It seats about 25, and I guess takes booking weeks in advance to
get into. I humbly suggest that they redesign their website, which gives the
impression you're heading to a light-filled health spa café in Sedona. Instead,
the front is a nondescript recently graffiti-d featureless grey slab. We walked
in the plastic black door to blaring Norwegian black metal, handing off our
copious booze stash only when I managed to get someone's attention in the
kitchen (all of about 8 steps.) The staff was about 6 guys, none seeming over
30. The tattooed, um, somewhat fragrant and frazzled waiter turned out to be
the head chef and owner. The food was nothing short of profound, a series of masticatory
mash ups that ran from the riotous to sublime.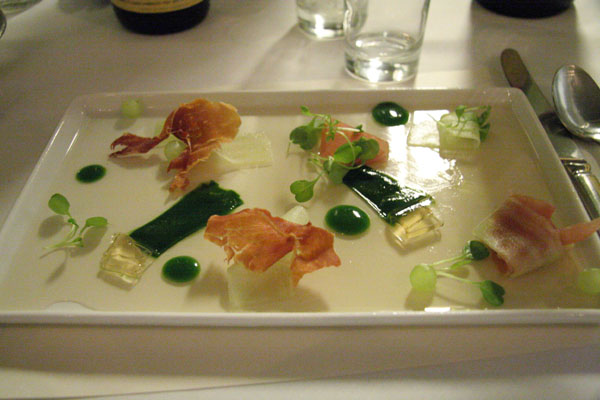 I maybe liked some things better
than others, but the food went beyond my puny ideas of taste. Sea urchin ice cream
cone? Yeah, it works, bitches! Jelly fish tentacle pad thai? Ha! the tamest
thing on the nine-course fixed menu – which really was about 13 courses,
because they just kept sending out experiments du jour to blow our minds. Like
a personal welcome party, accompanied by hardcore rap, we were served some
Texan antelope – recently "helicopter shot by sniper rifle" we were informed. I
knew I was at home. It was, quite simply, art – in my mouth. And I say that
affectionately.
I did finally balk at the deep fried sweetbreads on mango
glace for desert. I was like, come on,
can't I just get a refreshing key lime foam with essence of lotus blossom or
something? I needed a break. But no, there will be no relief for you. You will
be punished for your insolence! Your flaccid Texan tastebuds must be disciplined
until they learn! This is Chicago, and we are Schwa!
Friday I met art critic Jim Yood at the MCA for the press
preview of the Jeff Koons retrospective. Kind of like the food at Schwa, I feel
incapable of really judging it. I said to Aaron Baker, who was also there, "Whatever
your qualms with this or that piece…" "It's undeniable," he responded. And that's
it, completely.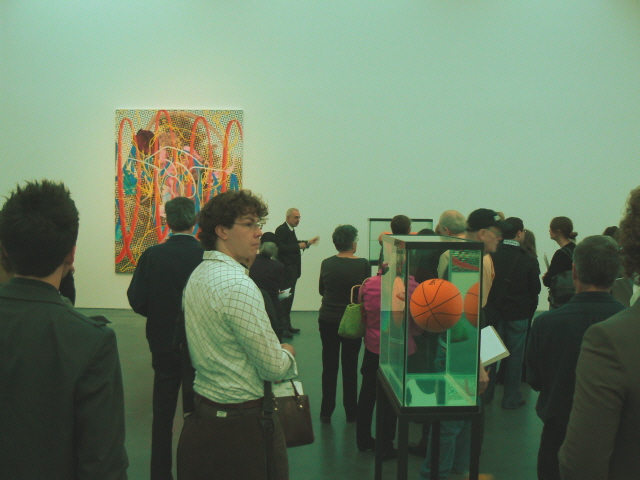 (Curator/Robert Storr nemesis Francesco Bonami docenting the press)
Koons was there, and spoke briefly to assembled crowd of
press crews, critics, and the curious who'd got in by hook or crook. Typically
seamless and smoothly optimistic, he gave his usual polished spiel , saying he
hoped that his art can give hope and "help people suspend judgment so that they
can see beauty in all around them, and know that they are perfect, just as they are." "I love Chicago," he said later. "I went to a Bull's game
with my kids. It was wonderful – all the lights. All those big guys, running around…"
It was audaciously bland and platitudanal, and I sort of
loved it. He's truly in a tradition of grand American raconteurs; boldly
unafflicted by self-censorship, and eerily, pathologically sincere (like most
good serial killers), he will inarguably go down as the singular artist-provocateur of the
post-Warhol era. He's a man for our time.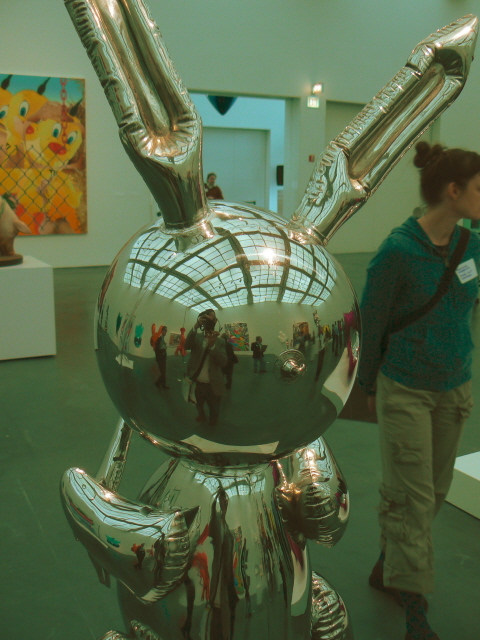 I didn't go thinking that I'd even much care. Koons shmoons,
I thought; been there, done that. But seeing all of his signature pieces at
once like this – there are so damn many of them, most surprisingly affecting. They
convincingly transcend their respective moments, just as they were meant to,
and they are going to keep telling stranger and stranger stories as they carry
on into the future. He always says he's talking about love, and beauty, and
faith – which is the rub, because everyone generally assumes he's pedaling emptiness,
stupidity, and death. All of the mirrored surfaces of his pieces had me
literally reflecting: is there any substantive difference between these supposed poles?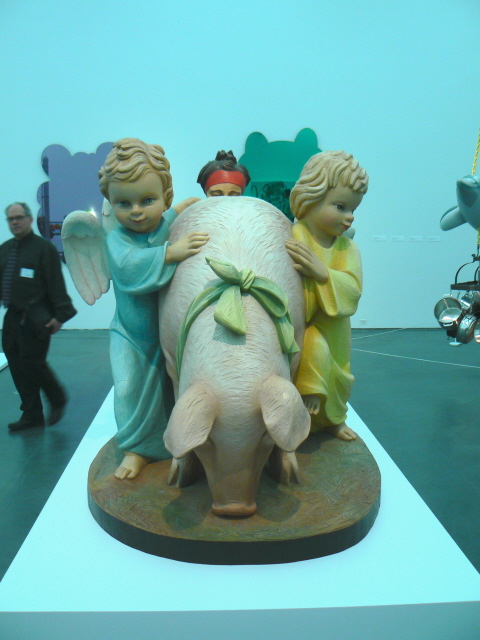 Is Jeff Koons my new Zen master?
Maybe. Good is bad; bad is good. They lose their sense completely;
taste short-circuited, I was left hovering, aesthetically weightless, not a little
dumb-founded. Shiny, pretty, happy…it all really did sort of make me feel good, despite myself. It works. Even
the close-up of Ilona's head-sized, star-like anus, pudendum penetrated by
Koons' tree-scaled cock, seems culturally prophetic (from its origin nearly 20 years ago,) rich with meaning and conceptual/aesthetic
sophistication. How'd he do that?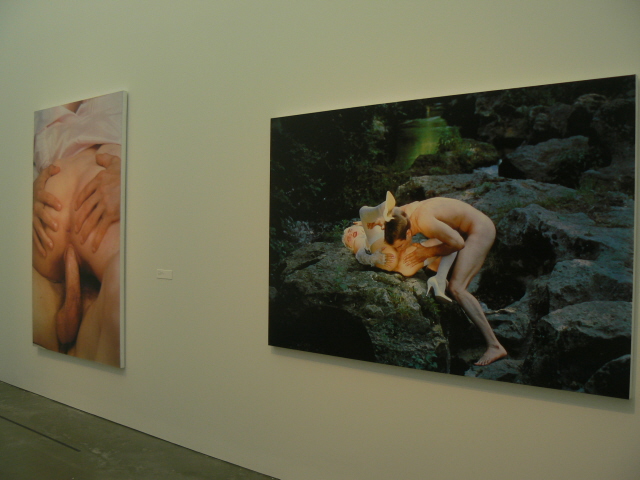 Koons himself was being kept separate from the crowd, always
in another gallery, behind closed doors. I went to the front and asked for a
free catalog – which the staff happily handed over – and I walked back, fearlessly
passing the entourage, to where Koons was being photographed. Or so I thought.
He was archly posing, hand on chin, looking as if in deep contemplation upon one
of his newest sculptures of cast steel animal beach toys suspended from the
ceiling. I looked around – nobody was actually taking any shots, or even watching. I walked up,
congratulated him on a great show, and asked him to sign my catalog. He
graciously assented, and we chatted while he took five minutes to complete an
odd drawing of a waterfall cascading over rocks. "It's very 19th century,"
he said cryptically, handing the book over, gazing past me, smiling coolly, permanently unfazed.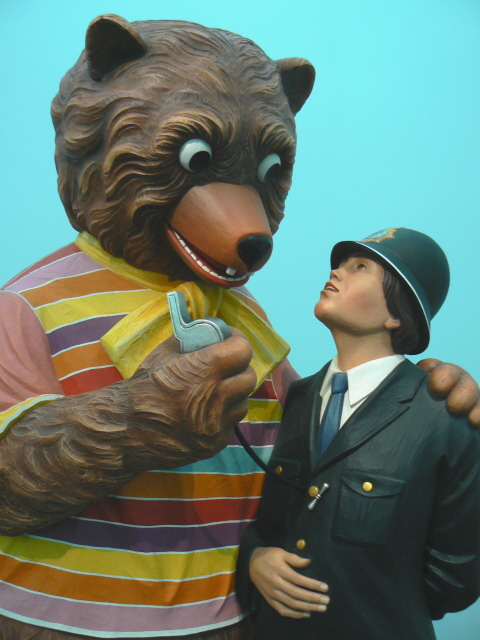 **********************
PLEASE FILL OUT OUR SURVEY!

We are currently working to improve your Glasstire experience. Please take a moment to fill out a brief survey about the site!

Thank you.
– the management