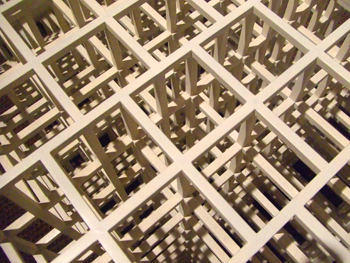 Last night I went by
AMOA
to check out their
LeWittx2
show that
"focuses both on the artworks of
Sol LeWitt
and on his personal
collection of contemporary art." It's absolutely stunning, despite the
venue and the very unfortunate lighting design (dim, yellow bulbs here
and there). AMOA (or was it the
Madison Museum of Contemporary Art
's
Dean Swanson, the curator of the show?) were smart enough to select
work that stands on its own, and forewent things like
wall drawings
,
that require a nice space for it not to look like a blown up
IKEA quilt pattern
. Instead, LeWitt's half of the show focuses on
prints, drawings, some paintings and LeWitt's AMAZING sculptural works
(especially his "structures"), while the other half includes really
inspiring work by luminaries like
Eva Hesse
,
Chuck Close
,
Gilbert &
George
,
Steve Reich
,
Robert Smithson
,
Robert Ryman
,
Dan Graham
and many
others.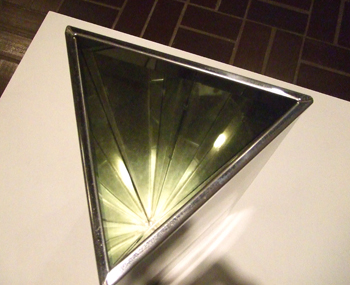 I was very skeptical of this show but I have to say that beyond being a
brilliant artist, LeWitt was also a brilliant collector. His collection
makes so much sense it's ridiculous. And what's more, it offers a
pretty fantastic framework for understanding LeWitt's concerns in his
own practice. The show is surprisingly meaty and gave me lots to think
about and mull over without being heavily didactic or preachy in its
curatorial choices.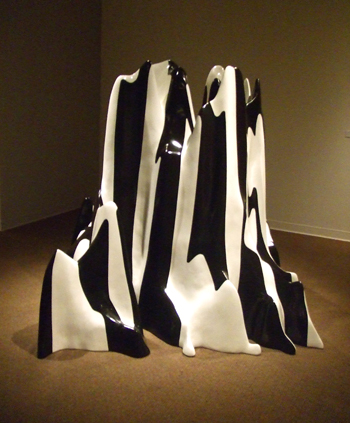 With an artist as prolific and varied as LeWitt, it's natural to not be
in love with everything he made, and I'll admit I could care less for
his paintings and most of his drawings. However, his "structures" just
do something to me. I'm not the kind of person who wants to touch
things in museums, but LeWitt's cubes are so beautiful and sensual that
I just want to caress them and feel the clean white lines with my own
hands. "There are many side effects that the artist cannot imagine,"
indeed.

**********************
PLEASE FILL OUT OUR SURVEY!

We are currently working to improve your Glasstire experience. Please take a moment to fill out a brief survey about the site!

Thank you.
– the management