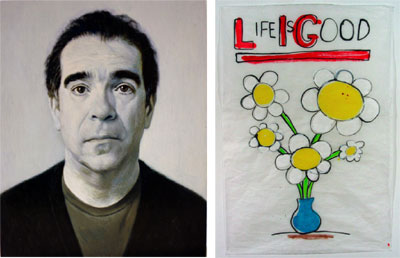 What appears to be an incongruous two-person exhibition at Lora Reynolds Gallery is really the product of one mentally ambidextrous artist.
The hyper-realist portraiture and the cartoon about the good life are both by the one and only Jim Torok. Anyone unfamiliar with the work of this Brooklyn artist would naturally think the images were by different people. It's not often that an artist produces and presents such disparate styles of work, but that's what Torok does. In previous reviews, he has been referred to as schizophrenic. I'll admit the artist is cursed with a satirical sense of humor, but he is far more clever than mad. In talking with the artist, one discovers Torok's sophisticated capacity to tell stories — both from his imagination and from what he so thoroughly and carefully observes around him.
Torok's work has been acquired by the Museum of Modern Art, New York and the Metropolitan Museum of Art, New York. But Torok credits Lora Reynolds for being the first person to show his "signs" in a formal gallery setting. Reynolds picked up on this body of work a year ago during a studio visit. Torok had been playing around with the cultural phenomenon of self help books and workplace motivational posters. He thought it would be funny to make some of his own.
Torok is probably best known for his cartoons, and his signs, which fill the gallery's main exhibition space, draw on similar imagery. Done on rice paper, the childlike drawings are inked with positive affirmations and phrases designed to make the viewer feel good about life — You are Really Great, You are Perfect, Have Faith in Yourself, You are Special and You are Free were all created in 2007. Torok paints these words in calligraphic yet naïve strokes, using basic, bright colors with heavy black outlines.
Torok's cartoon work embraces the idea that artwork can talk, with or without words. He often combines the simplest of drawings to illustrate the words that may very well be spoken by a little voice in his head. Or is it our heads? Like greeting cards, Torok's phrases are positive, bold and immediate. Just a few simple words and a cute little drawing can snuff out the self doubt, contradictions and anxiety living in the wings of our subconscious. No, Torok's not drinking the Kool-Aid, he's giving you a wink and offering you a cup.
If Torok's words on rice paper don't relieve the tension in your shoulders, viewers can also spend time with his video piece You are Good (2003). This work is featured on a flat panel monitor that hangs on one wall at eye level. The animation is comprised of a dome-headed, large-nosed cartoon face that speaks in Torok's recorded voice. The character looks straight at you from the other side of the screen and says, "you are good" in a somewhat Midwestern accent.
Despite Torok's interest in cartoons, he's also seriously involved in the tradition of formal, highly realist portraiture. When listening to the artist talk about his varying styles, it becomes evident that Torok has mastered his ability to completely and effectively switch mental gears, tackling the small, elegant portraits with the same degree of conviction as the signs.
In the middle room of the gallery are six portraits, all of them 4"x5", evenly spaced into two rows of three. The six faces are ones you may recognize as those of famous contemporary artists. Two of the paintings are of Ed Ruscha, two are of Jim Hodges and one is of Mike Smith (current professor of Performance Art at UT ). Torok presents these diverse artists in the same, neutral way. They are equally expressionless in their stance and demeanor, as if they lack emotions or anything important to say. The deadpan presentation of his subjects replicates that found in photographs from the Becher School and German photographer Thomas Ruff. Like Ruff, Torok attempts to represent his subjects with "absolute objectivity." However, where Ruff creates larger than life-sized "passport style" photographs that look like paintings, Torok paints passport-sized portraits that look like photographs.
Torok's approach to painting portraits is diametrically opposed to his cartooning. He never knows what's going to be recorded on the pages and panels of his cartoon stories and signs; they always begin once he decides on a title or a phase. The supporting words and images are a product of Torok's stream of consciousness. His portraits, on the other hand, are created only after he carefully studies his subject's face from detailed photographs, down to the last line and pore. Each portrait can take one or more years to complete. This stretch of time allows Torok to regularly alternate the pictures he works on and provides him with the flexibility to focus on cartoons for a few hours each day.
Other works in the show present affirmational phrases painted in acrylic on large wooden panels. They are composed like Torok's classic storyboard narratives from previous years. Reynolds and her staff have also collected other Torok artifacts for visitors, including a video of the low-tech animation performance the artist gave at the opening reception.
The separateness of theme and approach so evident in Torok's works is reiterated in how the exhibition is arranged. I wonder, however, what the exhibition would have conveyed had the portraits and signs been hung together. As it is, the exhibition highlights the spontaneity in the cartoon works and the attention to detail and observation in the portraiture. Viewers will leave with the impression that Torok is both an actor and a producer. He's capable of both channeling his thoughts through improvisation and animation while articulating the minute details of how he sees the world. Torok is a skeptic with the very best of intentions.
Jim Torok: Life is Good
Lora Reynolds Gallery
April 26 – June 7, 2008

Angella Emmett is an Austin-based artist and writer.
Also by Angella Emmett:
Mads Lynnerup: If You See Anything Interesting, Please Let Someone Know Immediately