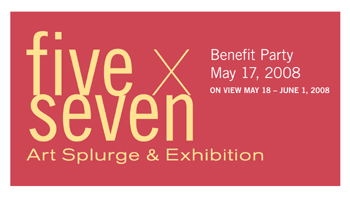 This Saturday is
Arthouse
's yearly "
5×7 Art Splurge & Exhibition
,"
where you can shell
$100
for an anonymous artwork. If you really need
to fill a 5 inch by 7 inch hole on the walls of your home, or if you
want to support one of Austin's best art spaces while wining and dining
to the tune of $125 per person, then this is the event for you (
buy
tickets here
).
If, like me, you find the prospect of paying three figures for an event
a daunting proposition, Arthouse is hosting a "Participating Artists'
Preview Reception" this Friday at 8pm. I doubt you'll be able to fill
that fixed-dimension empty wall space, but you will certainly be able
to check out the pieces you'll hover over during the following night's
bacchanalia of fund-raising.
According to the
participating artists' list
, everybody and their dog made something for it!
Now, as a subset of the group "everybody and their dog," I myself
contributed some work to the fund-raiser and have some ranting to take
care of. My complaint is very general in nature and has absolutely
nothing to do with Arthouse or anybody in particular (unless you are a
voting member of the U.S. Senate): The "
Artist Deduction Bill
,"
officially known as
S.548
, which "
taxpayers
who create literary, musical,
artistic, or scholarly compositions or similar property a fair market
value (determined at the time of contribution) tax deduction for
contributions of such properties, the copyrights thereon, or both to
certain tax-exempt organizations." Hopefully this is not a new idea to
you, and hopefully you have contacted your senator's office. But, if
you've never heard of such a thing, please google it a bit, it's a
necessary change to very unfair tax deduction practices. It makes no
sense that if person X donates work for a charity that individual can
only deduct the amount spent on materials, while a collector can buy
the same exact work and immediately donate it to a museum and deduct
the "fair market value."
*************************
PLEASE FILL OUT OUR SURVEY!
We are currently working to improve your Glasstire experience. Please take a moment to fill out a brief survey about the site!
Thank you.
– the management