It seems the favorite suffix running around in my head this month is
-ennial. I'm certainly not the only one; between the upcoming
2009 Texas
Biennial deadline
,
Atelier 2008
(the faculty triennial at the
Blanton
,
up right now) and the mighty
Whitney one
, there's quite a few -ennials
to discuss. But I'll start with the most local and most concrete:
Atelier 2008.
Billed as "the first faculty exhibition
being organized by a guest curator," in this case James Elaine, adjunct
curator at the
Hammer Museum of Art
in lovely Los Angeles, California, this sampling of recent
work made by the faculty at the
Department of Art and Art History at UT
Austin
is very much worth the visit. There's really good work here.
I'll talk about a few of the other artists included in Atelier 2008 in
the next few entries, but first, the
Capital A
award for outstanding
work in a faculty triennial goes to…
MICHAEL SMITH
AND
SETH PRICE
!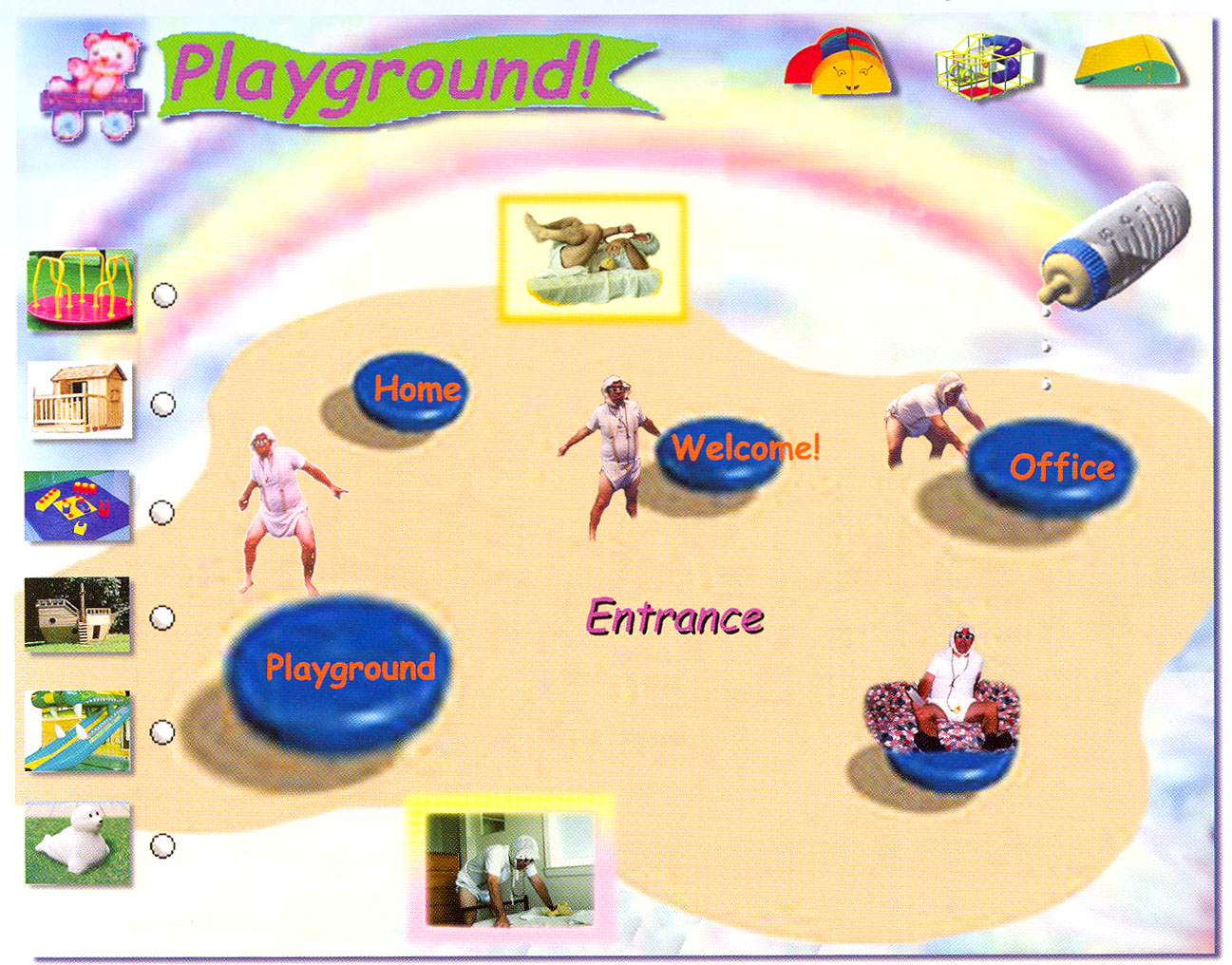 It
came as no surprise to me that Smith's collaboration with Price
(incidentally, both of them have work in the current Whitney Biennial),
Playground
, starring
Smith in his "Baby Ikki" persona, is my favorite piece in the show.
I've been following Price's work since I was a fresh-faced volunteer at
Cinematexas (fun fact: my very first published writing was a blurb for
one of his videos,
Folk Music and Documentary
), and I've been a fan of
Smith's work since I first was exposed to it in an experimental film
class in college.
Playground
is nothing if not perverse. In this single-channel video, Price and
Smith present Baby Ikki in various environments, "Home," "Office,"
"Playground" and others in a format recalling early interactive digital
mediums like CD-ROMs or perhaps early websites in an aesthetic that
could be
described as mall kiosk chic. In each set, Baby Ikki stumbles around,
makes a mess and does things babies should not be allowed to do, like
play dangerously close to circular saws or paw all over a chocolate
cake. The cliched counterpuntal graphics that flash onscreen every now
and then with pithy, bumper sticker-esque phrases like "BABY AT WORK!"
or apropos symbols like baby bottles suggests the cultural construction
of early childhood as a consumer group and strictly enforced
"identity." It's both incredibly funny and very uncomfortable watching
Smith's very
adult body infantilized in dress and behavior transgressing the
presentational rules of baby-dom.