This is too weird. On the heels of the whole Eric Trich debacle, a show comes along tailor-made to reinforce my dismay about a certain, all-too-common approach to art production right now, as feebly pop/rock and pseudo-spiritual as Trich's own, if slightly more knowing (making it maybe even more suspect). It eerily seems as if made by his older, recently MFA'd cousin, just with a different moneyed coterie propping its bankrupt hipster ass up.
Light & Sie is by exponential degree the most impressive gallery to have opened in Dallas' recent fungoid explosion of them. It is ridiculously huge, polished, and intimidating. It is also at this stage a spectacular trainwreck. Current case in point: 28 year-old Chicagoan Terence Hannum's solo debut.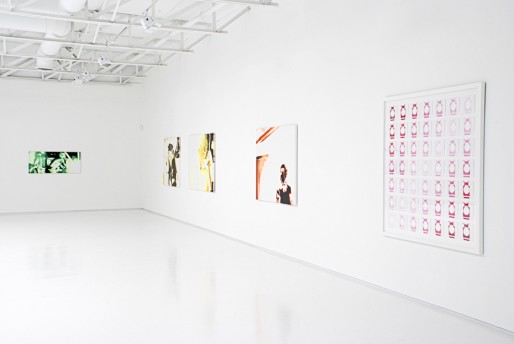 I'm hardly alone in a visceral loathing of artist statements, but their ubiquity is usually happily masked by simply avoiding them in the front desk binder (a few months ago I even skewered this gallery's own mission statement right here.) Imagine my horror to find Hannum's writ in 4" vinyl letters across the entire entrance-way wall, its' nonsensical grammar and insufferable art-speak inescapable. Whose idea was this?
"Witnessing a music performance, performing music and listening to recorded music enter the realm of ritual. They are all sacrificial acts, for the performer and the audience. In an era where the physical presence of the recorded object is vanishing, I find it all the more important to focus on its trace. These objects occupy aural space with their contents but also occupy physical space. While the recorded object is the document, the relic ; the live event is the ultimate channelization(sic) of noise, as well as the place of immediate surrender to it. In the live event, with its group catharsis, the mesh of noise, bodies and heat ; I choose to focus on the documentation of these performances."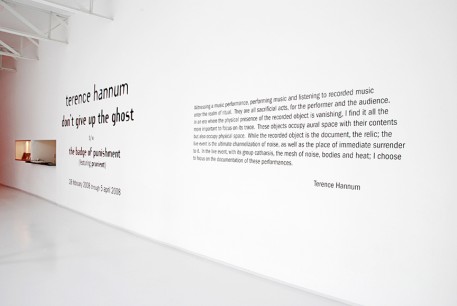 Someone needed to type-read this thing before it headed for the laser cutter. Where was the editor to tone down the rhetoric, to undress his essentially quite simple ideas, finding actual words for them rather than made-up ones, and schooling him in the proper use ; of the semi-colon? And that's before deciding to assert it as a work of art in itself: it looms over all, occupying more space than any other single thing in the show.
That's just the beginning – at the entrance to his cavernous video installation, there's an even longer statement, on a museum-worthy display stand, that (god, no, please) invokes the Sufi poet Rumi as inspiration for his mirror-bifurcated concert footage of industrial screamer Prurient (a name sufficiently pretentious to match Hannum's own statements and titles. Wake up and smell the angsty shaggy white boys…) I could have maybe even enjoyed the piece
– it was kind of cool, and up my alley –
if I hadn't first been assaulted by the text, but who could know? You can't see the art on its own terms (the only terms that matter) if you're forced to view it merely as an illustration of the artist's stated ideas (however tragically/mystically noble), coerced into merely gauging whether you're properly rising to an particular interpretive gauntlet thrown down. Don't docent me through your own art, dude.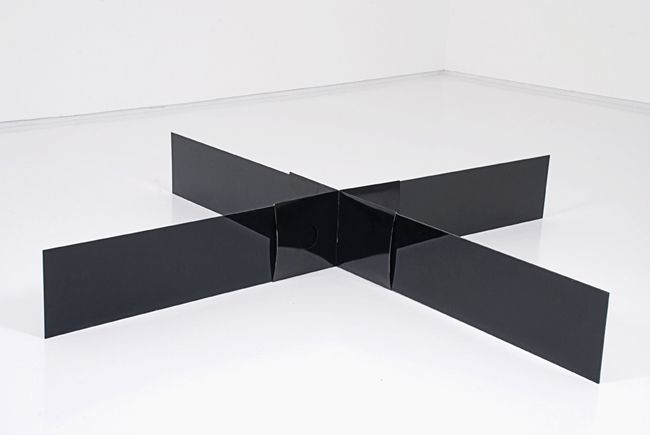 Crucifixion II (The Discipline)" 2007
And I haven't even gotten to the bulk of the work, nearly two dozen pieces of it struggling to cope with the warehouse-size front room, gloomily lit by one lone skylight. Did the artist and the gallery think that tossing some artsy, vaguely theoretical terms about ("trace" is classic MFA-blather) would fill the void, here only thrown into more stark relief by two abject, flimsy, derivative record sleeve constructions? One black, one white (with "Minor Threat" painted in light blue gouache – wow, so heavy), they huddle the floor, looking lost and forlorn.
Did they think that if saddled with some somber verbiage and left unlit, the poverty of the slew of painting's surfaces would accrue some heft; that the thin day-glo Crayola marker colors would manifest some of the feeling presumably experienced by the fans and bands at the concerts they clumsily depict? You can't bludgeon this space into submission – it's the King Kong of galleries. Three well-placed, well-made objects could maybe tip the monster. Instead, you're given this onslaught of mediocrity, as if the quantity will overcome your doubts. With titles like "Kill the Light (Evanesce)", "Conquest for Death (Necro)", "Erase my Presence (Evacuate)", and more simply "Doom", these feather weight doodles have all the turbulent tortured epic death metal spirit of an iPod commercial.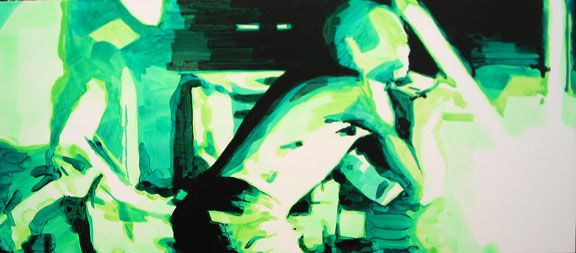 "Fanning the Fires (Annihilate)" 2007
I have to hand it to Hannum. He's managed to combine nearly all of the most distressing elements afflicting contemporary art into one exhibition. If I was asked to explicate to galleries and artists what not to do, what art isn't really about, what the most deplorable trends conceptually and formally are in art today, delineating those most completely exhausted and spent, I would send them immediately over to the Design District for this concise illustration.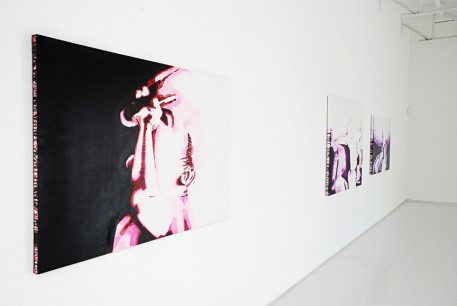 As with Trich, this is another young artist who doesn't necessarily deserve such a diatribe (but then again, maybe they do). In both instances, context is everything. Hannum's work, which by any measure I would argue is not quite ready for prime time, is here presented in a multi-million dollar frame, and served up to us as if we should simply feel flattered to have its magnificence grace our little burg. If this work were at a smaller, humbler gallery, where it could be stand or fall on its own legs, well, I probably simply wouldn't care enough to comment.
(photos from terencehannum.com and lightandsie.com)