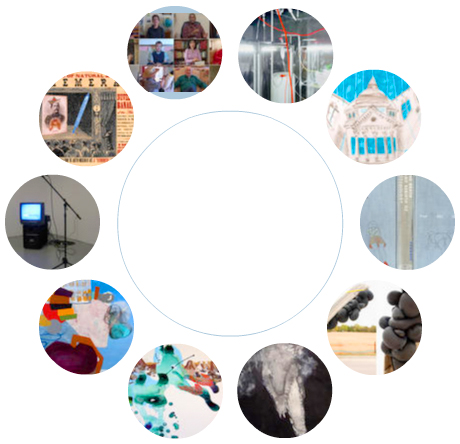 Last week,
AMOA
quietly and (therefore) without much fanfare, unveiled
a companion website
* for their
New Art in Austin 2008
show, with artist
interviews, examples of previous work and other information. Within a
few hours the news was all over the blogs.
Calamity Jane-ish
,
ezimmerman
and
The Young
Republic
(and
others I'm sure) were totally mortified by their interviews. And while
the editing process always yields a fragmented presentation of an
individual, I thought almost everyone came off looking great. In
general, I find it really useful to hear what the artist has to say for
(him/her)self. It often gives the work a whole new level of meaning
that isn't immediately evident in their work. I also really appreciate
that they were filmed in their studios, because I get a real kick from
seeing the spaces where people work.
It's a fantastic project and I'm really happy AMOA
took the time and money to put it together. It is a really important
resource for audiences to be able to have a way into the work. It
personalizes it and mitigates the crippling terror at being exposed as
ignorant that a lot of people feel when confronted by contemporary art
(if you are reading this, you obviously are not part of that set). You
might remember thatArthouse did something similar for their Texas Prize show. I hope this becomes a huge trend in Austin cultural institutions.
But as with anything, there were some big misses in the AMOA project as (in-)kindly designed by The Decoder Ring Design Concern. The late 90s / early 00s rave flyer aesthetic AMOA
so atavistically chose to brand this edition of New Art in Austin (is
anybody else really creeped out by the fingerprints? Aren't we really
concerned with privacy these days?) was complemented by the clunky
Flash environment, where a fifth of the time spent browsing is spent
loading (even loading images takes forever). I felt like I was back in
the old days of Netscape. After loading a page, we are confronted with
another nuisance: the omnipresent marimba and synth flourishes that
intrude whenever you move your mouse and are annoying as hell and
impossible to get rid of. And probably the most egregious strike I find
with the website is that in making something like this completely
Flash-based, you remove the ability to link to individual artists,
videos or texts. This makes the website quite insular, a pretty
nearsighted thing to aspire to when the goal is to spread information
as widely as possible.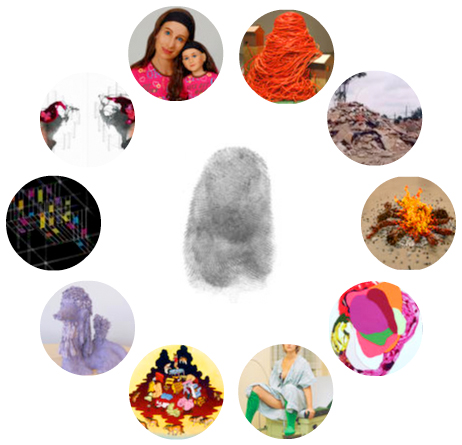 *Despite its claims of
interactivity, the only real interaction were the annoying marimba
sounds whenever my cursor would roll over icons. I would hardly
consider links "interactive features."