Well, I finally broke down and went to a CAA conference .
They made it especially easy, bringing it right to my door here in Dallas. But they didn't
make it cheap. Early registration was $250 ($350 at the door,) plus needing to
be a member at $75 a year or more. I was warned that if I lost my badge it
would cost $50 to replace. Parking for 5 hours in the Adam's Mark hotel lot was
$15. Attending the gala opening was another $40. Workshops on how to advance your
career were another $150, that's if I had signed up two months ago. They filled
up a while back.
I had to miss the first two days, and now just have one day
left of panels of scholars simply reading their papers about "The Paintings of a Playwright: Literary
Promotion in the Oeuvre of Charles-Antoine Coypel"; ""Arte Rustica"
Refined: The Photographs of Contessa Maria Ponti Pasolini at the Prima Biennale
Romana"; "Chini Khana and Ragamala: Painted Decoration in the Govind Mandir
Palace at Datia"; "Pushing Porno's Buttons: Spectator Pleasures in Hard-Core
Narrative Pornography". Okay, so I might go to that last one.
I passed on the opportunity to sit in on the live
Yoko Ono interview (did you hear how she's suing some singer who has the
misfortune of having been named Lennon by his parents? Talk about insult to
injury.) I'd rather just spend the time in my studio, melting plastic (my new thing). Or in the case of Ono, knitting my ass hairs together might be preferable. Wait, didn't she actually do that once?
I'm not having any job interviews (the wife's probably off to grad school and lord knows where we'll end up), I'm not on any panels, plus I'm building a growing dossier on why I should go back to avoiding academia, as I had
done for so many years post grad school, long burnt-out and revulsed by the whole absurd hamster-wheel racket (someone recently said to me re: teaching:"You know why the atmosphere's so ugly, the battles so fierce, don't you? It's because the stakes are so small.") I love teaching, love the students, but sheesh, the politics, the attitudes, the desperate scramble for tenure (nothing I'm threatened with any time soon)…it seems to be ubiquitous. You know what I'm talking about – of course, there are the wonderful aspects of academia. Never mind me. I'm just feeling bitter this week.
Speaking of small stakes, tax time has brought the realization that adjuncting and not having shown/sold any work lately has me making about the same wage I last made while still a teenager, leaving me hovering I'd guess somewhere around the official government poverty line. Sweet – food stamps may finally be an option!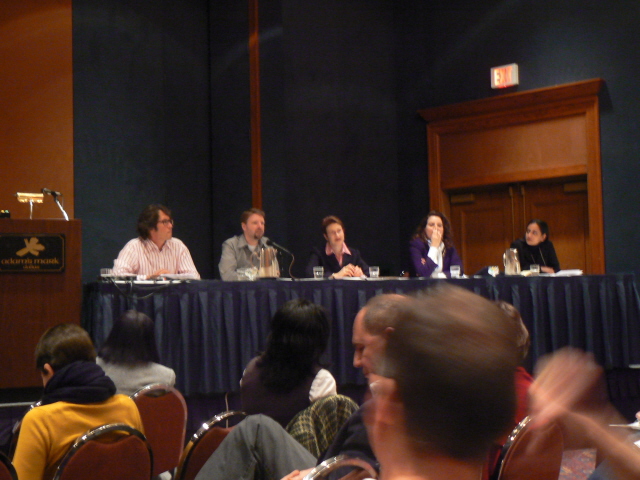 There was an interesting
panel on Friday that I did catch. Titled "Can Anyone Be a Critic? The Collision
between Traditional Criticism and Blogging", it consisted of Terrie
Sultan of the Blaffer moderating, with Tyler Green
(Modern Art Notes), David Pagel (Los Angeles Times), our
own Rainey Knudson, and Anjali Gupta
of Artl!es.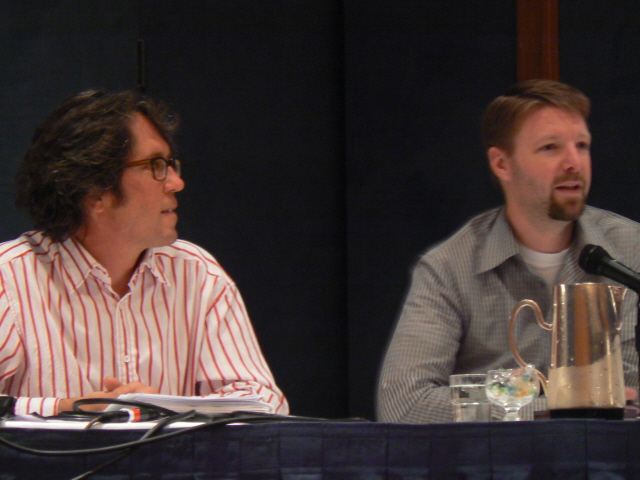 It was of course right up most of all our alleys. It was more a
less a discussion of the obvious – good writing is good writing, no matter the
forum, blogs are mostly crap but then again so is most of everything else, etc.
It was much more lively however than anything else I experienced,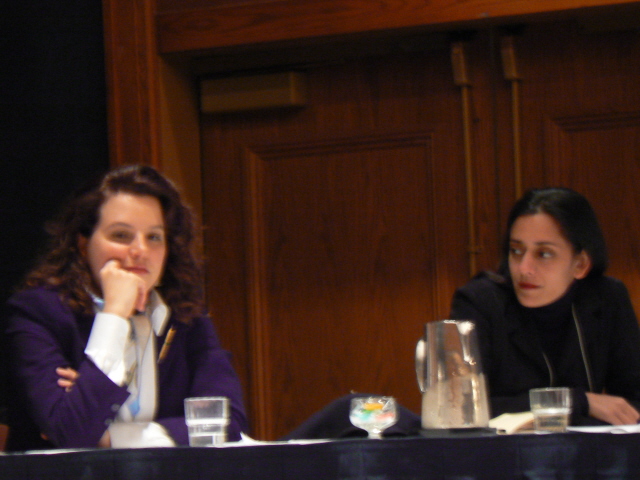 and at least
people were speaking like people, clever, funny people at that, and not like
animatrons programmed with academic art speak (elsewhere, I often had to grab my seat to
not just get a up and shout "what does that sentence actually mean? That doesn't
even make sense! Please, just say it, people!")
God, I'm late for more sessions. Must go get my money's worth…
to be continued…