I've been thinking about
Brad Tucker
's show at
Art Palace
, "
Opportunity
Knocks
," a lot lately. It took me much too long to confidently decide
how I felt about it, and I'm sad to report, it's not a happy feeling.
I
don't like this show. I have problems with it. My main problem is that
Tucker's work lacks conviction. I don't buy it, Brad. I don't get the
impression that he "means it." Maybe part of my problem is that nothing
in "Opportunity Knocks" feels emotionally expressive or communicative.
I don't know what the point is in any of this other than art production
for art production's sake.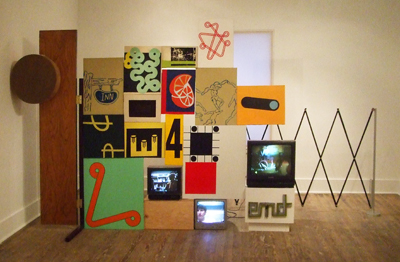 "The Secret Of Life And Death, 2007," based on a 1985 text by Allen Ruppersberg,
a video sculpture with three TV sets and assorted painted panels is
obviously influenced by the early days of video art, when the
television set ruled supreme, and the sheer thrill of the recorded
image seduced an entire generation of artists to create video.
Obviously, Tucker is aware of these histories, of the forms
and configurations in which the television image and apparatus has been
used in the past by artists who had far more to say than him. It seems
like Tucker completely embraced the tired trope of video as
intrinsically narcissistic, then missed the irony and self-deprecation
in that statement. The worst part is how awkward and uncomfortable with
his own image he appears. It's not fun watching him struggle through an
incomprehensible musicalization of Ruppersberg's
list of "general and specific comments and questions for artists." The
omission of a comprehensible version of this list from Art Palace,
while probably a result of copyrights issues, only intensifies my
impression of Tucker's lack of conviction in his work and a weaselly
impression that he's covering his weaknesses with art history.
"Try
All, 2007," "a 16 page, hand printed book of picture-puzzles
inspired by courtroom jargon" also feels like production for
production's sake. It feels like product. It feels like industry. The
way it has been installed make sit hard to read the jargon that Tucker
seems so interested in, complicating to the point of negating any sort
of entryway into the work for the viewer.
I don't think that Tucker doesn't probably have talent. I don't want to
give the impression that the work is of bad quality or badly produced
(that word again!). But I'm terribly frustrated by Tucker's apparent
disregard for an audience. If you are not willing to let the viewer
into the work, if all you want to do is pretend it's 1978 while you
gaze at your navel that's fine, but don't expect me to care for the
work. Why won't you let us in, Brad? How are we supposed to care for
you if you won't care for us?