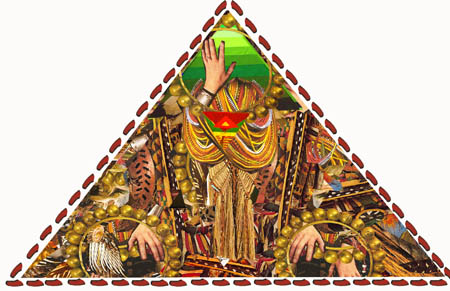 I don't understand what happened at
Donna Huanca
's
Women and Their
Work
show,
Secret Museum of Mankind
. I arrived at the gallery half an
hour before the opening, and up until opening time, there was still a
mad scramble in the space to get shit done. When I walked in, the paint
was (literally) still dripping. Also, this solo show somehow turned
into a three person outing.
The unsubstantiated word on the street is
that Huanca just couldn't get it together in time and called up
her two
co-creators,
Lizzie Wetzel
and some dude called
owleyes
(?) to help
her fill the gallery
(EDIT: check the comments for the real version, direct from "Donna Huanca's management team")
. I can understand it if that was the case,
Women and Their Work is a pretty large space.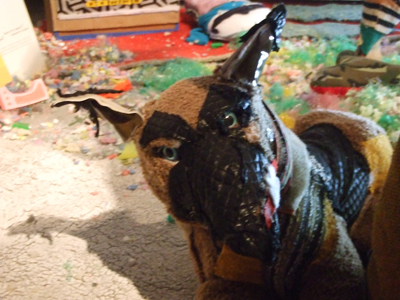 I should really congratulate W&TW for being one of the most daring
galleries in town. It seems like every other show there runs on
ambition. Despite the somewhat boring name, in the past year or two
it's become one of the most exciting spaces in town. Some of their
shows miss the mark, but hey, at least they're trying to stay
interesting, which is more than most spaces in this town can claim.
I really hate writing descriptions of shows, so if you want one, here's
a highly descriptive review by Amanda Douberly for the Austin Chronicle that pretty much
covers it.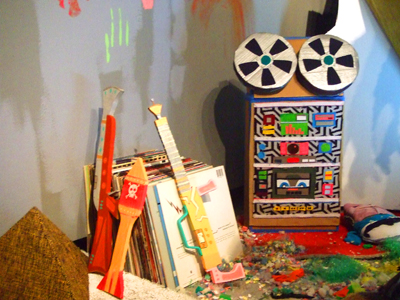 Huanca's work was interesting. I liked the way she constructed the
figures in her diorama and the way she used textiles. It's smart. I'm
not crazy about it but I can respect it. She probably should try to
edit her work a bit more. It's a classic example of the law of
diminishing returns. I think next time she has a show, she should
consider her choice of crutches better (that is, if the rumors have any
validity to them whatsoever).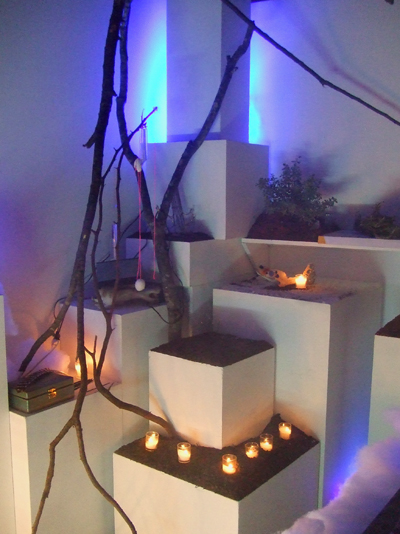 It's sort of a shame that Lizzie Wetzel wasn't "officially" credited
for her work in "Secret Museum of Mankind" because her work stole the
damn show. She can count me as one of her huge fans. I <3 her work.
If I were to draft up a list of my top 10 artists living in Texas under
50, she would certainly be in there somewhere. I'm completely
fascinated by her witchcraft voodoo rave aesthetics, her sense of
color, her materials and the seriousness and care she displays in her
work.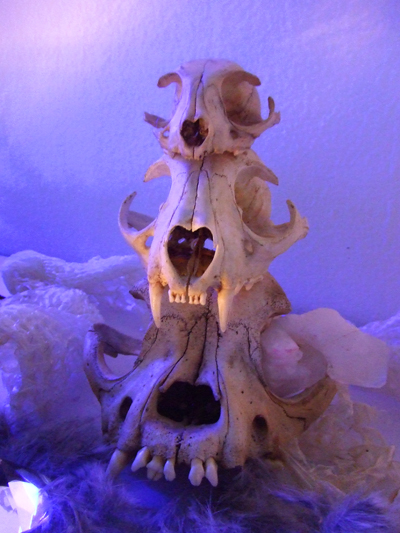 I wasn't really sure where Owl Eyes (
still
impossible to Google!) fit in or what he did for the show.
(Ed: He has a show at ArtStorm opening January 19th! And i still can't tell which part of the collaboration was his!)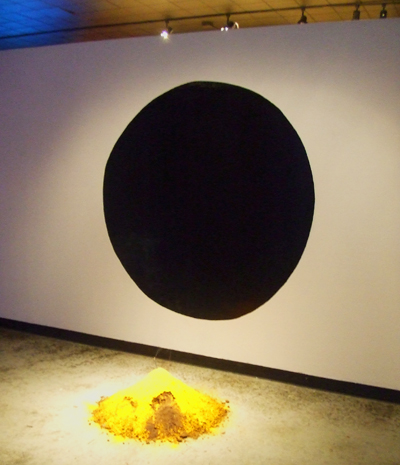 To conclude, go see this show. it's totally worth it. If you have back
problems, you might have a hard time actually entering the gallery, but
I won't go into that. Mystery can be a good incentive. (Ed. but then again, what do I know? I'm not even familiar with lazer eggs…)