This is getting written a week or so
after the event rather than being the sort of on-the-spot reporting
it probably should be, but I want to submit some thoughts and images
from this year's round of Miami art fairs.
I flew at dawn on Wednesday, Dec. 5,
and reported directly to NADA, actually arriving a bit before they
opened the doors. NADA and several of the other fairs had openings on
Tuesday night, and reports were already coming in that they were
sparsely attended this year because there were just too many of them
and people got spread too thin. I think there were 24 supplemental
fairs in addition to Miami Basel at the convention center.
Just inside the door to NADA things got
off to a good start with James Fuentes Gallery. He hade several
sculptures by Agathe Snow, who seemed to have been in a better mood
when she created them than had ever been in evidence with other work
I had seen.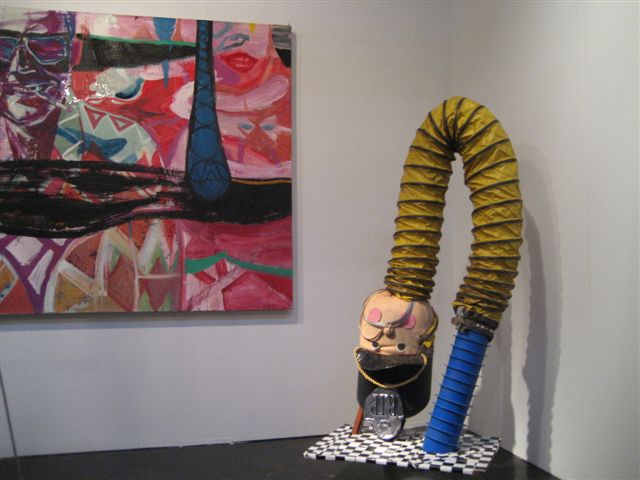 The cheerier look, however, brought her into the realm of
artists like Rachel Harrison and Isa Genzken, but she is clearly a
singular talent.
In general, however, the NADA show this year seemed
flat. I expected to see lots of small, expertly rendered graphite
drawings and watercolors of peculiar things. This is, after all, an
art fair and dealers are there to sell things. But so much of the
work was so lame that it made people like David Shrigley and
Yoshitomo Nara seem like major artists. Two bright spots were
provided by Ballroom Marfa and Sunday Gallery – and this isn't just
Texas chauvinism. Ballroom Marfa had an installation by Matthew Day
Jackson, who also showed up in Peter Blum's booth at the convention
center. I had not seen this work before and still know very little
about Jackson, but he is working with American history, current
events, and art history in interesting ways with a combination of
multi-panel prints and sculpture. At Sunday, ex-Dallasite C. Sean
Horton did a one-person exhibition of ex-Houstonian Michael Jones
McKean, whose complex sculptures are as dense with historical
reference as Jackson's prints, although possibly more impenetrable
without a guide.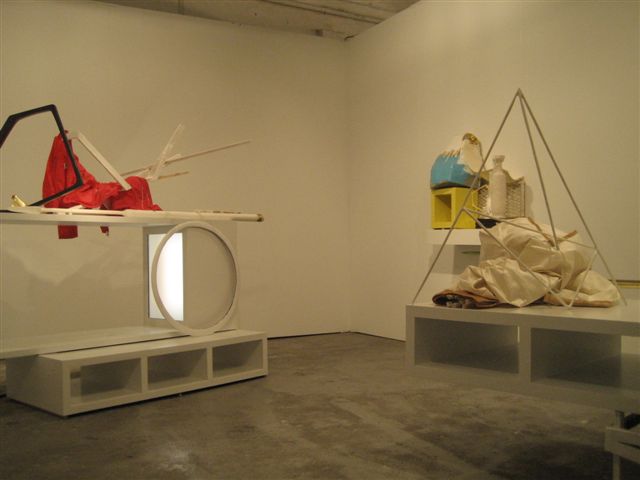 The installation of the work was elegant, not nearly as yellow as my poor photograph, and a
relief from what seemed like so much clutter elsewhere at NADA.
After checking into my crummy hotel
room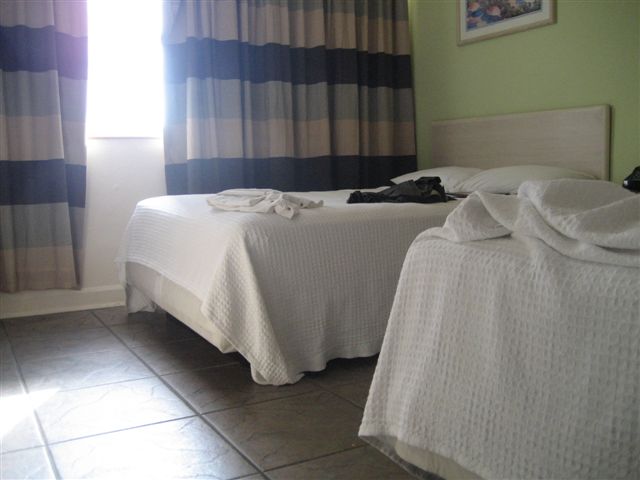 . I went with a friend to the vernissage
for Miami Basel. Too much of a zoo to see the art, but the people
watching was excellent. Lots of scary face work, with a couple of
"his and her" jobs as particular standouts. Everyone looked like
they were waiting to be in a Martin Parr or Jessica Craig Martin
photograph. Well, not everyone. But a lot of them.
Still to come: the photography shows,
the hotel shows, Scope, Pulse, and the mango milkshake