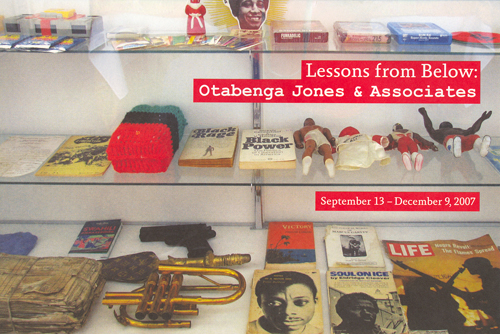 I went to Houston this past weekend to indulge in the shows by
big names that Austin seldom gets, in this case, the Nan Goldin (underwhelming, dissapointing, awful curation and installation), the Kara Walker/Vasco Araújo (flimsy), and the
Bruce Nauman (so amazing!). But the thing that
really got to me and completely took me by surprise and blew me away
was Otabenga Jones & Associates' Lessons From Below at the Menil.
Culling objects from the Menil's vaults, Otabenga Jones &
Associates (aka Dawolu Jabari Anderson, Jamal Cyrus, Kenya Evans, and Robert
Pruitt) created a Fred Wilson-like compendium of artifacts and artworks
that chronicle and comment on the history of Black struggle. The
arrangements and juxtapostions created by OJ&A are poetic,
illuminating and beautiful. And to top it all off, a recording of a
lecture given by Amiri Baraka in this little haven playing on a TV
screen on a loop, was one of the most insightful, hopeful, intelligent
and inspiring things I have seen in quite a while.
Unfortunately the
show closed this past Sunday, so I can't urge you to get in a car,
drive to Houston and go check it out. But I can link you to
(Glasstire's own) Kelly Klaasmeyer's
review in the Houston Press
and
Jenifer King's
review for Art On Paper
. And as a special treat, I've
transcribed for you the fantastic introductory essay by OJ&A,
Communiqué #1515
, printed in the exhibition brochure: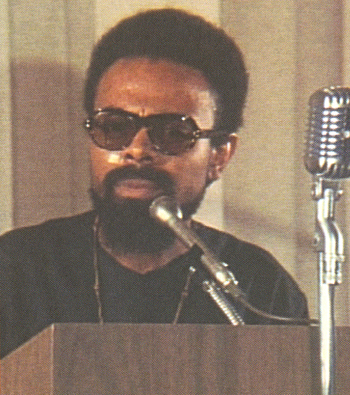 Communiqué #1515
Otabenga
Jones & Associates (OJ&A) does not believe in museums. However,
housed in such vessels are objects of the past that, when seen through
the proper lens, have the ability to propel you into the future.
The
museum has long been a storehouse for the proofs of colonial pursuits.
OJ&A does not consider these institutions or their directors,
curators, and administrators to be objective purveyors of truth capable
of providing the knowledge necessary to reach the domain of liberatory
consciousness. Lying dormant in many of these museum typologies, tucked
away under glassine or on shelves of temperature-controlled cabinets,
are objects that can, if put to good use, serve as potent texts. When
read in the proper light, they have the abiliity to awaken the pineal
gland, shattering some of the most powerful gates of the slave matrix
into tiny splinters.
OJ&A is not a fetishistic lover of
these texts, for they have no intrinsic power. In order to yield power,
these texts must be engaged with a methodology that seeks to coax out,
from beneath their very pores, bits of knowledge that can move one into
brighter states of mind. Consider, for example, an old pedagogical
tradition explicated in some of the earliest narratives of captives. As
explained by scholar John Ernest, "The task of the early historians was
to write not a continuous narrative but rather a story of disruption,
of fragmentation, so as to identify the contours of a story beyond the
reach of representation." Ernest also refers to this tradition as a
meta-history involved with teaching its audience "to become active
readers of history." Similarly, with this project OJ&A seeks to
promote amongst its followers critical, creative, and expansive
readings of his-story.
This project may be seen as a free-form
improvisation with the ideologies and goals of Black liberation
movements that preceded us. Many of the objects and works of art housed
by this institution were collected in that moment, wrapped up, then
laid to rest. Important histories boxed, catalogued, and hidden from
us. However, monuments to Dr. Martin Luther King Jr. exist. That
history is allowed to remain, and is even celebrated, for there is no
threat of violence associated with his legacy except the beatings,
imprisonment, an murder he suffered. But what about the rest of it?
Where are the monuments to those blessed ones who struggled and fought
"by any means necessary." Well, this exhibition becomes a modest
monument. A repositioning of sorts. We will step into spaces that do
not belong to us and command those spaces. Building tiny pockets of
resistance along our journey. The most important aspect of this action
is "our" reworking of the meanings of these formerly obedient objects
so that they switch sides, re-establishing allegiances and polities.
Polyrhythmic Mumuye insurrections in the west wing African Antiquities
, creating galleries overrun by field sculptures, witnessing and
testifying in the spirit. Unhh!!!*
This will begin new research
into our histories, learning lessons from below, or rather new points
of emission from which to redefine he trajectory, expanding the
definition of ourselves until no definition is useful. Not urban, not
proud, not black or beautiful, only that which is.
*This is a sample lyric from "Funky Drummer" from the album Jungle Groove (J. Brown) King Records, 1970.