As I walked the warehouses with the feeling that it was the end of the low-budget era, I asked myself if that would be so bad. Hundreds of poorly climate-controlled cubicles housing hundreds of lackluster artists; I imagined them all washed away on a hurricane of wealthy redevelopment. Priced out of warehouse space, they would be forced to work in their basements or kitchens where they could enjoy their pastime without troubling the rest of us. Would that be a bad thing?
One of the main reasons artists rent warehouse space is to give themselves credibility in their own eyes. I remember my first space, on the top floor of Riverside Mills in Providence, Rhode Island. It was a huge, decrepit timber and stone mill building, shambling along towards the inevitable fire (which luckily happened a few years after I left). The first floor housed a couple of serious businesses making plastic bags and ball bearings, the second floor was honeycombed by little companies making junk jewelry (a mainstay of the Rhode Island economy), and, at the very top, artists' studios.
No heat after 5pm, rats everywhere. I loved that studio because it proved that I was a real artist. I think for a lot of people, having the "room of one's own" is an important phase that allows them to take their art seriously, which is difficult to do when you have to clear that painting crap off the table for supper every evening.
I realize now that I didn't really talk enough about the art at the art crawl. Since one of the prime tenets of running a popular blog is to mention as many people as possible, I realized that I'm missing a golden opportunity.
Commerce Street Art Warehouse, as usual, had the highest concentration of interesting artists.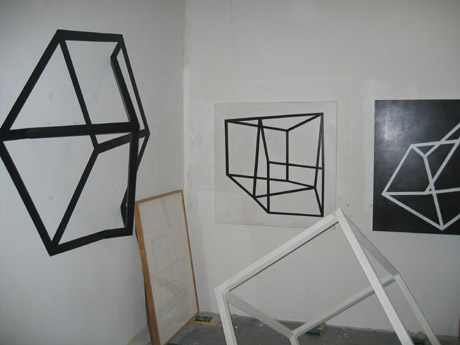 Garland Fielder's
studio was populated by evolving geometries in two and three dimensions. The paintings are the best, making use of the ambiguous space created by his off-kilter networks.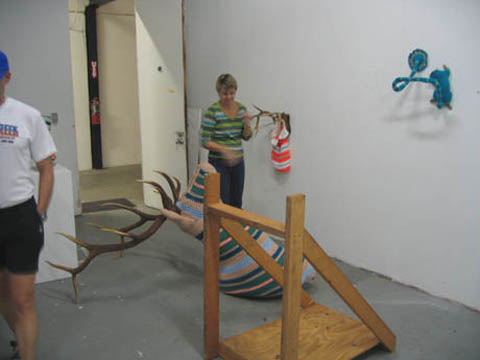 Elaine Bradford
was too busy to set up her CSAW studio, her show having just opened at Lawndale's Mezzanine Gallery. That's her mom deciding where to hang the enormous crochet-encased deer head.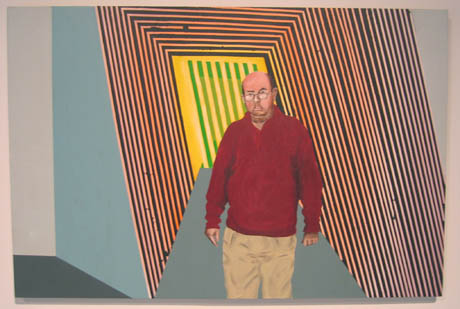 Shane Tolbert's studio, F2, hosted a group show of UH undergrad called Fresh Off the Block, featuring paintings by Tolbert, Jessica Ninci, and Jasmina Jasarevick. The painting above shows Tolbert's father trapped in a Dan Flavin installation at Marfa.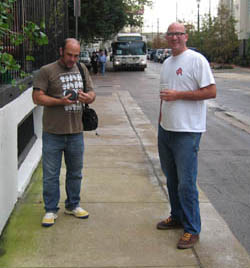 Out on the street, I ran into Sean Flournoy and Kyle Henricks, who had organized the "Fucked" exhibition at Erie City Iron works.
Though it was less fucked than most of the stuff I saw, or at least in a different way, it included this rather nice S-curve painting by Flournoy.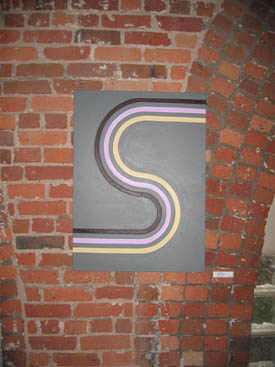 I appreciate the gray background, and the pentimento of a fourth stripe visible just to the right of the visible stripes.