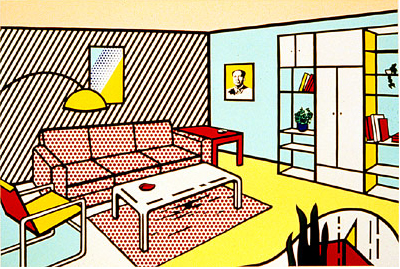 I was ready to dismiss this show. It's very easy to dismiss
Roy Lichtenstein
. His work is so ingrained in contemporary popular visual
idioms as a quick signifier of "artsiness" that it is almost impossible
to look at his work without a certain degree of
superciliousness
. It
certainly doesn't help that
AMOA
picked one of his most iconic prints,
Crying Girl (1963)
, as the main image for
Roy Lichtenstein Prints 1956-97
.
Despite my bad attitude going in, I can't help but admit it: the show
is fantastic. It's almost overwhelmingly good. Organized by the
Museum
of Art at Washington State University
in consultation with the
Jordan
Schnitzer Family Foundation
,
Prints 1956-97
collects 30 years of the artist's artistic output and organizes it
thematically (from what I could tell) which results in sometimes
creating disorienting chronological juxtapositions but in the end
succeeds in presenting Lichtenstein's wandering interests as a
majestically cohesive body of work.
You could say that artists as successful as Lichtenstein who worked in
a
Pop Art
vein became, in a way, victims of their own success. To put
it differently, it's difficult to maintain street cred when your style
begets a
Photoshop filter
(I predict
Chuck
Close
will soon join the ranks of artist-based Photoshop filters) or a
Photo
Booth effect
.
This is why
Prints 1957-97
is
so fucking good. We need shows like this one to remedy this sort of
thinking. Lichtenstein's work in person is a completely different
beast than a reproduction of it (as goes with all art). The scale is
humbling, the emotional depth is irrefutable, the mastery of
composition (and otherwise) incontestable.