Theater lore offers this definition of
the The Actor's Nightmare: You find yourself on stage with a dog or a
child.
If the art world had a similar
definition for The Painter's Nightmare, it might be this: You find
yourself in a group show with Yves Klein.
Declaring Space, Chief Curator's
Michael Auping's the group exhibition of works by Mark Rothko,
Barnett Newman, Lucio Fontana, and Yves Klein currently at the
Modern Art Museum of Fort Worth is a smart, beautifully installed
presentation, but M. Klein walks away with the show.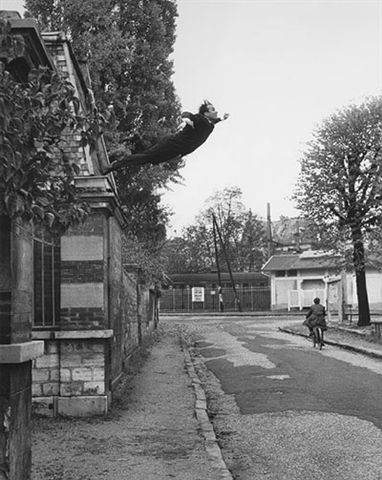 Auping's catalog makes the case that
each of these four artists "not only brought the illusionistic
space of painting into the actual space of the viewer, but, through
different means, triggered thoughts and emotions about the
transcendental nature of space." Point taken and well proved, but
Klein, a generation younger than the other participants, is
constantly upping the ante and having considerably more fun.
Rothko experiments with color and
evokes the void. Klein trademarks his own blue pigment and spreads
several hundred square feet of it on the floor. Newman places a zip
down his canvas. Klein jumps out the window and has the common sense
to lie about it. Fontana tastefully slices his canvas, his "radical
gesture which broke the space of the canvas as if to say, after this
we are free to do what we like." Klein took him up on that and went
after his canvases with blowtorches and the paint-covered bodies of
naked women.
This is not to imply that Rothko,
Newman, and Fontana merely paved the way for Yves Klein. But
Declaring Space has the inadvertant effect of making the older trio's
arch sobriety a foil for the scene-stealing showmanship of the
younger Frenchman. (Who also, by the way, both a black belt in judo
and a Rosicrucian.)
Michael Auping is on something of a
publishing binge this season. In addition to the catalog for
Declaring Space he has published 30 Years: Interviews and Outtakes .
The book brings together 35 occasional pieces excerpted from Auping's
notes and transcripts made with artists he has worked with over the
years. They range from substantial interviews to just a couple of
pages of notes, and the informality of the format is complemented by
photographs that include such images as John Chamberlain hanging out
with The Supremes and Vernon Fisher in Mickey Mouse ears.