Sunday, October 31, 2007
I actually saw Wayne Gilbert's show at the Art League last week, but Halloween seemed an appropriate time to discuss it. There's a lot to discuss; before we even get to Gilbert's style or content we've got to deal with his materials: human remains. Not squishy roadkill, or rotting zombies; Gilbert plasters numerous canvasses with the clean, dry, yellowish-gray dust, (studded with bone fragments) that is the residue of cremation.
How Gilbert comes by these eccentric materials, I don't know. Let's presume it's legal. But is it ethical?
By an odd coincidence, there was a story in the New York Times on October 26 about the city of Rouen, France, trying to return it's museum's shrunken, tattooed Maori head to New Zealand for "proper burial."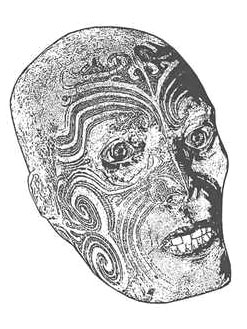 It's a collision of two conventions: one set of rules about how to handle human remains, and another set about handling art. But how to deal with objects that cross over both categories? According the the Times "the authorities in Rouen insist that the Maori head is a body part, not a work of art," but that's sticking your head in the sand — clearly, it can be both.
Since, as the pirate said, "dead men don't bite," the way we handle remains is decided by the living, for the living. Would the hapless head-donor of Rouen be happy to have his magnificent tattoos (admittedly somewhat shriveled) plastered across the internet a century and a half after his death? I'm sure he was proud of them when alive, but that's irrelevant. What matters is that WE want to see them.
Not so with Wayne Gilbert's paintings.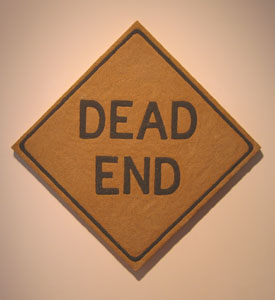 Calm and handsome, Gilbert's paintings resemble Chinese rugs, with their thickly textured plushy surfaces and muted colors. Imagery is Gilbert's problem. He's got a material that's a surefire conversation-starter, but he doesn't know what to do with it, shifting irresolutely from pop signage to biomorphic abstraction, symbolic pictograms, and minimal color fields. The only common denominator is the technique, but what a technique! I couldn't repress a queasy flutter as I studied the chunkier bits, trying to identify specific body parts and fearing to succeed.