Last week, on Saturday, I spent a few hours at the Westheimer Block Party, lured there by email from Sean Carroll bearing promises of an alternative guerilla art fair. Instead, there was a good lineup of local bands, hot sun, facial hair, and bacon-wrapped sausages on a stick.
Oh, there was art, too: here and there were folding tables of tchochkis embellished with hollow-eyed nymphets and internal organs. The house style was a mishmash of Max Ernst and Martha Stewart: a hybrid, decorative style that precisely expressed the incoheherent anomie that by purchasing said tchochki you could feel yourself to be a participant.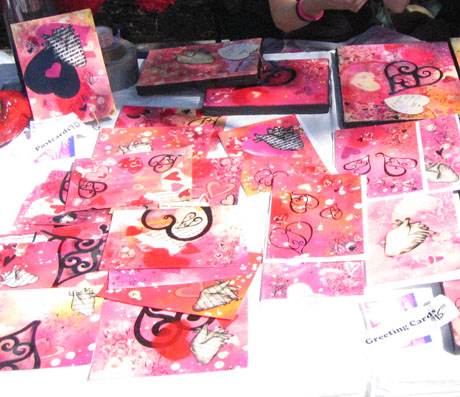 There's a theory in art history that relates portable art with a nomadic cultures that applies here; tattoos, clothing, graffiti and music are the best expressions of youth culture, for youth is always moving on, not in space, but in time. The semi-permanent, semi-conventional artworks on display on the tables were hopelessly overmatched by the music on stage and the tatoos on the bodies.
Being essentially migratory, the art of the alternative music scene is also history-less, churning and recycling the same imagery of alienation in the same alternative styles without a backward glance. It also explains the unrelenting haste of alterna-art; small things, quickly made and as quickly discarded.
I was struck by the immense gulf between that audience's critical appreciation for music and art – if one of the bands had stumbled as badly through the same cliches, they would have been booed off stage.