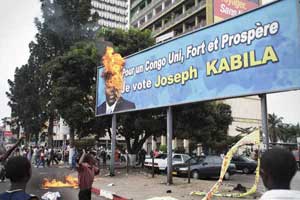 We were surprised by the mid-week
crowds in mid-September at documenta 12. Maybe because it had only
two weeks left there were a lot of last minute attendees, but then I
have read since it closed that this year over 750,000 made the trek
to Kassel. And that's despite the generally bad, make that terrible
reviews. Of course, documenta is right up there with the Whitney
Biennial as one those "Shows You Love to Hate." Reading rafts of
reviews help you know what specifically you were supposed to revile
and why.
I figure that having traveled several
thousand miles I am going not only to see it all, goddammit, but that
I will find enough things interesting to make the trip worthwhile. (I
have only been once before in 1997.) And so, despite the weak dollar,
bad food, sore feet, and more work from the 1970's and '80's than I
really needed to see, here is some of what sticks in my mind. I am
mostly including links to find out more about these artists, since
the triage involved in seeing over 500 works by over 100 artists in a
day and half means that I was mostly noting people to look up when I
got home.
BELA KOLAROVA – An octogenarian who
lives in Prague, shewas represented by photographs of hair,
intricate collages of sliced razor blades, and dozens of other pieces
from what seems to be an endlessly inventive body of work. Very
little information available, but I predict we will be seeing this
work on the market soon.
MIRA SCHENDEL – One of the unsung
participants in the Brazilian scene that gave us Lygia Clark and
Helio Oiticica. She has been included in the Geometry of Hope
exhibition that was at the Blanton.
NASREEN MOHAMEDI – She has been a
favorite in documenta reviews. Born in Pakistan in 1937, her diaries
and drawings were mostly discovered after her death in India in 1990.
Asian and minimalist influences fill pages of linear, abstract
explorations.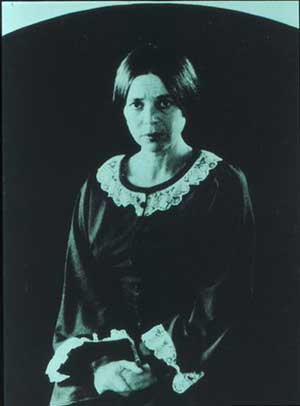 ELEANOR ANTIN – How have I missed out
on Eleanor Antin. She has always been a name I knew but I don't
remember what of hers I have seen except for the 100 Boots project
which always struck me as silly and along the lines of the Red Couch
book. At documenta her Angel of Mercy film and photographic project
was presented in four galleries. She did this in 1977, predating
elaborate projects by the likes of Matthew Barney by 20 years or
more. Compared to high-tech, big-budget work seen today, Angel of
Mercy is appealingly homemade. An American tour should be scheduled.
GUY TILLIM – This excellent South
African documentary photographer has been criticized in the past for
having too "arty" of a response to the current events he covers.
These new photographs of elections in the Democratic Republic of
Congo are both stunning color images and important documents.
HITO STEYERL – The 45 min running
time defeated me when I tried to watch Lovely Andrea, Steyerl's
documentary that recounts her efforts to track down in Tokyo a
bondage photograph she posed for in 1987. Along the way she meets
photographers and models active in the Japanese bondage subculture,
provides a history of and philosophy behind bondage, and links it to
the history of criminal punishment and current practices in
Guantanamo and elsewhere. I have read that her correlations become
facile toward the end, but the part I was able to watch was
fascinating and well done. She had a shorter two-channel video about
the destruction of a film archive in Bosnia that was complexly
layered and well presented.
ARTUR ZMIJEWSKI – In addition to
having the best name of all the documenta artists, Zmijewski also had
one of the best videos. For Them he brought together representatives
of several groups vying for a voice in the shaping of modern Poland:
feminists, Catholics, Musilms. The idea was to create a space where
they could produce art works that expressed their goals and see how
the experience might bring them together. The genial optimism of the
project runs up against reality as the various groups eventually
resort of cutting off one another's tee-shirts, burning their
paintings, and tossing them out the window. It was funny and alarming
and said something, I think, and about the practical limits of art.