GORDON MATTA CLARK: YOU ARE THE MEASURE, edited by Eve Sussman. Yale University Press.
Catalogs can never replace the experience of seeing the exhibition, but
there are some catalogs that provide an totally satisfying, alternative
experience, Unfortunately, this is not quite one of those catalogs.
Seven relatively short essays address specific aspects of Matta Clark's
work, and a couple of those provide some social and biographical
context, but neither the artist nor the times ever really come to life.
You do get to read in detail exactly how they split that house in half.
The exhibition is still at the Whitney through this month and then
moves to Los Angeles for the rest of the summer.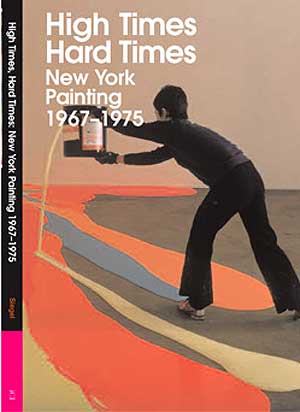 HIGH TIMES HARD TIMES: NEW YORK PAINTING 1967 – 1975, edited by Katy Siegal, Distributed Art Publishers.
In some ways this small catalog is better than the show is accompanied.
I saw the exhibition at the National Academy Museum in New York last
winter, and the paintings and objects were an awkward fit with the 19th century building.
You wanted the tension to feel creative and revealing, but often it
just seemed odd and the art did not look its best. The exhibition
celebrated the liveliness of painting during one period of its widely
professed death. I can never keep up with whether painting is currently
alive or dead, and I am not overly concerned with what the next
abstract painting is going to look like, but I was ready to be engaged
by an exhibition that included such well known figures as Mel Bochner,
Elizabeth Murry, and Richard Tuttle, along with certain blasts from the
past like Alan Shields and Michael Venezia. There were forty artists in
all, mostly represented by a single, and not always very good,
painting. One review described the exhibition as a dress rehearsal for
a bigger show from a major institution, and I would tend to agree. But
the catalog, with a combination of essays and artist statements,
provides background and a sense of the period that is both informative
and entertaining. And in the archival photographs everyone looks like a
hippie. Painting was by no means dead during this time. In fact another
show could probably be assemble of all the figurative work from the
period. But the emphasis here is on alternative means of presentation,
from Linda Benglis pouring acrylic paint on the floor to Manny Farber
hanging his paintings in the middle of the room, to airbrushing. Lots
of airbrushing, which is the technique that seems more than any other
to be locked in a time capsule from the period. The show and catalog
reminded me to look again at Howardeena Pindell and Lee Lozano, and I
notice that someone named Peter Young, whom I had never heard of, has a
show coming up at P.S.One. That which was old is new again.