On a whim, I decided to attend the press preview for the MFAH's upcoming Masterpieces of French Painting 1800-1920. It would be a chance to see the MFAH's formidable PR machinery in operation, see the show ahead of the (expected) crowds, and score a free lunch, besides.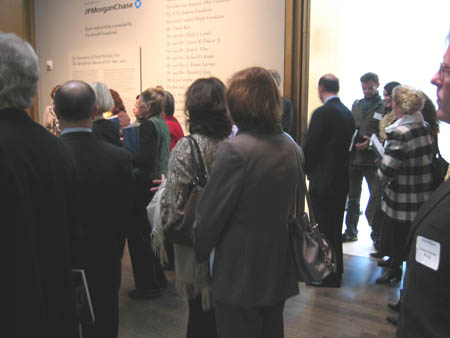 The show itself is a non-story. Some of the best pieces from New York's Metropolitan Museum of Art tell the story of French painting during a century when French painting ruled. Joining a herd of fifty assorted journalists, museum types and unidentified moochers I was taken on a tour that I expected to be dull; how many times can you say "dazzling", "exquisite", "stunning", "fascinating" without repeating yourself? But the Met's Gary Tinterow, our guide, was an old hand at masterpieces; he said almost nothing about the works themselves, instead reeling off endless fascinating stories about the artists, patrons, and provenances, an hour of chatter exactly analogous to the endless statistics and tidbits of history that make up most of the air time in a broadcast baseball game.
The show is too much of a good thing. Late in the tour, Tinterow waved a hand in mock dismissal at two smaller side galleries, which we weren't going to have time to visit. "In there are some masterpieces by Van Gogh and Renoir". Everybody chuckled, keenly aware of the impossibility of taking it all in.
The "crown jewels" effect is at a minimum. The painting were hung like any other paintings, with no bulletproof glass to mar the view, no special steel-reinforced velvet ropes or the machine-gun toting guards that are my clearest memory from a field trip to see the mother of all blockbusters, "The Treasures of Tutankhamun" at the National Gallery of Art in Washington, DC in 1976.
I was pleased to see that Patricia Johnson, in her front-page Chronicle piece on the show's opening, asked the vital question- how much did it all cost? Six million, including two million for insurance: that's a lot but, for this show, it was easy to find donors. The biggest is JP Morgan Chase, represented at the press lunch by Mike Ballases, chairman of the bank's Houston region. As I ate my roasted chicken breast, I had to suppress a warm feeling for all that great art and the generosity of Chase for bringing it to Houston. Between the chocolate sponge and the coffee, even the greed of nineteenth-century robber barons who first humped this art to America seemed justified.