Klee and America, the current exhibition at The Menil Collection, Houston, is solid proof of Paul Klee's wide popularity in America, especially during the 1930s and 1940s. Without assuming to be an anthology of Klee's masterpieces, the vast gathering is of clear importance as it enables the viewer to trace the development of Klee's art.
… 1932…Oil on jute…21-7/8 x 27-3/4 inches…"]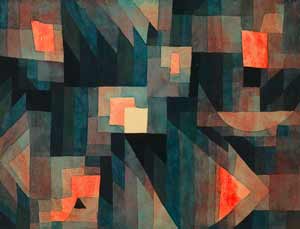 The exhibition also references key figures in Klee's life, including some of the artist's most prominent and earliest American collectors, such as Katherine Dreier and Walter and Louise Arensberg. With major dealers promoting his work in New York and Los Angeles, the United States quickly became one of Klee's important markets. During the years of World War II, major Klee works were added to the largest, most important collections in the United States, including those of The Museum of Modern Art and the Solomon R. Guggenheim Museum in New York, and later The Art Institute of Chicago.
Whilst enjoying enthusiastic receptivity from the American public, Klee's work in Germany was being targeted by the National Socialists. This was a time when Hitler's Nazi regime was conducting a thorough censorship of art through his campaign against " Entartete Kunst [Degenerate Art]," or all art that did not conform to the classical canon of beauty. Klee's work was indeed attacked at such exhibitions, and several of his works were confiscated and destroyed; those works that did survive were immediately sent abroad. Two works that were originally owned by the National Gallery in Berlin and were removed by the Nazis in 1933 are The Angler from 1921 and The Twittering Machine from 1922; The Museum of Modern Art in New York now owns both works.
The art of Paul Klee still challenges audiences today, forcing us to look at things in atypical ways. This 20 th-century master successfully sought to present his spectators with drawings and paintings that echoed his world within. Through his art, Klee introduced new, perhaps even radical, ways of perceiving the world around us. He created works of art that, enveloped in an aura of mysticism, provide both aesthetic visual pleasure and intellectual stimulation. What is most intriguing about the compilation of works exhibited at the Menil is the evidence of constant experimentation throughout. This methodological manner of creating works of art is underlying proof of the empirical scientist within the artist. Klee's life work was devoted to experimenting with and solving theoretical problems within his art. For example, we know that in addition to color, some of his greatest studies involved the arrow, the circle, the spiral and the pendulum ― all which have to do with the notion of movement within an artistic composition.
… 1921… Watercolor on paper mounted on…maroon paper mounted on cardboard…8-1/4 x 11-5/8 inches… The Metropolitan Museum of Art, New York…The Berggruen Klee Collection…"]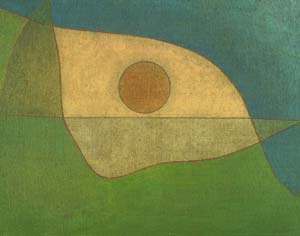 Klee's main concern as a painter was to master line and color. It is interesting to note that apart from being a painter, as we mostly know him, Klee was also an accomplished musician. His parents exposed him to music early on, and by the age of 12 he was playing the violin with the symphony orchestra in Berne. Klee's musical background had a tremendous impact on his artwork as well as on the development of his own teaching methods and theories. Constantly comparing the two forms of expression, he conceived his color and form theories based upon similarities between painting and music.
Klee strived to achieve a direct communication with the viewer through color. As with all artists" oeuvres, not all of Klee's works transcend their physical properties, and perhaps half of the works on exhibition at the Menil do not succeed at this. Nonetheless, discovering those few gems that truly represent the genius in Paul Klee and captivate the viewer's undivided attention upon first glance make the entire visit that much more valuable. I find his watercolors to be some of his strongest, most successful works of art. The delicacy with which he applied and mixed the watercolor is exquisite, and his masterful color combinations and compositions are genuinely breathtaking.
As much as Klee was considered an avant-garde modernist master at the time, it is plausible to pose, as many have, that his art is also naïve and primitive in style. This essential quality in Klee's art, which completely broke away from the academy's strictness, is responsible for his immense legacy to modern art. Some constants in his work are the appearance of elements that look like tribal symbols as well as the representation of the human figure with pure graphic shapes. A connection between Klee's art and tribal art is evident. The childish appearance of some of his works is at once mystifying and serene. It is of interest to note that most of Klee's artistic knowledge was acquired by autodidactic means after leaving the academy in Munich at an early age. This rupture enabled Klee to paint in a much more open and free manner.
Klee and America was inaugurated this spring at the Neue Galerie in New York and traveled to the Phillips Collection in Washington, D.C., for a stay from June to September. The exhibition will remain on view at The Menil Collection through January 28, 2007.

Images courtesy Menil Collection.

Catalina Montaño is a writer living in Houston.