It is with some admitted skepticism that I attended the recent "Texelectronica Symposium/Exhibition on Art, Music, Technology, Society, and Culture," with its thematic focus on 'sPIN: society, persona, interactivity, and networks."
Whew. Try saying that three times fast. The ambition is admirable, but its easy to overreach, and the strain was often palpable throughout four days of lectures, performances, exhibitions, and parties.
Mea Culpa
: I didn't see everything. I did however attend 14 hours plus of events, shuttling back and forth the 50 miles between Dallas and Ft Worth to events in both cities. What I witnessed in many instances confirmed that initial skepticism. A few welcome moments subverted it.
Nearly twenty years ago, I studied art with a professor who had deep connections with MIT and Carnegie Mellon University, both of which had fledgling "art and technology" programs, perhaps the first of their kind. Attending a few of their conferences, there was a lot of exuberant heralding of "new media," and faith in a futuristic world of hologramatic sculptures, painting robots, and thingamabobs rocketed into space as performance art. While these institutions rated high in an ability to generate a buzz (and endowment funding,) they were distressingly low in basic awareness of how to make art very compelling to look at or experience.
I'm no classicist, but the longer I teach, make, and look at art, the more I see that the best artists have the deepest awareness of fundamental processes and materials, with a strong sense of things in real time and space; call it the 'stuff-ness" of the world. The inescapable fact is that younger generations are raised utterly immersed in electronic media, from cradle to grave. They must and will learn to use them in more creative ways than passively viewing porn, gambling, or learning how to blow things up in virtual worlds (though isn't it interesting that those are the three activities that consume the vast majority of internet commerce? Is this one of the medium's McLuhan-esque messages to us?)
In the end, most of the artists included in Texelectronica must be judged by the same standards as any other, with all of us still trapped in these actual meat-bodies, and historical precedents such as they are. There is no extra credit because one's art happens to plug in. There can however be an added element of excitement, and even gratitude, for the reclamation, subversion, and re-appropriation of what have become the workaday tools of our age– the PC, cell phone, or video game system. Every era has to come to terms with the technologies that are born to and shape it, and it's often left to artists to anarchically wrestle them out of the hands of the powers that be. Only 100 years ago the revolution was pre-mixed paint…in a tube (gasp!) In any case, it's the creative impulse that fundamentally matters, not the tools that committed artists choose to explore. The best contemporary ones ride rough-shod over such technical boundaries.
Evaluating this symposium as one would an exhibit, it was perhaps more hit than miss. As a cohesive or encompassing conference on the state of technology in art, the marks aren't much higher. It felt built on the fly, with the organizational ideas (the SPIN) sounding real nifty, but consistently irrelevant to the artists being lumped into their categories – some of whom just weren"t very good.
The second of the five sessions in the Fort Worth Modern's lecture hall is a case in point. The theme was supposed to be "persona." I suppose you could make an argument for any artist fitting into almost any category, but none of the speakers addressed the theme directly. Or even tangentially. Josephine Durkin is pretty fresh out of the grad school chute (Yale,) but four years of work was about right for the half-hour slot each artist/speaker received. Never mind that the most high tech her work got were some slow-moving motors suggestively yanking on cloth and paper. Li Tan gave a cohesive, thorough Power Point presentation of exactly the type of work I dreaded seeing. He generates computer-animated images inspired by Chinese five element theory. They look like rejected fragments from a Lord of the Rings video game, of which he then projects video or prints stills onto animal skins tackily stretched on wooden frames. A merger of "primitive and futuristic," he said. I think he's got a ready market at truckstops nationwide, right next to the turquoise/purple dreamcatchers and black, puffy wolf t-shirts. Frank DuFour, from UTD, melted some brains with his lecture on 'semiotic temporal units"– chunks of sound really. His image-less discussion of phenomenology, Heidegger, music, and the nature of time, all given in his soft, French-inflected voice, was heady stuff, and one felt the rubber was starting to hit the road. It was like being back at La Sorbonne…ok, I've never been to the Sorbonne, but I imagine it being just like that.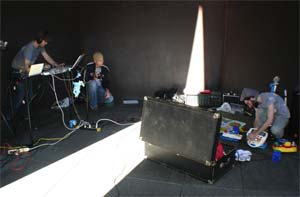 DuFour's performance that evening was also compelling, though the venue, House of Dang in Dallas, was overly hip and unkind to the work. Canadian Pascal Malaterre's installation next door at And/Or gallery, of giant singing lightbulbs, is wonderfully hypnotic, and the only aspect of the weekend to carry on past it. The next night, an installation in an unfinished office suite upstairs from UNTartspace FW was a much needed chance to see some more actual work. Again, there were some real clunkers, but pieces and performances by Yao Bin of Beijing, Janek Schaefer from London, and Casey Reas from LA, made you think there's hope for the future.
This was a first time effort, and as frank as I have to necessarily be in evaluating the experience, I sincerely hope that this is not the last. There were a number of moments of redeeming transcendence. But instead of all the three-hour panels of mixed-bags of speakers, tag-teaming it every 30 minutes, I would have liked to see a few of the better ones given more time to really explore the issues in their work, and engage what will hopefully be bigger crowds next time.
Both UNT and UTD have burgeoning, over-enrolled "art and technology" departments — mostly full of kids who want to work for Pixar or Madden NFL and make "the big bucks," not end up "edgy" but poor in the fine art ghetto; and who could blame them? I'm more with the godfather of electronic music, Brian Eno, who has said that he really can't stand the experience of sitting at a keyboard and staring at a screen. I think until some computers are actually built by people with this same attitude, many of us will remain at best peripherally interested in many of the products of web-based or computer-generated art practices. In any case, for good or ill, we are destined to be seeing a lot more products of the discourse between artists and the bit/byte "metaverse." But hey, I'm down. Prepare my rocket. I have this CGI-animated hologram of Phillip K Dick I'd like to send into orbit, set to crash land in 2012 to coincide with the Eschaton. You can download a podcast from my blog…
The following weekend, I trekked down to the
Texas Tech
campus in Junction, for the 9th Texas Sculpture Symposium. Organized jointly this year by Sara Waters of Tech and Greg Metz from UT Dallas, the theme was "Looking Outside Ourselves." The keynote speakers were
Mel Chin
on the opening night, and curator Mary Jane Jacobs the final morning.
The autumnal, Hill Country setting was spectacular. The Junction location will be used each alternate year, with different, more urban-area campuses selected in between. It was the opening weekend of deer season too, so sculptor/TCU professor Cam Schoepp dressed brightly for his early am golf round at a local, scrubby course. I contented myself with walks around the spacious campus and down to the pristine, limpid Llano river between events.
The schedule was good, not too packed but enough to keep you occupied. Mel Chin showed up for his Friday night slot looking entirely too sharp for the scruffy sculpture crowd. Dressed all in black with architect glasses, I thought at first glance that IM Pei had showed up instead. When he got up, grabbed the mike, and launched into a few-minute medley of Elvis songs, I realized the mistake of my first impression. After one of the most enjoyable and inspiring artist lectures ever, Chin hung out by the community bonfire until nearly 3 am, long after everyone save a few drunk students, and me, had gone to bed. I caught up on sleep the next night, but apparently missed a brawl. Ah, sculptors.
Speaking of which, attendees were invited to bring down a small work to enter for inclusion in a show up in Lubbock. Just to demonstrate that I don't play "favorite media," let me just say that it's tough to make something work in bronze, clay, or wood, and this was all too apparent among the selections on offer. Yikes. With a few exceptions (like one of Ken Little's masks), it was one motley crew, with dozens of art/craft conflations of the most heinous variety.
Often the best thing about sculpture is the process, and Saturday afternoon saw the demonstration of a novel iron casting technique. It's always a magical, alchemical thing to see that molten orange metal come pouring out of a cupola. Houstonian Kaneem Smith built an onsite piece with the help of volunteer attendees.
A panel discussion set for Saturday and moderated by Metz was still enjoyable despite the fact that only Laurence Miller showed up. Robert Pruitt apparently agreed to come, but just didn't show, or bother to call. David Hanson made his appearance by video interview, as Good Morning America wanted to feature him some "Future of America" special. Max Kazemzadeh, organizer of Texelectronica, went to China and sent an undergrad minion to talk about his work instead. Later, the workshop he was supposed to lead that two of his students took over, had technical difficulties and flatlined. But all in all, it was still a provocative morning, with the interview, Miller, and Metz stepping up with extended ideas and discussions of what art can be, lodging itself in the spaces outside/between the studio, museum, or commercial gallery.
Sunday morning wrapped with Jacob's lecture. She showed images of 20 years of committed curating in the most unlikely of venues and with some peculiar bedfellows, shaking loose some of the constricting conceptual shackles imposed by the current market-ravenous scene. It was a welcome partial antidote to what is largely a poisonous influence on much art being produced right now, especially that being promulgated by many of the larger institutions.
The formalists were left grousing afterwards that they were given short-shrift. And they were. But this is an annual event, and hopefully next year's organizers will swing the pendulum another direction. I encourage everyone to head out to it — hopefully with a better sculptures under their arms. It struck me as an important platform for the continued affirmation of a regional art identity, and dialogue among peers.

Images courtesy Max Kazemzadeh

Titus O"Brien is an artist and writer currently living in Dallas.