When Terrie received a joint invitation from the governmental arts agencies of Norway, Finland, Sweden and Denmark to make a research trip, I quickly cashed in my frequent flier account to join her. What follows is our point-counterpoint response to what we saw in more than 80 studio visits and in numerous gallery and museum exhibitions spread over two weeks.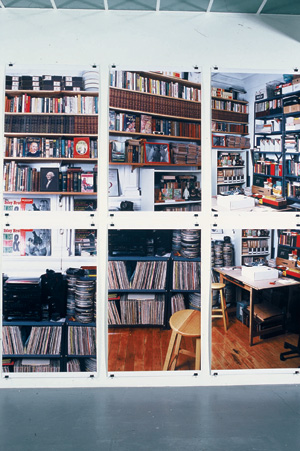 Oslo, Norway (May 28–30)
Christopher: Sunday was supposed to be our 'free' day, but the Norwegian Office for Contemporary Art (OCA) is very organized. Awaiting us at the hotel was a helpful list of six exhibitions to occupy the four viewing hours left in the day.
Terrie: State-sponsored Fotogalleriet's Before After, After Before featured three artists who had experienced Scandinavia's revivalist religious movements. Ellen Holtskog (Norway) presented starkly frontal black and white portraits questioning the physical appearance of spirituality. Carl Johan Erikson (Sweden) explored a baptismal pool with a video camera as if he were Jacques Cousteau discovering an undersea world. I was impressed by Debora Elgeholm (Sweden) whose video observed the group dynamics of ritualistic behavior.
C: Oslo is easy to navigate on foot, and we walked everywhere. Our quick tour of the National Museum revealed exceptional landscapes, multiple European influences on Norwegian 19th -century art, lots of good Munchs and an exceptional Blue Period Picasso. I also liked the way they contextualized historical work with contemporary examples.
T: An elevated pylon serves as the National Gallery's contemporary project space. The group show
The State of Things
emphasized the fusion of fine and applied art. An ensemble of artists called 'The Idiots' carried the day. Their taxidermied fauna included a stuffed lion that dissolved into gold-glazed ceramic and silvered glass, and a rabbit with faux jewels embroidered onto its ears. This suggested an animal rights motif or a meditation on the valuation of material goods versus living things.
C: That evening we caught up with Lise Bjorne, one of my former Glassell students. She lives in Norway but will return to Houston this November for her Art League exhibition White Noise . Lise introduced us to Oslo's Bygdøy Peninsula. The ferry dropped us at the Kon-Tiki Museum, which brought back my childhood fascination with Thor Heyderdahl's obsessive need to cross oceans in reed rafts.
T: Fortunately it was closed: I was hungry! Another tiny ferry — really a guy with a skiff — took us across an inlet to lille hebrun, a lovely seasonal (May–October) restaurant on its own tiny islet. The food and views were perfect for jet-lagged travelers. It is easy to forget the time when it stays light until midnight, and we raced to catch the last boat back before boarding the bus into town.
C: We spent our first workday in OCA's archive, which houses 120 dossiers by invited Norwegian artists in Oslo's historic Kunstneres Hus, an artist-run exhibition/studio space. Our handler, Sten Are Sandbeck, ushered in a new artist every hour.
T: Each guided us through a virtual studio visit via their 12' Mac Powerbook — an oddly effective, if bloodless way of looking at art. Karolin Tampere, who with Åse Løvgren makes up the collaborative team Rakett, was first. This duo teaches at the Bergen Academy; together they organize social interaction events involving film and video, such as an icy outdoor 'drive-in' in Norway's far north. Collaboration emerged as one of the dominant characteristics of the artists we met.
C: Another was youth. Many artists were not far removed from graduate school. Most had spent time out of the country in international residencies. All the Scandinavian countries have supportive government agencies that help their artists this way; Norway has the added benefit of a booming oil economy.
T: After lunch we taxied to
Vibeke Tandberg's
studio. She's a photographer who has recently abandoned identity-based portraiture in favor of computer-based collages that turn photographed figures into wallpaper-like geometries. Back at OCA, we met
Mikkel McAlinden
. I liked his mural-scale composite photographs — landscapes and interiors — that he maps out in multiple shots and then assembles seamlessly on the computer. Then Sten hustled us to the airport for our flight to Bergen. Bergen is west of Oslo on the coast where the fjords start. Sten is from Bergen and says that in the winter it rains a lot there and that the city, located between two mountain ridges, is very dark (a common complaint about Scandinavian winters). We timed the weather perfectly: our day was rain-free and sunlit.
C: We spent the next morning with Solveig Øvstebø, director of the Bergen Kunsthall. She is shifting the Kunsthall's focus from regional to more international programming. The featured show here was by Norwegian artist Ole Jørgen Ness. Like Mark Flood, Ness explores different media, assuming different public personas with each stylistic or conceptual change. Also like Flood, Ness has now reassumed his own identity, presenting himself in this show as a painter. The Kunsthall also has a wonderful multipurpose space called the Landmark, where they present high-tech videos and performances. It looked quite interesting — like the Diverseworks theater with a bar thrown in.
T: Then we were off to the Flaggfabbrikken, a former flag factory that several photographers have organized into a collective space. Photographer/curator Anne Szefer Karlsen is the public representative of this ambitious collective, which has recently set aside space to establish a residency for out-of-country photographers wishing to work in Bergen. For me, the highlight of the day was Arre Hauffen: his videos are stunning in both form and narrative. Later we met Arne Vinnem, whose decidedly unnuanced satiric video Men with No Qualities had me laughing out loud.
C: The Bergen Academy rivals Oslo's in prestige. There we met Sveinung Unneland, a recent graduate. When he's not painting, he is a leader of the collaborative Members Club, which presents multimedia events that are equal parts ' Little Rascals let's put on a show!' and 1960s-style happenings. Their most recent production appeared in Prague. We arrived back in Oslo in time for pizza with OCA resident artists Olav Westphalen (Germany) and Serhiy Bratkov (Ukraine). OCA's support for artists includes these invitational residencies to encourage an international sensibility in Norwegian artists.
T: Our last Oslo day was hectic. We started with Mette Tronvoll, a photographer who occupies one of three fabulous, high-ceilinged, light-filled studios in the City Hall. Tronvoll's large portraits are in the vein of Reneke Djiskstra; most recently she has photographed Special Service Unit soldiers from the Norwegian army. These images of men with guns make an interesting contrast to her portraits of mothers and babies.
T: Back at OCA, we met Børre Sethre, a 30-ish installation artist. Chris, you related the work to Matthew Barney. I saw it more as a fusion of Urs Fischer and Olafur Eliasson. He was also the first openly gay artist we met in Norway. Over lunch at the Kunstneres Hus café, we caught up with OCA director Marta Kuzma, who had worked with me at the Corcoran Gallery of Art years ago.
C: Before heading to the airport, we stopped at Erik Steen Gallery, a beautiful warehouse space on the western side of Oslo, to see work by conceptual sculptor Snorre Ytterstad. Our last stop was Galleri Fimbul, located in Olso's old quarter. Jan Freuchen's Internal Combustion combined installation, photographs and sculpture on the theme of environmental issues. A small takeaway book inspired by Ed Ruscha's 34 Parking Lots categorized the many gas stations damaged or destroyed by last year's hurricanes.
T: Our Norwegian experience was as manic as it was informative. Before leaving Oslo behind, I have to mention the venues we didn't have time to visit, like the well-regarded Astrup Fearnley Museum of Modern Art or the Henie-Onstad Kunstsenter, which enshrines the collection of Sonja Henie and her shipping tycoon husband, Niels Onstad, alongside Henie's many skating medals, trophies and film awards.
Helsinki, Finland (June 1–4)
T: We spent our first evening in Helsinki taking in the city center's impressive Jugendstjil architecture. In the morning we headed to the Finnish Fund for Contemporary Art (FRAME) to meet director Marketta Seppala and her staff. Like OCA, FRAME maintains a large artist archive, and we sampled its videos before setting off for the Cable Factory, an enormous former Nokia plant that the city acquired 30 years ago and then spun off into spaces for artists, musicians, theater groups, and video and film production companies. This 'art mall' is a very successful realization of a similar idea now under discussion by several Houston arts organizations.
C: Sculptor Jaakko Niemelä was our first visit, and it was refreshing to see the messy details of his working studio. His meticulous craftsmanship was evident in several architectural models under construction. He films these, presenting the footage in videos and installations.
T: Media arts dominated what we saw in Finland. One of my favorite Cable Building video artists was
Adel Abidin
, an Iraqi ex-pat who is coping with both his exile from Iraq and the stupidity of the ongoing war. His sardonic faux tourist video about the joys of visiting historic Baghdad was painfully funny.
C. The Cable Factory also houses AV-arkki (Distribution Centre for Finnish Media Art), founded by a group of artists to promote and distribute Finnish media art internationally. They have about 130 artists in their stable. We met Sari Tervaniemi there; she screened video narratives about male/female power relationships for us. She fits in to what I call the 'Helsinki school' of women artists who explore psychological states, like Eija-Liisa Ahtila, Elina Brotherus and Salla Tykka, all of whom participated in Girls Night Out at the Blaffer.
T: Next morning at Galleria Artina, we visited photographer Aino Kannisto. I was quite drawn to her moody, large-scale self-portraits, which are not unlike Cindy Sherman's except that Kannisto presents her characterizations more through expressive posing than via costume and makeup. We walked to the artist-run photography space Valokuvagalleria Hippolyte to see videos by Hannu Karjalainen and photos by Pekka Niittyvirta, and to page through selected books and catalogues by some of the gallery's 300-plus membership. Another short walk brought us to Kaj and Rafaela Forsblum. Galerie Forsblum exhibits my brother Donald and the University of Houston's most famous alum, Julian Schnabel. Kaj's son Frej, who is managing the younger gallery artists, showed us Hans-Christian Bergin's complex optical sculptures constructed from colored Plexiglas.
C: In Vallila, in the northeast section of Helsinki, we visited a group office/studio/presentation space in another former warehouse. There we met panoramic photographer Miklos Gaal; Otto Karvonen, a performance artist now collaborating with Miklos; Juha Nenonen, who makes layered Photoshopped landscapes; and Sanna Kannisto, who I like to think of as a contemporary Karl Blossfeldt — her photographs document the exotic flora and fauna she finds on expeditions to Central and South America.
T: We ended the day at Kiasma, Helsinki's Contemporary Art Museum. Helsinki's periodic exhibition Arts 06: Sense of the Real filled American architect Steven Holl's curvaceous wedge of a building from top to bottom. It featured an international roster of 40 artists and collaborative teams from 24 countries. My favorite was the Finnish-German collaborative team Tellervo Kalleinen and Oliver Kochta-Kalleinen. Their Complaints Choir sets samples of life's metaphysical complaints ('Why didn't our ancestors settle in a more temperate climate?') and quotidian grievances ('My boyfriend loves his cellphone more than me') to beautiful choral music. Danish artist Jesper Just also fused music and visual imagery in short, exquisitely constructed videos.
C: Saturday was our first and only rainy day. We spent the morning back at the Kiasma café enjoying coffee and more show-and-tell. Ulla Jokisalo combines photography and sewing in works dealing with issues of motherhood, memory and female identity. Marja Kanervo makes haunting installations involving text inscribed through the sheetrock walls down to the brick of abandoned buildings. Maaria Wirkkala's votive room installation was another Arts 06 highlight. The floor rolled like the ocean when you stepped on it, giving you the ultimate drunken sailor experience. Unfortunately we missed A Mirror of Nature: Nordic Landscape Painting 1840–1910 at the Ateneum Art Museum. The catalogue makes this show look great — the Scandinavian equivalent of the Hudson River School (It will travel to the Milwaukee Museum of Art next year).
To be continued…
Some of the exhibitions mentioned in this article remain on view; several will travel to other venues in Europe and the US.
NORWAY:
Astrup Fearnley Museum of Modern Art, Oslo:
Knut Åsdam – Retrospective, through September 3.
Not all is visible – Works from the Astrup Fearnley Collection, through August 27.
The National Museum of Art, Architecture and Design, Oslo:
The State of Things, through September 3.
Per Spook – Norwegian Fashion Designer in Paris, through September 17.
Don Quixote: Spanish Contemporary Art, through August 13.
Kunsthall / No. 5 / Landmark, Bergen:
Ole Jørgen Ness: Realms of Sentiment, through August 20.
FINLAND
Kiasma Museum of Contemporary Art, Helsinki:
Ars 06: Sense of the Real, through August 27.
A Mirror of Nature, Nordic Landscape Painting 1840–1910, through August 27. Travels to the Nationalmuseum , Stockholm (September 30 – January 14, 2007), the National Museum for Art, Oslo (February 15 – May 20), the Minneapolis Institute of Arts (June 24 – September 2) and the Statens Museum for Kunst , Copenhagen (10/6/2007-1/20/2008October 6 –January 20, 2008).

Images courtesy Christopher French.

Christopher French is an artist and writer living in Houston. Terrie Sultan is the Executive Director of The Blaffer Gallery.