For most of those living along the I-35 corridor in Texas (the majority of the state's population), anything west of that main artery is remote, vast, and insignificant. I should know: before I moved to the Abilene area from Dallas, this part of the state never even fleetingly caught my curiosity.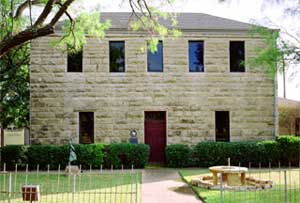 For others along the corridor, West Texas heralds romantic images of a time long since passed, replete with dust-laden cowboy boots and Stetsons, and filled with a hang-'em-high outlaw spirit. The art scene in Abilene, for the majority of the Texas population, is nonexistent at worst and merely reflective of its cowboy heritage at best.
The Abilene area may deserve — even invite through its 'The Friendly Frontier' tourist slogan — these misconceptions. Indeed, the Texas Monthly article on the House of Yahweh cult that called Abilene 'the buckle of the Bible Belt' was not far wrong. It is a town that boasts three universities, all of them religiously affiliated. As London is renowned for having a pub on every corner, Abilene is renowned for having a church on each of its street corners, and it's proud of each one.
In the past few years, however, the Abilene area has been able to rise above its two-dimensional image to gain recognition for more than its cowboy past and religious present. It recently has been touted for its transformation, through historic preservation and renovation efforts, into a community that celebrates, promotes, and cherishes the visual arts.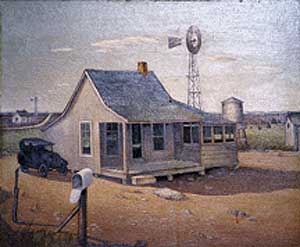 The Abilene area has successfully managed to engage its religiously and politically conservative residents with the challenging ideas inherent in the great visual art exhibited in its museums and galleries.
It's hard to imagine that a museum in a town of only 2,000 residents could grab the attention of I-35-centric Texas Monthly, but recently the magazine wrote: 'After twenty years Albany's Old Jail Art Center has become the best small-town museum in the state — and maybe in the nation.' This renovated 1888 jailhouse now houses an extensive permanent collection that would make the Kimbell, the McNay, or the Museum of Fine Arts, Houston, proud. With pieces that include Chinese terra-cotta tomb figures and treasures of Pre-Columbian art, as well as works by Picasso, Paul Klee, Modigliani, Grant Wood, Henry Moore, Renoir, and Jesús Moroles, the Old Jail Art Center (OJAC) is an unassuming Texas treasure.
Margaret Blagg, OJAC director, defines her vision for the museum's future thusly: "Our exhibition program includes rotations from our collection of some 1,900 works of art, plus three to four special exhibitions annually. With special exhibitions, our aim is threefold: (1) to build on some aspect of our permanent collection; (2) to showcase the work of contemporary Texas artists outside of the community; and (3) to show aspects of art history that are not represented in our collection."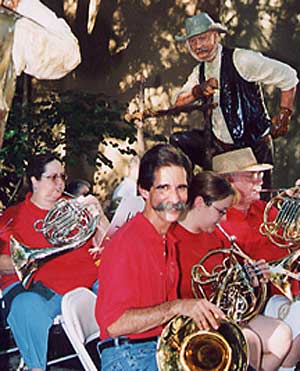 The OJAC's rotating exhibitions have featured a range of well-respected contemporary artists, such as Leandro Erlich, Joseph Havel, Terrell James, and Dean Ruck (four Houston artists), as well as the exhibitions Grit & Glory: Laura Wilson's Photographs of Six-Man Football, Vernon Fisher: Notes for a New Novel, Double Vision: Exhibiting Contemporary Texas Artists for 25 Years (10 artists who had shown previously at OJAC chose 10 artists whose work interests them, many or most of them younger, emerging artists, joining them in a shared exhibition), and Working the Limits: Mid-20 th -Century Texas Sculpture by Gene Owens, Ed Storms, and Charles T. Williams.
With its cutting-edge rotating exhibitions and its highly acclaimed permanent collection, OJAC consistently exceeds visitor expectations. In a town noted more for its frontier history and cactus-laden ranchland, the Old Jail succeeds in offering area residents contact with serious artistic masters as well as a new aesthetic dialogue through its contemporary exhibitions.
The gem of the downtown Abilene renovation projects is The Grace Museum, a 55,000-square-foot, Mission Revival-style building housing an art museum, history museum, and children's museum. With a large main gallery and three smaller galleries, The Grace Museum presents a diverse range of exhibitions, from those featuring art history treasures, such as Russian Impressionism 1930-1980 and French Art Avant et Après 1900, to the culturally diverse Chihuly's Alla Machia and Our Saints Among Us: 400 Years of Southwestern Devotional Art.
Judy Godfrey, president of The Grace Museum, sees her museum's long-term goals for the visual arts as first to enhance the museum's permanent collections, focusing especially on collecting contemporary Texas artists, and second to increase "the diversity and quality of both permanent collection and temporary exhibitions to maximize their aesthetic, educational, funding, and public relations potential."

One example of The Grace Museum's success in bringing diverse and quality exhibitions to Abilene is its 2005 exhibition Fine Line: Mental Health/Mental Illness: A documentary of voices, stories, and portraits by Michael Nye. These photographs by one of San Antonio's own, mesmerized viewers with their honest, raw, and unashamed portrayal of those suffering from mental illness in Texas today. This interactive show featured portraits accompanied by taped conversations with the individuals in the photographs. Viewers lingered for hours at a time as they moved from portrait to portrait. Even more, the exhibition held up a mirror to its viewers, beginning a dialogue about Abilene's own mentally ill population and the town's treatment of these individuals. When an art exhibition spurs this type of exchange, it has transcended aesthetic experience and effected change in society.
Also a part of downtown Abilene's revitalization efforts is the Center for Contemporary Arts, with its studio space for artists and its four galleries. Executive director and curator of exhibits Richard Metzger is guiding the Center toward 'a future where regional communities are enriched by greater exposure to the arts. The Center is committed to making a unique contribution to our community by fostering appreciation for, and participation in, the arts' by showcasing regional art and artists.
In addition, Center programs 'provide the public the opportunity to participate in art education and art-related activities' through ArtWalk, the monthly public access event it spearheads. Downtown Abilene's cultural institutions work together to promote and enhance the designated theme of each ArtWalk. These cultural institutions are open free to the public, offering art-making activities, art movies, and live music, along with dramatic performances, art fairs, outdoor concerts, and even on occasion dog-specific activities. ArtWalk is an event that draws thousands of visitors throughout the year to the arts, many of whom do not otherwise participate in the cultural events of the area.
Ongoing exhibitions at the Center feature works by regional Artist Members. Additionally, the Center has one gallery devoted to photography, recognizing the profound impact of this medium on the Abilene contemporary art scene. The city has launched the careers of many of today's well-respected photographers, including Adriel Heisey, whose photograph garnered a National Geographic cover six months after his Abilene show; Marathon photographer James Evans, a regular contributor to Texas Monthly ; and Abilene's own Bill Wright, who has published four photographic books.
Currently, the Center is exhibiting an art installation from German photographer Frank Rothe: Going Out : A Documentary of Berlin Nightlife. At a recent Center party, this photographic installation sparked serious conversation among viewers about the aesthetic and symbolic value of installation art and digital photography for today's art scene, with opinions weighing in on both sides.
The only museum of its kind in the United States, the National Center for Children's Illustrated Literature (NCCIL) also resides in revitalized downtown Abilene. The NCCIL, under the new directorship of New York native Suzanne McKeon, exhibits artwork featured in children's books. Pop-up book genius Robert Sabuda showcased his engineering masterpieces in Robert Sabuda: Travels in Time and Space. Sabuda's creations, meticulously precise in their planning and execution, mesmerized young and adult viewers alike. Other remarkable exhibits from the NCCIL include The World of William Joyce, The Many Faces of David Diaz, and Denise Fleming: Painting with Paper. All exhibitions are, of course, kid-friendly, but somehow they manage to challenge the viewer to expand the definition of 'serious' art.
Other galleries in the Abilene area include the River Oaks Gallery inside the Abilene Frame & Art business. This gallery, like the Center for Contemporary Arts, showcases work — in all mediums — by regional artists. In addition, the art galleries of the three area universities (McMurry University, Hardin-Simmons University, and Abilene Christian University) occasionally present traveling exhibitions from non-student artists.
The Abilene art scene is remarkable, not only for how it involves the general public in its events and exhibitions, but also because it does so in such a remote area of the state. In an area dominated by a politically and religiously conservative majority, the area's visual arts institutions have somehow managed to carve out a niche, allowing progressive subject matter to instigate important dialogue among viewers in ways that might otherwise be neglected or even rejected. The visual arts in Abilene have succeeded in sparking discussions about relevant social topics — including mental illness, teen pregnancy, and poverty — as well as such basic topics as the necessity and validity of art in today's society or what constitutes 'serious' art. These are ideas I hope this area continues to embrace.

Images courtesy Old Jail Center.

Angie Cook is a writer currently living in Abilene.