More and more, independent curators are exercising a significant influence on the art world, not so much at museums, but at smaller non-profits and commercial galleries.
:…Steve Hamilton…S/N, 2002; Single channel video with sound"]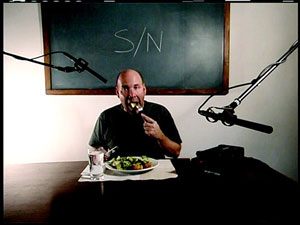 More and more, independent curators are exercising a significant influence on the art world, not so much at museums, but at smaller non-profits and commercial galleries. These spaces are filling out their programming with independently curated shows, which helps to reach new audiences and brings a certain gravitas and cache to projects, especially if the independent curator is also a respected writer. Art fairs also use independent curators to expand their panels and programs; the lead curator for the 2005 ARCO fair in Madrid is Peter Doroshenko, formerly a curator at Houston's Contemporary Arts Museum.
Fairs like ARCO also use independent curators to introduce new artists/dealers to the program over all: says Mixed Greens' Eleanor Williams, "We (with Julianne Swartz & Jean Shin) participated this year, as did Devin Borden Hiram Butler Gallery (Joe Havel) and Finesilver Gallery (Chuck Ramirez), because a team of independent curators selected artists to participate, thus inviting new dealers to the fair."
In Texas, Franklin Sirmans recently curated the group show A Moment's Notice at Inman Gallery, and UH's Blaffer Gallery brought in Bill Arning to curate this year's very well-respected Houston Area Show. Texas also has younger independent curators living here, and mounting shows here and elsewhere. Two current San Antonio residents, Jennifer Davy and Jennifer Jankaukas, are putting together some of the most exciting independently curated exhibitions in Texas today. Both bring to their work a national sensibility, cultivated before their arrival in Texas from working at well-respected venues throughout the country.
Before coming to San Antonio, Davy began working in galleries in Seattle, where she started by organizing small exhibitions. Later, while studying at the San Francisco Art Institute, she was the assistant director of Refusalon, a short-lived, but exciting and risky commercial space in San Francisco. There she organized exhibitions of emerging national and international artists, alongside Charles Linder, the founder of Refusalon, and the gallery's director at the time, Shmulik Krampf. Davy continued to coordinate exhibits when she moved to San Antonio to pursue her master's degree in Art History at UTSA, including an exchange exhibition of Refusalon artists at UTSA's satellite space.
For her part, Jankauskas started organizing exhibitions while attending the Art Institute of Chicago. She worked with the Art Institute's photography curator Colin Westerbeck, who is currently a visiting lecturer at USC, and who Jankauskas credits with influencing her knowledge and practice of curating. From Chicago she moved to New York, where she worked in the commercial gallery Pace Wildenstein MacGill, organizing exhibitions for artists such as Chuck Close, Kiki Smith, and Jim Dine. Jankauskas later worked as an assistant curator with the American Federation of Arts, where she helped organize the show Debating Amercian Modernism, amongst other shows. Jankauskas came to San Antonio as the program coordinator at ArtPace, and since leaving that organization, has focused on writing and curating here. Her first solo curated exhibition in San Antonio was of
Another advantage for the independent curator is being able to live in one city while mounting exhibitions elsewhere. This flexibility has allowed Davy and Jankauskas to take advantage of San Antonio's various artist-run spaces while also mounting exhibitions in other cities. The San Antonio art community (and by extension, the Texas art community), benefits from a certain amount of cross-pollinization that takes place, as the curators bring works here that otherwise wouldn't be seen, and facilitate showing the work of Texas artists elsewhere. Living in San Antonio also helps to balance some of the drawbacks of working in cities that are either "ultra competitive," as Jankauskas found New York, or more focused on other arts, as was the case with Seattle for Davy.
Davy made a splash with her show STOLEN~properties at Sala Diaz in 2001, which featured then-unknowns Juan Ramos and Guy Hundere in breakout performances. Davy's recent show Drawing Approach is now at Three Walls (by appointment until Nov. 26.) Included are works by New York artist Nick Brown, San Antonio's Alex de Leon, and Los Angeles-based Yunhee Min, all three of whom approach drawing quite differently. Look for these two to continue generating outstanding shows in Texas and beyond.

:…Jennifer Agricola…Untitled; 2001; masking tape"]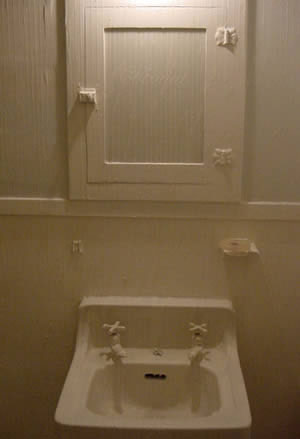 Lisa Garcia is a writer living in San Antonio.